(App) TradingView : Track All Markets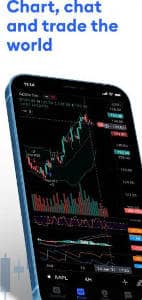 App Description :
In a nutshell, we're where the world charts, chats and trades markets. Over 30 million people use our social network and supercharged supercharts to make better, brighter decisions when they trade. Download our app to access free charts, alerts, advanced watchlists, plus discuss latest trends with other traders and much, much more. Here's a fuller feature set:
App Features :
World-leading charts
A trader's rite of passage, charts power insight. Millions use ours – for free – to make better decisions in the markets. Our charts work on any device and outperform many desktop trading platforms. You'll be able to search for stocks, currencies, cryptos, futures, CFDs and more. A wide range of drawing tools (like Gann Fans and Elliott Waves) and technical indicators will also help you analyze price action.
Watchlist what matters
Keep track of all your beloved stocks and currency pairs with our highly-customizable watchlists. Use them to see real-time price updates and be the first to know what's moving in the markets – wherever you happen to be.
Data. Data. Data,
Gain access to real-time market data from exchanges in the US, Europe, Russia, and Asia. Hundreds of thousands of financial symbols from 90+ exchanges are at your fingertips. Unless you have incredibly niche interests, you'll find what you're looking for.
Never trade alone again
Unleash your creativity onto the world markets by being part of the largest social network for traders and investors. With thousands of ideas and livestreams published daily and a near-unlimited ability to customize and broadcast your analysis, start building your following today.
Always at your fingertips
Our secure and reliable cloud-based infrastructure means you'll always have access to the world of finance, 24/7. No unexpected downtime at a critical trading moment ever again.
Additional Information :
Size 55.2 MB
Requires iOS 13.0 or later.
User Reviews :
Great App
I'm truly impressed that TradingView has been able to successfully port the web version of their platform to mobile. It's already a very complex platform as is, and it works so well on Windows or OSX. To see it perform nearly identically on my iPhone is pretty incredible. I cannot imagine the effort from developers that went in to making this work right. Turn your phone sideways and it's almost just as powerful as the web version. Also the alerts you can set on the web version are pushed to the app, meaning notifications on your phone when prices or indicators change.

It's honestly made me a lot of money trading. The lower tier paid packages are worth it in my opinion. The free tier is just as powerful but with only a few limitations. I just wish there were some testing features for the alerts so I can verify they are set up right, and that I could have it send me a text or even a robo phone call when my alerts are triggered. That may already exist though, and I may have missed that feature. I learn new features all the time.
Developer Response ,
Thanks for your feedback! We deeply respect your advice, and we will try to combine your feedback with our R&D, in order to provide better products.
"Select, start, or stop all" function for mobile version?
As far as an accurate technical analysis platform with a plethora of great tools and built in strategies along with customizing options to make your charts look calming and beautiful to the eye, nothing out there comes close to TradingView! This isn't a complaint, just a luxury request to the devs. On the desktop version you can click one button to stop all alerts which is ultra convenient for me as I have a 25 crypto coin portfolio and my strategy requires me to have 7 alerts on each…thats 175 alerts and if I'm in a trade that will take a few hours I don't need to bother myself with them. On the mobile version you have to select edit then scroll-mark all of your alerts before your able to stop/restart them which is slightly inconvenient. Again this is minor but if you guys could add a one button start/stop all alerts feature to the mobile version I'm sure users like me would appreciate it. That said I'm a happy premium user! Keep up the great work!
Awesome app just missing some features
App is smooth and intuitive. Fast and pretty accurate. I don't see news relating to my stocks. Would love an easy way to view that on iPhone and iPad. Also the ability to create sections on mobile is really needed. Not sure how else to do it. Also split view on iPad is needed ASAP please. Most active stocks and gainers and losers are really needing a section in the app. Also an overview of a stock like it is on desktop would really help. Having to go into the chart to see financials and things like that could be placed better instead of separating them with the ideas. I like the new news tab but we also need news relevant to our watchlist stocks. I think I'm the preview we should be able to swipe up more to see the financials and the whole overview of the stock it would be PERFECT that way and take out the financials tab when we are in the chart view. Other than that everything is looking good. Keep up the good work!
Developer Response ,
Thanks for your feedback! We deeply respect your advice, and we will try to combine your feedback with our R&D, in order to provide better products.
Get TradingView from App Store
What is your opinion about TradingView
Bitcoin
Ethereum
MetaMask (ETH)
Xrp
Polkadot
Binance coin
Stellar
Dogecoin
Tron
Elrond
Donate Bitcoin to this address
Scan the QR code or copy the address below into your wallet to send some Bitcoin
Donate Ethereum to this address
Scan the QR code or copy the address below into your wallet to send some Ethereum
Donate Xrp to this address
Scan the QR code or copy the address below into your wallet to send some Xrp
Donate Polkadot to this address
Scan the QR code or copy the address below into your wallet to send some Polkadot
Donate Binance coin to this address
Scan the QR code or copy the address below into your wallet to send some Binance coin
Donate Stellar to this address
Scan the QR code or copy the address below into your wallet to send some Stellar
Donate Dogecoin to this address
Scan the QR code or copy the address below into your wallet to send some Dogecoin
Donate Tron to this address
Scan the QR code or copy the address below into your wallet to send some Tron
Donate Elrond to this address
Scan the QR code or copy the address below into your wallet to send some Elrond