(Game) Go To Heaven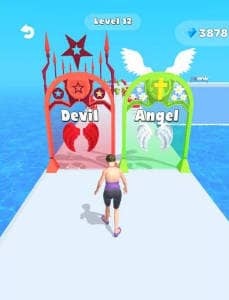 Game Description :
Angel or Demon?
Choose your side today!
#1 TikTok Viral Game!
The choices you make in Go To Heaven will determine your destiny!
If you do bad things… You can't even imagine!
Are you a lovely demon or a baddie angel? You decide your own fate in this game!
You can be whatever you want. A pilot? A doctor? A runner? Meh, too stereotype.
BE AN ANGEL! OR A DEMON! TODAY!
Game Features :
Amazing graphics!
Great mechanics!
Unique levels! Full of fun!
Shop with unique skins! Be the baddie angel or demon.
Additional Information :
Size174 MB
Requires iOS 11.0 or later.
User Reviews :
Please help
When I first saw this ad for this game it looked really cool and I just recently played it however…it just changes to a dark blue/black screen and I can't get out of it. Otherwise this game is really neat, I suggest it for many people. Thanks for reading this.
My Opinion
This game is a great game very engaging and fun too play, except once you play it for a bit it gets a bit boring because your just doing the same thing going too heaven agein and agein also that's all you do but since it's new I won't criticize the game for the lack of updates and getting boring.

I originally found this game on ticktock so if you play games such as high heels run rich and more or even watch them I recommend this game for you, thanks for reading my review!
To much ads
I like this game it is really fun, but the thing is there is to much ads that's the only thing that gets me mad. But I really enjoy the game.
Glitch
Love game but there is a glitch when I hit godness it will just show me buttneked so please fix it
Meh
Honestly i dont rlly get how u play i do the right things and become godess and i cant make it and when i actually get high up like an angel i just die i dont rlly get it
This game is copied
Not only is this the worst game that ever existed it's literally copied like are you trying to get fame by this Walmart version of the original game it also has the worst quality and get your own game this is the one thing that shouldn't exist get it off the App Store i would give it a 0/10 or 0 rating
Amazing but volume needs to be fixed
So when i go into game i hear no volume when im collecting the angel things so please fix ur volume game
My review
This is a very good game! The only thing that I would have to say is that yoga is a sin, so It shouldn't be a good thing, but other then that it is a pretty good game!
It's ok
It's fun and all it's just the face needs to be fix and it's to much ads like it happens every time the rounds ends or start but after all it's ok
Amazing
This is an amazing game today i started playing amazing game no adds amazing
This is a glitch!
So I was playing this game suddenly I collected all halos and bibles. Then goddess showed up with no clothes. I recommend this really fun but but creator of this game please fix this. And I also chose devil but it also didn't work with no clothes. (Fix this!!
It's just like all the other ones
This game is just like all the other ones, wether it's long hair or whatever and all it dose is puts adds in your face would not recommend.
Please
Hi sorry to interrupt but on my screen the level after goodness it shows them naked I would like for you guys to fix it please
Get it
You need to get it because 1 add in the game sooooooooooo GET ITTTTTTTTTTTTTT and I love it .
Hey besties
Game seems good I recommend trying it so ya congrats on the good quality too
Umm
It's okay not as good as Roblox lol but it is still good
Get Go To Heaven from App Store
What is your opinion about Go To Heaven
Bitcoin
Ethereum
MetaMask (ETH)
Xrp
Polkadot
Binance coin
Stellar
Dogecoin
Tron
Elrond
Donate Bitcoin to this address
Scan the QR code or copy the address below into your wallet to send some Bitcoin
Donate Ethereum to this address
Scan the QR code or copy the address below into your wallet to send some Ethereum
Donate Xrp to this address
Scan the QR code or copy the address below into your wallet to send some Xrp
Donate Polkadot to this address
Scan the QR code or copy the address below into your wallet to send some Polkadot
Donate Binance coin to this address
Scan the QR code or copy the address below into your wallet to send some Binance coin
Donate Stellar to this address
Scan the QR code or copy the address below into your wallet to send some Stellar
Donate Dogecoin to this address
Scan the QR code or copy the address below into your wallet to send some Dogecoin
Donate Tron to this address
Scan the QR code or copy the address below into your wallet to send some Tron
Donate Elrond to this address
Scan the QR code or copy the address below into your wallet to send some Elrond