(Game) Garena Free Fire – Booyah Day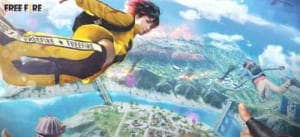 Game Description :
Free Fire is the ultimate survival shooter game available on mobile. Each 10-minute game places you on a remote island where you are pit against 49 other players, all seeking survival. Players freely choose their starting point with their parachute, and aim to stay in the safe zone for as long as possible. Drive vehicles to explore the vast map, hide in the wild, or become invisible by proning under grass or rifts. Ambush, snipe, survive, there is only one goal: to survive and answer the call of duty.
Game Features :
Survival shooter in its original form
Search for weapons, stay in the play zone, loot your enemies and become the last man standing. Along the way, go for legendary airdrops while avoiding airstrikes to gain that little edge against other players.
10 minutes, 50 players, epic survival goodness awaits
Fast and Lite gameplay – Within 10 minutes, a new survivor will emerge. Will you go beyond the call of duty and be the one under the shining lite?
4-man squad, with in-game voice chat
Create squads of up to 4 players and establish communication with your squad at the very first moment. Answer the call of duty and lead your friends to victory and be the last team standing at the apex.
Clash Squad
Fast paced 4v4 game mode is now open 24/7! Manage your economy, purchase weapons, and defeat the enemy squad!
Realistic and smooth graphics
Easy to use controls and smooth graphics promises the best survival experience you will find on mobile to help you immortalize your name among the legends.
Contact us
Customer Service: ffsupport.garena.com/hc/en-us
Additional Information :
Size 2 GB
Requires iOS 9.0 or later.
User Reviews :
Amazing but still has room to improve
Free fire is my all time favorite game and I really love it, it's got good weapons, fast vehicles and great players. However, I'd like to say that there aren't only Spanish-speaking players in this game. I'm from Asia, and it's really hard for me to understand the Spanish words and and concepts in the game, so I'd like it if you could please change that back to English. My selected Language is English in game, however I've noticed a lot of Spanish words coming up and it's just really hard for me. Second of all; the diamonds. I'm not saying that the buying diamonds option should be completely lost however, if you could get around 50 diamonds, maybe each time you leveled up or ranked up, it would be great. The diamond prices are so high yet we don't get diamonds in game and have to pay a lot for a few starter packs. That's a really big issue if you ask me. However I really love free fire so I'm hoping that soon enough, these issues would be resolved as well!
Good Game 5 stars
Hi garena ! Im from the uk i have been playing ff for 3 years since april 2018 the new booyah update u made is mostly max themed because of the events the loading screen and even when you join a bermuda or ranked game its yellow themed ( to show ff max color ) and it plays the ff max song so if u make a new update in idk 1 or 2 months pls try to bring these ideas its only ideas pls dont take it seriosly|IDEAS|Add a new pet like a chicken if u add a new elite pass pls make the theme red and black anc add to the free pass emotes because emotes are expensive in diamonds and most players cant afford to buy them so pls add 2 emotes to the free pass the first emote to be hello and second emote the rose one when the player clutches pls try to add a new map or maps like a city or village map that has houses out of wood and add to earn diamond when u go to a high lvl or rank for example when u hit lvl 30 or 50 for 30 u get 200 dia and for 50 u get 500 dia and for the ranks when u hit gold one u get 50 dia when u hit plantinium and dia u get for plantinium 200 dia and for dia rank u get 400 dia when u hit grandmaster u get 1000 dia for being the last rank pls read and hope u garena have a good or great day
It can be WAY better
This game is fun and all, me and my cousins play it all the time but this game has some problems that need to be fixed if you want a stable community. 1st problem is that when I'm playing ranked and I die early or in the middle of the match it'll bring me down let's say 38 points and it drops me from diamond 1 to platinum 4, but when I go up 38 points it doesn't move me up as much, it says I went up 38 but it feels like I moved up 10 points. 2nd problem is that sometimes when aiming at the head it goes to the body instead of shooting the head, this gets annoying because Me or one of my cousins will be close or far range and will be aiming at the head of an enemy and it'll drop down to the body which in many scenarios it will get us killed. 3rd problem is that if a car runs over you, it shouldn't take away all of your health away considering that in this game it's easy to run over someone especially with the monster truck. 4th problem is the fact that we can't get the ninja skin due to the cg15 being taken out of the game therefore we can't have the skin. That's all the problems that I can think of as of right now, so please if you can fix this problems it would be great.
Get Garena Free Fire from App Store
What is your opinion about Garena Free Fire
Bitcoin
Ethereum
MetaMask (ETH)
Xrp
Polkadot
Binance coin
Stellar
Dogecoin
Tron
Elrond
Donate Bitcoin to this address
Scan the QR code or copy the address below into your wallet to send some Bitcoin
Donate Ethereum to this address
Scan the QR code or copy the address below into your wallet to send some Ethereum
Donate Xrp to this address
Scan the QR code or copy the address below into your wallet to send some Xrp
Donate Polkadot to this address
Scan the QR code or copy the address below into your wallet to send some Polkadot
Donate Binance coin to this address
Scan the QR code or copy the address below into your wallet to send some Binance coin
Donate Stellar to this address
Scan the QR code or copy the address below into your wallet to send some Stellar
Donate Dogecoin to this address
Scan the QR code or copy the address below into your wallet to send some Dogecoin
Donate Tron to this address
Scan the QR code or copy the address below into your wallet to send some Tron
Donate Elrond to this address
Scan the QR code or copy the address below into your wallet to send some Elrond