[App] Tayasui Sketches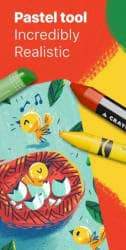 App Description :
Because beautiful tools make beautiful drawings, we endlessly refined Sketches brushes to create the most realistic drawing tools.
Sketches is the most realistic, versatile and user-friendly sketching app designed for a mobile device. This exhaustive artist's toolbox helps users create dazzling sketches, cheerful paintings and smashing illustrations on the go.
App Features :
Import photos
Over 20 ultra realistic tools
Incredibly realistic watercolor wet brushes
Brush Editor
Color Eyedropper
Layers
Use layers to simplify your task
Export them as separate PNG with transparency
import and export PSD layered files
Cloud Sync
Backup your drawings to the Cloud
Synchronize your drawings between all your devices
Manage sync options folder by folder
Folders
Easily organize your drawings to personalize folders.
Pressure Stylus support
Discover even more realistic brushes while Styluses.
We support Apple, Wacom and Adonit Styluses.
A Unique feeling: Each stroke behaves vividly and truly like a brush on paper, adapting the pressure, angle, and width to your movements. It's an effect you have to see to believe.
A unique UI with a touch of Zen : Tools are hidden away as you create and the bare minimum buttons are shown to make for a very clean canvas..
Community: Share your drawings with the Sketches Community where you can find inspirations and vote for other people drawings.
List of tools
Pen
Rotring
Felt Pen
Pen Brush
Oil Pastel
Watercolor Dry and Wet brushes
Acrylic brush
Airbrush
Area and Filling tool
Patterns
Text
Shapes (iPad only)
Eraser
Cutter
Smudge tool
Ruler
Additional Information :
Size 386.3 MB
Requires iOS 11.0 or later.
User Reviews :
Best App you'll use!
Dear readers and future costumers,

As a reviewer and rater I rate this five stars. First it's amazing! You can make pretty artwork and honestly it makes you artwork look likes it's about to go in the gallery. Second, there is a sketches community so you can look at others beautiful artwork. You can make folders for your work! It's only my first day and I have made ten beautiful bold drawings! Third, they help you use tools such as watercolor, paint brush, and much more by creating videos for the tutorials. They feature other apps which I think is brilliant. Fourth, there are fun daily activities you can draw! For me I'm not much of a artist but now I look like a masterpiece artist. This is why I named this review the best app you'll ever use! Thanks for your service and stay safe! I love sharing artwork with the nation! Also, they now let you have a stylist pen you can buy and draw with for the app! It's amazing! Buy this! I'm not much of a drawer but this is the best app ever and it makes me look like a pro at art! Love this and five star rating app!

Forever yours,

BestReviews
My favorite drawing app, but it's getting frustrating
I've had this app for a few years now, and I recently purchased the pro version. At first I loved it- the wide range of new tools and mechanics seemed to be worth the relatively low cost, but lately the app has been getting increasingly glitchy. Most of my problems stem from the layers, as I've seen a couple of other people mention. Every now and then, whenever I was working on a particularly large project, I'd get a warning about there being too many layers. Usually I'd merge or delete some and move on, but as of late I've been getting this message even with only a few layers, and when I do try and do something about it, it ends up doing strange things to my work (deleting something on one layer and replacing it with what I tried to get rid of, redrawing things I erased when I try to resume working, filling random layers in completely black and then backing up so that I can't undo it, just to name a few). This kind of thing has started happening even without a layer warning. I've tried looking up anything I could do to fix it, but the most common response I could find was to download the latest version of the app, which as far as I can tell I've done. I love this platform, but I can't handle worrying every moment about whether or not my hours of work will be ruined without warning.
An amazing drawing app
This app is amazing for drawing. Let me explain, first, the tools are useful. Some apps will give you 3 or 4 tools, or some wold give you way to many. This app gives you just a right amount to create good drawings. Another thing is the layers. So some will not include layers at all, and yes this one does only give you 2, but it gives you a reason to get pro. Plus you can create some pretty stellar things with 2 layers. And while the good features are saved for pro, it's doesn't do what other apps will do that make it so you need pro. I really only have one issue with this app. When you make custom colors sometimes they just get deleted in certain drawings for no reason. I think that's quite a major issue, because custom colors are fairly important, but that's the only issue I can really think of with this app. Everything else I don't like is just because I can't get pro. But as an app it's really good. Would definitely recommend.
Get Tayasui Sketches from App Store
What is your opinion about Tayasui Sketches
Bitcoin
Ethereum
MetaMask (ETH)
Xrp
Polkadot
Binance coin
Stellar
Dogecoin
Tron
Elrond
Donate Bitcoin to this address
Scan the QR code or copy the address below into your wallet to send some Bitcoin
Donate Ethereum to this address
Scan the QR code or copy the address below into your wallet to send some Ethereum
Donate Xrp to this address
Scan the QR code or copy the address below into your wallet to send some Xrp
Donate Polkadot to this address
Scan the QR code or copy the address below into your wallet to send some Polkadot
Donate Binance coin to this address
Scan the QR code or copy the address below into your wallet to send some Binance coin
Donate Stellar to this address
Scan the QR code or copy the address below into your wallet to send some Stellar
Donate Dogecoin to this address
Scan the QR code or copy the address below into your wallet to send some Dogecoin
Donate Tron to this address
Scan the QR code or copy the address below into your wallet to send some Tron
Donate Elrond to this address
Scan the QR code or copy the address below into your wallet to send some Elrond