(Game) Hearts – Card Game Classic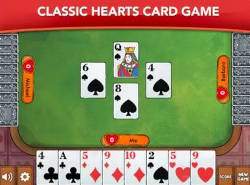 Game description :
Start playing the best Hearts ever created! Just tap on install to start having lots of fun. Download it now.
Enjoy the essence of the classic Hearts game, specially conceived for your iPhone and iPad. This will be your best ever experience on a Hearts game!
With big and beautiful cards, a clear interface, hand picked sounds and an amazing Artificial Intelligence, Hearts, the Classic Card Game, offers you an experience like no other before.
Game Features :
Big, easy to read cards
Opponents that self adjust to your playing level
Beautiful and easy to use interface
Complete scoreboard and statistics
Jack of Diamonds option available
Change themes option
You can change the score target
Auto game saving, just in case
Optimized for the iPad and iPhone!
Stick your opponents with as many hearts as possible and try to avoid the hearts suit. Beware of the Queen of Spades.
Hearts – Card Game, is the best Hearts game on the app store. And it is free! Download and play it right now!
Install it NOW – !!
Sharpen your brain;
Relax and have fun!
Also available VIP Status Subscription:
No Advertisement;
Exclusive new table backgrounds;
Exclusive new card backs;
Exclusive new card faces.
VIP Subscription is the best way to enjoy your Hearts game. You will have access to exciting new backgrounds, card backs and card faces without any advertisement interruptions. You can subscribe for a term of one month, six months and one year. The monthly cost is $1.99, the six-months cost is $5.99 and the one-year cost is $9.99. Prices may vary and actual charges may be converted to other currencies depending on the country of residency. Payment is charged to your iTunes account at confirmation. Subscription is renewed unless turned off at least twenty-four hours before period ends.
You can turn off the auto-renew for the subscription through iTunes(https://support.apple.com/HT202039). When your current trial/subscription period expires, you will be unsubscribed. The current active subscription period can not be canceled. When your subscription expires, you will no longer be able to use elements included in Subscription option.
Terms of Services: fiogonia.com/terms/
Privacy Policy: fiogonia.com/privacy/
Additional Information :
Size 176.2 MB
Requires iOS 10.0 or later.
User Reviews :
Enjoyable and Surprisingly Fair
I've read all those reviews about how the cards passed are not fair but that has not been my experience. I may lose a hand but I most often win the whole set. I've played gin rummy my whole life and, sure, you get passed high cards but that's what happens in real life gameplay. The other guy is trying to get rid of their high cards, too. This is the fairest card game bot I've played against which makes it very enjoyable. There are too many ads but unfortunately every app I play now has too many ads. There is a trick for bypassing them if you have an iPhone XR or newer but if I post it they will delete this review. Play with it and you'll find it. If you do figure it out it works on every game.
Poorly designed
I have also noticed that, when I pass 3 cards, I will either get those same three card suits back or I will get high spades. And that really is 9 out of 10 times! I also just noticed today – after weeks of playing – that the game scores are not adding properly! If you hit the 'scores' button, the game scores will appear. You can hit the back arrow back to game 1 and, moving forward, you can see that the prior scores plus the current game scores don't always add up! I was chasing a competitor knowing exactly how many points ahead he was. And – oops! – his score was totaled incorrectly! And I see it's not an occasional mistake. It's very often. I'm done with this game!
FUN GAME
This game is really fun you can easily find everything I love this game I can find the rules and then I know how to play but it's a little hard for someone playing it on the first time but when you get in to it it's really fun. The first time I played this game I lost and I didn't really get it but then I read the rules and I understood it. I have the game Hearts and when I read the rules it sounded like the same thing so I understood it better. Like the title says this is a really FUN GAME!!!!
Typical for an AI
The game is okay, but not like playing a real game against people, mainly because it always plays as three versus one (and you are always the one). If you are trying to shoot, the opponents will (correctly) try to stop you, but if one of the AI players is shooting, it is entirely up to you to stop it. The other two players do not adjust to the threat. The other players never attempt any strategy to deliver points to the player with the low score, they play every hand as if the score is a four way tie.

This type of coding is typical for hearts games in my experience, and the rest is reasonably well coded, so I still give it four stars.
Leave your feedback regarding Hearts
Bitcoin
Ethereum
MetaMask (ETH)
Xrp
Polkadot
Binance coin
Stellar
Dogecoin
Tron
Elrond
Donate Bitcoin to this address
Scan the QR code or copy the address below into your wallet to send some Bitcoin
Donate Ethereum to this address
Scan the QR code or copy the address below into your wallet to send some Ethereum
Donate Xrp to this address
Scan the QR code or copy the address below into your wallet to send some Xrp
Donate Polkadot to this address
Scan the QR code or copy the address below into your wallet to send some Polkadot
Donate Binance coin to this address
Scan the QR code or copy the address below into your wallet to send some Binance coin
Donate Stellar to this address
Scan the QR code or copy the address below into your wallet to send some Stellar
Donate Dogecoin to this address
Scan the QR code or copy the address below into your wallet to send some Dogecoin
Donate Tron to this address
Scan the QR code or copy the address below into your wallet to send some Tron
Donate Elrond to this address
Scan the QR code or copy the address below into your wallet to send some Elrond