(Game) Charades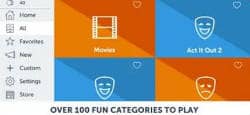 Game Description :
Charades! is the outrageously fun and exciting multi-activity game for you and your friends! And thanks to you, it's also the #1 Word & Card game in the USA!
With different challenges from dancing, singing, acting or sketching — guess the word on the card that's on your head from your friends' clues before the timer runs out!
Game Features :
Play with one friend, or one hundred at the same time.
Draw a new card by tilting your phone up or down
Wacky activities from dancing, impersonating to trivia will challenge even the most well-rounded players
With over 100 themed decks to choose from, many packed with over 400+ exciting gameplay cards, the fun will never stop! So whether you're an artist, a singer, an actor, or a science nerd–there's something for everyone.
Decks include:
TV Shows & Movies
Dance Moves
Science
I Love the 70s, 80s, & 90s
Movie Characters
And lots more!
Challenging players in trivia and creativity, your next party, reunion or family game night will never be the same.
Additional Information :
Size 81.3 MB
Requires iOS 8.0 or later.
User Reviews :
Awesome! I love It! But . . .
This game is great, works fine, does what it's supposed to. Super fun to play with friends and family. Anywhere from 2 people to 10 or more! No specific way that you have to play either. But I like to create my own custom categories, because I wanna do this with other stuff. But I hate that when you do that you can't edit the name, if there's a typo or if you just want to change the name. Same with the cards, if you add a card with a typo, or you don't like, you can't delete them or edit them. There is a delete button to delete the cards, but if you click on it tells you to select an item to delete, but you can't select the cards. Other than that, the game is pretty great, so just be careful when you name your categories, and make your cards to go in them.
why i love this game
whenever I play charades on paper it's always boring because you always pick the same things but not with this on the Charades! you can play all types games Pokémon Disney act it out even German stuff and accents I love doing this is also good for play dates with friends or family fun nights or even sleepovers I think this is a great thing to play whenever you're bored it's just in so better than doing it playing in so much fun also good looking heads up because when I was looking at heads up it cost money and I thought Charades! and I downloaded it immediately Siri just let my favorite games to play when I'm bored so thanks for making this game because I always be bored bye have fun playing
Fun and cool but….
Thank you ever made this game it is really fun to play with friends and family and you can play with more the 10 people it is so fun but I also like to play the games that I made but the problem is that when I want to delete or rename one or two of the cards it says you select an card to delete and when I press one of the cards and try to delete it is says the same thing. Please try to fix that problem because it makes the game worse than every game I have played. But it is ok and fun just try to fix the problem pls

Thanks whoever made this game it is amazing and fun to play
Ummm…is this a kid's game?
Well…at first I thought this was an awesome game to play while your waiting or bored with a friend or your family members, but…is this supposed to be a kids game? I mean, there have been so many times where I'll be playing with my brother (who by the way is younger than me) and I'll be the person acting out the words and something HIGHLY inappropriate will come up, and I have to tell him to pass! What is this? Is this NOT a kids game? I literally had to make a custom game so I didn't have to worry about him seeing inappropriate content…I know he doesn't know what the words mean, but knowing him, he'll surely ask, "What does that word mean?" And I don't want to answer that! PLEASE FIX! I love this game and want to be able to play it with people without being questioned. Thanks! -AubreyScarlett02
Great app BUT…
This is an amazing app. I love it. I downloaded it a Disneyland to play it in the long lines with my family and we all love it, it's so much fun. (A lot of people at Disneyland play in in the lines.) But… after every round there is adds. It's very annoying. We just want to play our game. Nothing inappropriate or anything bad, but still, super annoying. Other then that, that's it's I think. Again it's an amazing app, everyone loves it. But makers of the app, if you are reading this, please reduce the adds. Thanks
Get Charades from App Store
What is your opinion about Charades
Get more free apps & games daily
Subscribe to our mailing list and get free apps & games daily to your email inbox.
Thank you for subscribing.
Something went wrong.
Bitcoin
Ethereum
MetaMask
Xrp
Polkadot
Binance coin
Stellar
Dogecoin
Tron
Elrond
Donate Bitcoin to this address
Scan the QR code or copy the address below into your wallet to send some Bitcoin
Donate Ethereum to this address
Scan the QR code or copy the address below into your wallet to send some Ethereum
Donate Xrp to this address
Scan the QR code or copy the address below into your wallet to send some Xrp
Donate Polkadot to this address
Scan the QR code or copy the address below into your wallet to send some Polkadot
Donate Binance coin to this address
Scan the QR code or copy the address below into your wallet to send some Binance coin
Donate Stellar to this address
Scan the QR code or copy the address below into your wallet to send some Stellar
Donate Dogecoin to this address
Scan the QR code or copy the address below into your wallet to send some Dogecoin
Donate Tron to this address
Scan the QR code or copy the address below into your wallet to send some Tron
Donate Elrond to this address
Scan the QR code or copy the address below into your wallet to send some Elrond