Tap Music – Pop Music Game by Jingmao Tec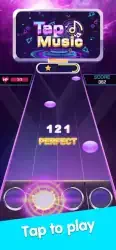 Game Description :
A new free music rhythm game. Various types of songs and well-made Musical score is continuously update. Pop, Anime, Hip-hop, EDM, Vocaloid, and more genre of music are waiting for you.
Game Features :
1.Tap the note as it reaches scoring area.
2. According to the accuracy of tap, You can get Perfect, Great or Good. Try to get more Perfect as you can.
3. Try to challenge harder songs.
Game Features
1.Variou of songs, play anytime as you want.
2.Different difficulty makes more choice, choose the difficulty that you like the most!
3.Use high quality music source and musical score, make your game experience better.
4.Continuously update various songs.
Install right now and enjoy it!
Tap Music is a music game from Jingmao Tec. Contact us by App Store or email below. We're looking forward to your game feedback to improve our game!
Feedback
beatrun11e[at]gmail.com
Additional Information :
Age Rating 9+
Size 158.3 MB
Requires iOS 11.0 or later.
User Reviews :
Good game but a unwanted amount of too much adds
I really love this game it's one of the best rhythm games out there in the mobile category while I wait for Friday night Dublin mobile I've been playing in this app and I'm not gonna lie it's super good the controls are amazing the game feels clean and fresh the only downside to all of this is that there are too many adds once you loose you wanna get back in to the song all hyped but then you have to sit thought a 20 second long add for no reason ik that's the games way of making money but I feel like there could be another use for adds other than being annoying little stop signs after a game over also I wouldn't mind the adds if they were actually good the adds I get are about teen pregnancy games and weird games where they mostly revolves of women getting there clothes taken off slowly but stopping just before a sensitive area and then saying to download the full game to continue I've seen a lot of Friday night funkin in my day and I know a fraction of the fan base are small kids under the age of 9 when kids see that fnf is involved in the game they instantly download and then if they loose they get to see these terrible adds about things they shouldn't be seeing at an early age like theirs I'm 15 and even I still think the adds are mildly concerning on how they try to get you to get their game but overall the game is really great it just needs to be polished a few more times and lower the amount of adds in it
I've never had a mobile game do this to me.
Ok so this is a really solid 4key mobile rythym game. Feedback is good, controls are good, pretty good music selection, but I have a big problem with this game. I'm not gonna complain about ads too much since game needs money even though I hate how even if you die and don't click the option to watch an ad, you still have to watch an ad, granted you can skip it. The main issue I have is that this game does something I've never EVER seen a mobile game do. Maybe I've just never played the right games and this is a common occurrence, but here's the issue. So to start a song, and revive, you have to watch an ad right? That's fine and dandy, but It will sometimes say "no ads available try again later". So I did. And it still doesn't work. I played this game on a 4 hour trip, and it wouldn't "have ads" the whole time. I've NEVER seen a game that flat out REFUSED to let me play the game because it couldn't work the ads correctly. And I don't mind not being able to revive that much but you can't start the songs unless you've seen an ad. I think that's a really big flaw with the game that it requires an ad to play, and it can't make it work. Oh and also I hate afk arena's gift codes now but whatever.
This game is really good, one problem though.
The game is very fun. The music selection is more than I could ask for, the charting (in some songs) are an absolute blast to play, and it feels smooth like a hot knife cutting through butter. I just don't like that fact that I can't play this offline. It feels like the reason why it can't be played offline is because it's the only way for the makers to make money by people watching the ads. Without Internet, there are no ads. With no ads, you guys don't make money. Since you won't make money, you make it to where the game can't be played offline. That's fine and dandy, except for the people that can't afford cellular service and can't connect to Wi-Fi. I personally don't mind the ads, but if you could tone them down a bit that would be perfect. But other than those complaints, keep up the good work!
Get Tap Music from App Store
What is your opinion about Tap Music
Bitcoin
Ethereum
MetaMask (ETH)
Xrp
Polkadot
Binance coin
Stellar
Dogecoin
Tron
Elrond
Donate Bitcoin to this address
Scan the QR code or copy the address below into your wallet to send some Bitcoin
Donate Ethereum to this address
Scan the QR code or copy the address below into your wallet to send some Ethereum
Donate Xrp to this address
Scan the QR code or copy the address below into your wallet to send some Xrp
Donate Polkadot to this address
Scan the QR code or copy the address below into your wallet to send some Polkadot
Donate Binance coin to this address
Scan the QR code or copy the address below into your wallet to send some Binance coin
Donate Stellar to this address
Scan the QR code or copy the address below into your wallet to send some Stellar
Donate Dogecoin to this address
Scan the QR code or copy the address below into your wallet to send some Dogecoin
Donate Tron to this address
Scan the QR code or copy the address below into your wallet to send some Tron
Donate Elrond to this address
Scan the QR code or copy the address below into your wallet to send some Elrond