(Game) Tangle Master 3D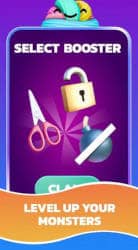 Game Description :
Do you like mind games and riddles? Here's the best 3D mind teasing game ever! Join 100M+ players mastering tangles and knots!
Game Features :
It's a challenging yet super fun brain puzzle with easy to play controls. Just sort the ropes in the right order and untangle ropes on time! Remember you also have limited moves to complete the level so focus on matching colors, sort ropes and untie the ropes.
Tangle Master 3D is like a color puzzle, you need to sort and match colors of ropes and pins. If you get stuck, we have plenty of boosters to help you along the way 🙂 You can cut the rope, or explode the locks.
Two ropes is a piece of cake! Tease your brain, relax and enjoy the game
Three ropes makes you a game master, a 3D Tangle Master! No knots can hold you back!
Four ropes "quadruples" your fun! Wow you are a genius!
Are you ready for a master challenge? Come and enjoy this puzzle game! Hundreds of uniques levels, customized features and special weekend tournaments!
Additional Information :
Size 465 MB
Requires iOS 10.0 or later.
User Reviews :
Hate on me but…
So I say u should download it because it's a fun game but the difficulty is like a one for me it's not that hard and I like things to be difficult you might not but I think the difficulty is really low and they need to make the difficulty level higher and the ad just seems like a stupid person doesn't know how to do that and it's super easy and I think they should make it to where you can do it because then people don't want to do it if you say harder than you think so that's why I think you should download the game because it's a fun game but it's really easy I was on level 100 and it was still so easy I was like this is just too easy for me so I decided to delete it and write a review just a towel feature people I want to download this game like if you're reading this right now you probably aren't because it's super long so I'm going to end a really shortly you should download the game if you like really easy games yeah I see Ende bye
Has potential; too many Ads
After playing for 2 seconds I was asked to rate this game. I declined but after 17 levels in less than one minute of play time there were more than 12 minutes of ads and delays.

The game has potential but if you mind waiting for play time this is not the game for you. The concept of a "Free Game" has really become twisted by online game apps and the advertising companies that convince players that the information they collect about us is being used for our benefit. They, the data miners, collect our information so they can sell your info to others so they can tailor marketing to you with the highest probability of selling you something, whether they direct you to another site that gives them money for your time on their website or they sell you information or merchandise.

I've heard that each person's information on Facebook is worth a little more than $12 to Facebook. I wish I could remember where I heard that morsel of information but my memory is not as good as it was.

It's up to you to determine what your information is worth. What is most valuable to you? Would you rather pay money or time for something you desire?

Time is one of my most valuable assets; it beats out money and possessions. Think about it. What is most valuable to you?
Fun but…
Ok this game looked really fun on the ad so I decided to download it. I played for an hour or so and was getting into it. I loved it but there was just so many ads. So I decided to just ignore and keep playing so I was playing but the same ad over and over kept coming back on again and again and again and by that point I had gotten tired of it, so that was the first problem. The other problem was that it was SO and I mean SO easy and I like my stuff to be easy but this was just TOO easy! I got to level like 50 in like five minutes. So I was about to delete it cause it was just a waste of time and it wasn't to fun, but I decided to give it one more chance. So I kept playing and then I think it was just a glitch but I accidentally clicked on remove ads and then I tried to press cancel but it wouldn't work and I tried everything but it came to having to turn my phone off and so I wanted to do an experiment so I pressed remove ads again and then it did it again so I had to turn my phone off AGAIN but I mean all the way off not just turn off the power button but swipe the button that says like turn phone off or whatever. So by that point I just decided to delete the game, so yeah I don't think I will be downloading this again. But anyways bye!
Get Tangle Master 3D from App Store
What is your opinion about Tangle Master 3D
Bitcoin
Ethereum
MetaMask (ETH)
Xrp
Polkadot
Binance coin
Stellar
Dogecoin
Tron
Elrond
Donate Bitcoin to this address
Scan the QR code or copy the address below into your wallet to send some Bitcoin
Donate Ethereum to this address
Scan the QR code or copy the address below into your wallet to send some Ethereum
Donate Xrp to this address
Scan the QR code or copy the address below into your wallet to send some Xrp
Donate Polkadot to this address
Scan the QR code or copy the address below into your wallet to send some Polkadot
Donate Binance coin to this address
Scan the QR code or copy the address below into your wallet to send some Binance coin
Donate Stellar to this address
Scan the QR code or copy the address below into your wallet to send some Stellar
Donate Dogecoin to this address
Scan the QR code or copy the address below into your wallet to send some Dogecoin
Donate Tron to this address
Scan the QR code or copy the address below into your wallet to send some Tron
Donate Elrond to this address
Scan the QR code or copy the address below into your wallet to send some Elrond