Stumble Guys game by Kitka Games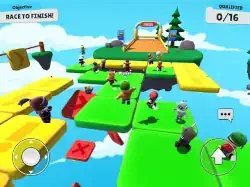 Game Description :
Stumble Guys is a massive multiplayer party knockout game with up to 32 players online.
Join round after round of escalating chaos to stumble through different levels until one victor is crowned!
Dive into a series of ridiculous challenges and bizarre obstacles, knock down your rivals and overcome everything to win! So, are you ready to get totally wiped out?
Download Stumble Guys, the ultimate knockout game, and take a part in this ultimate madness. Invite your dudes also and beat them all!
Game Features :
Run, Dash & Slide past opponents
Dodge oncoming obstacles
Battle Royale real multiplayer
Colorful and crazy in design
Comically Physical
Many customization options
Tons of hilarious fails
Lots of different levels
Knockout Foes, Win and Be the champion!
Additional Information :
Size 370.2 MB
Requires iOS 13.0 or later.
User Reviews :
Game Sense
This a pretty fun game especially for being on a phone. That being said I have my doubts about all the players being real. Round 1 I qualified super early and I literally watched (as you can then spectate once you reach the checkered area) 6-7 other stumble guys literally stuck in a loop. They would run to a certain spot and then fall off the map, it would respawn them they would run to the exact spot and fall off etc…..So I'm willing to bet that not all 30 or whatever it is; of the people in a given game are actually real life players seems that some of them are AI (artificial intelligence) and for me that's kinda disappointing as It almost takes away from the competitive aspect. When I'm playing what's considered an "online game" It's cool knowing that I'm actually facing real life people that have a brain and actually have to make decisions that could be from anywhere in the world other than facing a bot running off of ones and zeros. Don't get me wrong there are definitely real people in the game but it would seem that in the very first round of the game there are at least 5-7 Bots running around. Still a fun game that could be even better with some improvements. I think there should be more rounds to increase the suspense. Solid job though. The chances of 7 humans in a random game running to the exact same spot and falling off the map over and over again? Slim to none dead give away that there are some AI.
developers read this if you actually care about makin the game better
okay now see first of all…you guys should be very proud of this game because it jus so happens that this is the first mobile game that i consistently play and have played since fortnite mobile AND this is like the first time i've ever written a review onna game before. i would definitely recommend playin this game. but to make this game wayyyy better is to add more rounds…right now the rounds are like this, the first round has 16 qualifiers…2nd round: 8 qualifiers…3rd: 1 qualifier. and that isn't very satisfying to play and doesn't build enough suspense AT ALL. for the third round it should be 4 qualifiers and then make a 4th round and have that as 2 qualifiers. because for one, players that are eliminated have a higher chance of staying to spectate the last two because..the suspense..you wonder who's gonna win the 1v1 because…you jus do. it's jus more fun if it was like that. and the second thing is that when someone wins the game, the victory screen takes way too long. i was playin with my friends and when the victory screen showed the winner, they thought that the game glitched or it wasn't workin because it took so long to send you back to lobby. and MAYBE later in the game you could add accessories instead of jus skins. don't get me wrong..the skins are dope but you should add accessories too later on in the game.
Fun game, but improvement needed
I really love this game. It's really fun, and it's time consuming, and so fun to play. I think this game needs some improvement. One thing you can improve on and change is there are glitches and lags sometimes, but I don't think it's just something with my iPad. So many of my other friends and my sibling experiences it a lot too. Like in the Icy Heights map, I fell through the bars that were made to prevent you from falling through there. Also, in Tile Fall, only three people out of sixteen qualified, when the round was supposed to be over when sixteen out of sixteen were supposed to get qualified, and that kind of makes the game a little less fun because there aren't too much people to compete against, and you have to wait forever for the round to be over. There also constant lags that engulf the screen and you can't see where you are moving to. All you can see is the stumble guys screen going upwards and downwards and glitching, and other players are going ahead and qualifying. I get eliminated a lot of times because of that. Also developers, I think you could be a bit more creative. You could maybe add a new update or something, where you could get a bit more than only four free spins, and you could also add bug fixes and some tweaks, and you could like make us enabled to buy tokens with gems or buy gems with tokens. This is a really good game though, and you should be proud of this game.
Get Stumble Guys from App Store
What is your opinion about Stumble Guys
Bitcoin
Ethereum
MetaMask (ETH)
Xrp
Polkadot
Binance coin
Stellar
Dogecoin
Tron
Elrond
Donate Bitcoin to this address
Scan the QR code or copy the address below into your wallet to send some Bitcoin
Donate Ethereum to this address
Scan the QR code or copy the address below into your wallet to send some Ethereum
Donate Xrp to this address
Scan the QR code or copy the address below into your wallet to send some Xrp
Donate Polkadot to this address
Scan the QR code or copy the address below into your wallet to send some Polkadot
Donate Binance coin to this address
Scan the QR code or copy the address below into your wallet to send some Binance coin
Donate Stellar to this address
Scan the QR code or copy the address below into your wallet to send some Stellar
Donate Dogecoin to this address
Scan the QR code or copy the address below into your wallet to send some Dogecoin
Donate Tron to this address
Scan the QR code or copy the address below into your wallet to send some Tron
Donate Elrond to this address
Scan the QR code or copy the address below into your wallet to send some Elrond