myCigna app by Cigna Corporation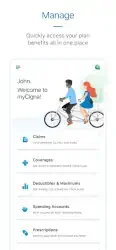 App Description :
The myCigna app gives you a new and improved way to easily access your important health information. You must be a Cigna customer to use the secure myCigna mobile app. Features available are based on the coverage you have with Cigna.
App Features :
ID Cards
Quickly view ID cards (front and back)
Easily print, email, or share from your mobile device
Find Care
Search for a doctor, dentist, pharmacy or health care facility, from Cigna's national network and compare quality-of-care ratings and costs
Claims
View and search recent and past claims
Account Balances
Access and view health fund balances
Pharmacy
View and refill your prescriptions right from your mobile device
Update billing and shipping preferences
Coverage
View plan coverage and authorizations
Review plan deductibles and maximums
Find what's covered under your plan
Wellness
View goal activity and awards
Languages Supported
Spanish and English
About Cigna
More than just a health insurance company, Cigna is a global health service company–dedicated to helping the people we serve improve their health, well-being and sense of security. We make this happen through a broad range of integrated health care and related plans and services, and proven health and well-being programs that are targeted to the unique needs of our customers, clients and partners.
Additional Information :
App doesn't work
Update

After I posted my review, customer support contacted me the same day. A case was opened and fixed in two days after they figured out what was going on. Thanks for the quick response

[Previous review]

When I first downloaded the app it worked however I got a new iPhone in November. My old iPhone had a touchID and my new iPhone has faceID. According to the app I'm only allowed one biometric scan so I couldn't switch to faceID. I contacted customer support to fix the issue. After uninstalling/reinstalling the app, resetting the password, etc., per the advice of customer service, the app no longer works. While I can login on my desktop, the app keeps giving me the same invalid credentials message when I try to log in. The app was nice when it worked but now it's useless.
Developer Response,
Hello. I'm so sorry you've had trouble and I'd like to look into this for you. Please email me at LetUsHelpU@cigna.com. I can help. -CM
It's "okay"… when it's actually working
For the last month or so, none of my claims appear in the app. It's bizarre – I have many many medical claims from the last 180 days, yet when I try to view them in the app, it says "You have no claims in this period." I then go on the Cigna website and can see all the claims, some of which were processed only a week prior. It's like the app can't connect to their database for some reason; it's really bizarre and makes the app next to useless.

Furthermore, it's 2021; there should be a SIMPLE, automated, electronic secure system with which us CIGNA customers can submit our claims. There isn't – they still demand that people physically mail their claim forms in, which is time-consuming, error prone, and wasteful.

Get your act together, CIGNA; you're supposed to be among the higher-end providers in the US. Start acting like it. I do know a ton of recruiters have reached out to me recently trying to fill technical positions at CIGNA (I'm a software developer), so hopefully they recognize and implement the critical features that remain missing from their service.
Developer Response,
Hello. I'm so sorry for all you've experienced with the app and I'd be glad to look into the issue for you. Please email me at LetUsHelpU@cigna.com. We're always here to help. -CM
Pretty good but…
I really appreciate all the features and conveniences of this app. It enables me to track HSA transactions as well as all claims. I also like how it helps me keep track of deductibles and out-of-pocket expenses. However, one thing that I want to be able to do within the app that I can't seem to do is go back to review info from the previous year. For example, we had a significant medical emergency in our household on Christmas day. While I am able to view claims as they are processed from that health event, even after the start of the new year, I can't view the overall deductible/out-of-pocket expenses tracker for 2017. I now only have access to the new trackers for 2018. I would appreciate being able to still view that info from 2017, for a few months into the new year anyway.
Get myCigna from App Store
What is your opinion about myCigna
Bitcoin
Ethereum
MetaMask (ETH)
Xrp
Polkadot
Binance coin
Stellar
Dogecoin
Tron
Elrond
Donate Bitcoin to this address
Scan the QR code or copy the address below into your wallet to send some Bitcoin
Donate Ethereum to this address
Scan the QR code or copy the address below into your wallet to send some Ethereum
Donate Xrp to this address
Scan the QR code or copy the address below into your wallet to send some Xrp
Donate Polkadot to this address
Scan the QR code or copy the address below into your wallet to send some Polkadot
Donate Binance coin to this address
Scan the QR code or copy the address below into your wallet to send some Binance coin
Donate Stellar to this address
Scan the QR code or copy the address below into your wallet to send some Stellar
Donate Dogecoin to this address
Scan the QR code or copy the address below into your wallet to send some Dogecoin
Donate Tron to this address
Scan the QR code or copy the address below into your wallet to send some Tron
Donate Elrond to this address
Scan the QR code or copy the address below into your wallet to send some Elrond