Renpho app by Joicom corporation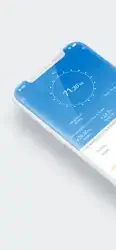 App Description :
Good health comes first!
App Features :
Renpho is the best helper in your journey to becoming fitter. The app can track multiple body composition metrics (BMI, Body Fat %, Body Water, Bone Mass, Basal Metabolism Body Age, Muscle Mass, etc). The cloud-based App's intelligent data analysis and tracking abilities makes it your perfect digital personal helper. It can even convert your data stored over time into charts and reports that can easily be shared by e-mail and multiple social media channels. On top of all that, your entire family can use the App! Renpho allows the user to create multiple personal profiles to keep your data separated.
In iPhone based on iOS8 , when you use our smart body scales measuring body composition , weight, percentage of body fat , fat weight, height, body mass index (BMI), height and resting calorie consumption data will be synchronized to HealthKit in .
Additional Information :
Size 87.8 MB
Requires iOS 9.0 or later.
User Reviews :
pretty useful
i personally don't know how accurate the extra data about your body fat, fat free body weight, etc. is so i don't really pay much attention to those but i do have the bluetooth scale and bluetooth tape measurer and they work well and i haven't had any problems with either of them. i primarily use the app to keep track of my weight and body measurements while ignoring all of the extra stuff and it's extremely useful. you can see on the graphs and compare the changes in each separate category for both weight and circumference. i've also noticed that you can add a baby as a member but seeing as i don't have a child i don't know much about it but that's there if anyone was curious.

overall good app for tracking weight and measurements. also i LOVE that it's all completely FREE. there are no subscriptions or anything. if you don't have the bluetooth scale or measurer you can use the MANUAL IMPUT. so there's no need to spend any money on a new scale if you already have a decent working one.
Only minor bugs – fantastic otherwise!!
When you first set up your account – which I had no trouble with – you select units. I selected lbs for weight/mass. When I did my first weigh, though, the app was showing #st#lb. People don't realize that st means stone, which is 14 lb. It's not used in the U.S., but it is still used in the U.K. It is still a form of measurement with lbs. Then I realized the app didn't save my unit setting correctly when I set it up, so I just went back in and set it to lbs again, and it held. A little bit of patience to locate and check the unit settings could have made this app a better experience for other reviewers who didn't know what st meant.

This app communicates seamlessly with LoseIt and Fitbit and Apple Health. I no longer have to enter my weight or any other of the metrics manually anywhere. THAT is impressive. Fitbit doesn't even bother doing this! My biggest concern would be that connectivity, and Renpho works just as I hoped it would. The measurements and values themselves are consistent with a recent body composition analysis I had at my gym.

The app is aesthetically pleasing, and you can choose your color scheme. Most of the screens and accessing data and charts are fairly straightforward. You can even look at trends based on time of day of the measurements. I'm very pleased with both the app and the scale.
No way to hide your data? Insanity – UPDATE
UPDATE: Thank you to the developer for responding quickly. I deleted my account and started over creating an account on my phone as instructed. Now we can all use the scale while keeping our data hidden from family members. I have adjusted the rating from 1* to 4* accordingly.

There appears to be no way to hide your data from other people in your family. A family of four should easily be able to have 4 accounts and each person should have access to their own data, not everyone's. That does not appear to be the case. If my wife wants to follow her progress and share it with me, then by all means… make that an option. But the fact that keeping your own data to yourself is NOT an option is laughable. Completely unusable from my perspective.

Would change to 4 or maybe 5 stars if this simple and obvious change was implemented.
Developer Response,
Dear customer, thank you for your feedback. I'm sorry for the inconvenience caused, please accept our deepest apologies.

If you want to keep your data private, then you can ask each user to download the RENPHO app and install on his/her own phone and register his/her own individual app account respectively.

Please do not add the other users as a friend if you want to keep your data private. Renpho friends can view the trends page of each other.

The scale can pair with several phones/iPad, but it will only connect with one phone/iPad at the same time. When you weigh, You'd better open your app and make sure the scale has connected with the phone/iPad which you have logged in to your Renpho app account, so that your measurements will sync to your Renpho app account.

The scale can be used in 2 ways:

1. You can use the scale with the app open and have the scale synced with your phone. The measurements are uploaded to the app immediately.

2. You can use the scale without your phone. The scale can store 10 measurements. When you open the app and turn on the Bluetooth and GPS(for Andriod) and wake up the scale next time, the stored data will be uploaded to your account automatically.

Tips:

1. Please measure with barefoot and wait for the scale to auto-shutoff(about 15 seconds) before stepping off.

2. Please ensure Bluetooth and GPS(For Android) are enabled on your phone; otherwise, the scale will not connect with your phone even if you open the app.

Please kindly contact us via email (support@renpho.com) if you have further questions. Sorry for the inconvenience caused. Sincerely, Renpho Customer Service Team
What is your opinion about Renpho
Bitcoin
Ethereum
MetaMask (ETH)
Xrp
Polkadot
Binance coin
Stellar
Dogecoin
Tron
Elrond
Donate Bitcoin to this address
Scan the QR code or copy the address below into your wallet to send some Bitcoin
Donate Ethereum to this address
Scan the QR code or copy the address below into your wallet to send some Ethereum
Donate Xrp to this address
Scan the QR code or copy the address below into your wallet to send some Xrp
Donate Polkadot to this address
Scan the QR code or copy the address below into your wallet to send some Polkadot
Donate Binance coin to this address
Scan the QR code or copy the address below into your wallet to send some Binance coin
Donate Stellar to this address
Scan the QR code or copy the address below into your wallet to send some Stellar
Donate Dogecoin to this address
Scan the QR code or copy the address below into your wallet to send some Dogecoin
Donate Tron to this address
Scan the QR code or copy the address below into your wallet to send some Tron
Donate Elrond to this address
Scan the QR code or copy the address below into your wallet to send some Elrond