Solar Smash game by PARADYME LIMITED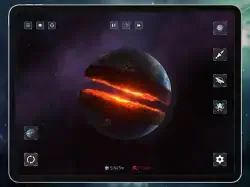 Game Description :
Solar Smash is a planet destruction simulator, it allows the player to use a variety of different weapons to destroy the planet. These include nuclear missiles, lasers, monsters, spaceships and asteroids.
Game Features :
This game contains flashing lights that may make it unsuitable for people with photosensitive epilepsy or other photosensitive conditions. Player discretion is advised.
Space images credits:
NASA's Scientific Visualization Studio
NASA's Goddard Space Flight Center
Space Telescope Science Institute
Additional Information :
Size 528.7 MB
Requires iOS 11.0 or later.
User Reviews:
Planet Smash
Planet Smash is one of the best solar system games I love it but it's not perfect Either it's not as good as universe sandbox 2 it doesn't have much options to chose from ether they need to focus more on weapons and customization planets like there's only 1 new weapon in the update but like at least add more its been like 2 months add more weapons and more options for plants and MORE Solar smash things it's boring in solar smash just at least add more weapons please I don't want to sound greedy but please at least 10 more weapons then I will be happy also people have monthly updates not like 2-3 months of the same thing it's boring that way also get rid of the ads I know it's money and all of that but do like a ad to get money to buy idk like weapons earn money from destroying planters idk but just stop with ads every time I destroy a planet and want to reset it it's ad after ad and please fix solar smash it's so boring compared to planet smash love the new lighting btw and add more tools / weapons it's boring but I would recommend the game for fun or for anything else highly recommend it but I'm still gonna give it 4 stars main problems are just the lack of gameplay this is my opinion so don't shame or be mean to be mean to me and I'm gonna go play universe sandbox something a a lot better gameplay and better graphics see ya!
This game is perfect and awesome but I have sum ideas
First off in Planet smash I think you should add like a big sharp arrow infused with lightning and it goes strait through and makes a lightning shockwave. The next weapon I think you should add is a bomb barrage. What i mean by this is that a big space ship hovers over the planet and drops a bunch of bombs, then that same space ship should shoot the bombs with a laser. Next thing I think you should add is a big stone monster slams both hands on the planet and a few seconds later a big sharp stone spike rises from the ground of the planet. Finally the last thing I think you should add is ( this one might be a little to big) a whole category full of different types of big monsters, just like the purple one that you have that punches. You can put a lightning monster, earth monster,(already mentioned) fire monster and even a water one. You can add more of different types if you want. Thank you so very much if you red this and I hope you can make these updates soon, and sorry if this is too much stuff to add. I would really appreciate if you added at least a part of this and have a great day!
Entertaining! A game I'll never delete!
This game is super fun! And you can destroy Earth,Mess around with control's destroy other planets and I can go on! This game also has a active Developer which is always great! I have a few suggestions that may make the game a bit cooler And also some features that can maybe even scientists could use! Feature 1: Let us start with a feature that maybe useful to a scientist, You should add Tons AND TONS of stars, solar system, planets and black hole's I know it maybe a stretch but scientists can simulate what could happen to the planet's! Feature 2: Coin's should be added as a currency to buy planets and weaponry and cosmetic items! The cosmetic items will have a use in the last feature…. Feature 3: I think you have enough money to do this now…. Add online Minigames! You could have so much fun a few modes I thought of were you had a wario-ware-like minigame were you can have a little timer to do stuff like REMOVE THE SUN or something! I hope you enjoyed and I hope you add some of my suggestions also one more thing add the egg to the weapons and make the egg the most powerful item in the game
Get Solar Smash from App Store
What is your opinion about Solar Smash
Bitcoin
Ethereum
MetaMask (ETH)
Xrp
Polkadot
Binance coin
Stellar
Dogecoin
Tron
Elrond
Donate Bitcoin to this address
Scan the QR code or copy the address below into your wallet to send some Bitcoin
Donate Ethereum to this address
Scan the QR code or copy the address below into your wallet to send some Ethereum
Donate Xrp to this address
Scan the QR code or copy the address below into your wallet to send some Xrp
Donate Polkadot to this address
Scan the QR code or copy the address below into your wallet to send some Polkadot
Donate Binance coin to this address
Scan the QR code or copy the address below into your wallet to send some Binance coin
Donate Stellar to this address
Scan the QR code or copy the address below into your wallet to send some Stellar
Donate Dogecoin to this address
Scan the QR code or copy the address below into your wallet to send some Dogecoin
Donate Tron to this address
Scan the QR code or copy the address below into your wallet to send some Tron
Donate Elrond to this address
Scan the QR code or copy the address below into your wallet to send some Elrond