Stacky Bird game Kooapps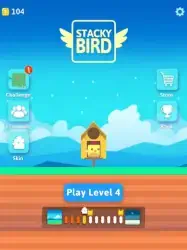 Game Description :
Stack your eggs to pass obstacles, but watch out for monsters and spikes. Stacky Bird is the fun, addicting game you've been waiting for, with hours of flappy fun!
This bird is on a mission to fly to new lands. Build up a long chain of eggs and flap around obstacles to reach new levels and locations, with beautiful birdhouses for you to claim.
Stack the perfect amount of eggs and make 3 perfect landings to enter Danger Mode. Build up to greater challenges and flap your way to the finish as the best bird on the leaderboard!
The bird games are fun and addictive, but you can unlock even more characters! Chickens, cats, pigs and more – find your favorite character and fly across the obstacles.
Stacky Bird is easy to pick up, but challenging to master. Flap through the colorful levels of Stacky Bird and help your bird fly home!
Game Features :
Stack Eggs
Stack eggs to cross obstacles and avoid dangers!
Build up a chain of eggs
Fly to the end of the level with extra eggs for bonus coins
Explore & Collect
Flying games take your bird to new lands and biomes
Earn coins while you play to unlock different characters
Unlock secret characters through the minigame
Bird Houses for Blocky Birds
Flying games lead you to new bird houses
Choose your favorite house to display
Leaderboard for the Birds
Climb to the top of the leaderboard
Build up points for the daily, weekly, or all time high score
Limited Live Events
Minigames and special levels!
Unlock exclusive characters
Stacky Bird is the casual flying game from the makers of Snake.io! Download this addicting and fun hyper casual game today!
Your reviews are important for the Stacky Bird team, let us know what you think!
Read/write storage permissions are used for Stacky Bird screenshots and cache user save files.
Privacy:  kooapps.com/privacypolicy.php
Additional Information :
Size 273.9 MB
Requires iPadOS 10.0 or later.
User Reviews :
This game is soooooooo awesome!!
I love this game, I play it everyday and I think that it's awesome. But, I do think that you should add more characters cuz I would like to get a bird without having to get Twitter. Other then that I do think that this is the best game to play when you are bored. You guys really have outdone yourself.

I also do think that we can play offline cuz I play this game when driving and whenever I want to watch an ad to get a new character it would freeze. But I do like how we can still play it. I got my friend into this game as well and -she is already way ahead of me  she would probably think the same as I do. Great job again for making this fantastic game
Developer Response,
Hi Bird Payne, thank you for your feedback! Rest assured we have taken note of your concern regarding adding more skins and have raised it to our team! Should you have other inquiries, please do not hesitate to e-mail us at support@kooapps.com. We're happy to assist!
Great game, but…….
So this game is good and all but why does there have to be so many ads like geez come on I have other apps and you only have to watch an ad when you want extra rewards or after every like 5 missions or plays of the game . But this game makes me watch An ad like after every level. So I'd be carful because once I got this one level PERFECT and it asked if I wanted to claim my coins of watch an ad to get even more coins. And so I was all like, "heck yeah I want more coins!!!" So I watched the ad and at the end it never gave me my reward! Instead the screen went blank and it sent me to my home screen. So I went back into the app and it made me start the level over and I lost all my coins that I got! (And I'm serious I had like 1500 coins!)and this happens every time I watch an ad wether it's for more rewards or not. I WANT MY COINS!!!!!!!! FIX IT
Amazing
This is the best game I've ever downloaded on my phone, it's so fun, I play it 24/7 there is nothing they could do to improve it, the design is so cute, it's appealing. I totally recommend this game and couldn't imagine my life without it! I have unlocked almost all the skins and I have a lot of fun playing the game. I love that it doesn't require wifi so I can play when there is no service. Honestly this is my favorite app in existence and I love it so much and play it more then I ever thought I would. I got this game to do something on my phone when I'm bored, but it ended up being a part of my daily routine! I hope this helps, have a great day and you should get the app!
Get Stacky Bird from App Store
What is your opinion about Stacky Bird
Bitcoin
Ethereum
MetaMask (ETH)
Xrp
Polkadot
Binance coin
Stellar
Dogecoin
Tron
Elrond
Donate Bitcoin to this address
Scan the QR code or copy the address below into your wallet to send some Bitcoin
Donate Ethereum to this address
Scan the QR code or copy the address below into your wallet to send some Ethereum
Donate Xrp to this address
Scan the QR code or copy the address below into your wallet to send some Xrp
Donate Polkadot to this address
Scan the QR code or copy the address below into your wallet to send some Polkadot
Donate Binance coin to this address
Scan the QR code or copy the address below into your wallet to send some Binance coin
Donate Stellar to this address
Scan the QR code or copy the address below into your wallet to send some Stellar
Donate Dogecoin to this address
Scan the QR code or copy the address below into your wallet to send some Dogecoin
Donate Tron to this address
Scan the QR code or copy the address below into your wallet to send some Tron
Donate Elrond to this address
Scan the QR code or copy the address below into your wallet to send some Elrond