MedBridge GO for Patients by MedBridge Education LLC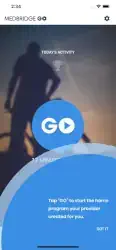 App Description :
The MedBridge GO mobile app for patients gets you moving! Keep up with your home exercise program in the app powered by award-winning content and technology.
App Features :
Patients can also set reminders, track overall progress, and view all of the Patient Education materials included by their therapist, from 3D models and explanatory exercise videos to clinician notes and PDF guides.
Follow these two steps to get moving:
1. Enter the access code from your provider to sync your program
2. Tap 'GO' to follow along with the exercise videos as they play on-screen
Additional Information :
Size 41.3 MB
Requires iOS 13.0 or later.
User Reviews :
Loved this until recents errors
I have been using this app for six months & Have been very happy with it. Until recently, the last three or four days it has worked fine but all of a sudden every time I try to save my logged in exercises I get an error that says "oops! Please try again later". I have tried it several times, over two days and nothing seems to work. I have uninstalled and reinstalled the app & still cannot get it to work. It does not show up in my list of apps needing updates. I'm writing this review in hopes that the developer will comment & give me a clue as to how to make this work. I googled the issue and I cannot find anything on this specific app.

Update – Seems the errors have been fixed in the app has been working perfectly. It deserves five stars now.
Developer Response,
Thank you for your comments! We updated the log exercise bug, which was impacting users for a couple of days. You should have no problem logging your daily exercises and any past exercises.
Great app, needs a few upgrades
I really love how this app works for the most part. I don't have to remember everything my PT gives me, I don't even have to worry about counting because all exercises are set to a timer so I can just focus on doing it right. I love that it has the videos combined with the instructions and tips.

My reason for 4 stars has to do specifically with not being able to focus on the exercises I want to in my program during each session. For example, if I'm not feeling good in my shoulder and I just want to skip to the hip exercises that day, i don't have any option on my end to uncheck the shoulder exercises before starting the program. Instead, I have to skip them to get to my hip exercises, but then it marks all the exercises as complete even though I didn't do the shoulder. I wish I could just pick the ones from my program that I want to do for now and just log those. It would help me and my PT to see what I'm doing more or less of. I'd also like the option to move exercises around in the order I want to do them. Sometimes it feels better to start with certain exercises than others, but again this is not an option. Add these features and I'll definitely give it 5 stars.
Developer Response,
This is great, granular feedback – thank you! We appreciate it. Stay tuned for more updates to the app over time…
Confusing and missing key functionality
I want to like this app but it just isn't that good. Example 1.. If you try to log your activity and do it wrong you can't delete nor can you edit it. And it saves the log whether you hit save. Example 2.. when it states that "selected activities are still on your plate to do" it is logging deselected as done even after you deselect them. I thought I was just doing it backwards but I did it both ways (selecting what is did and deselecting what I did) it still doesn't log it correctly as I have no logs that just show me having done two exercises at a time. Example 3.. it is impossible to accurately log that you have done 1 set of a select number of activities. I found where I'm supposed to be able to do it but it still logs them incorrectly in your activity log. As someone who has 10 or so exercises that I am supposed to slowly transition into and do throughout the entire day this program just doesn't make that possible. I do like the feature of showing me how to do the exercises but it isn't slow enough to actually go with me. It doesn't repeat even though I have it set to do so. It seems like there is a bug in this functionality too. I really hope that they make this app better bc Kaiser uses it for all PT patients and a lot of us have trouble with it.
Developer Response,
We do have a plan to develop a way to edit and delete logged activities that we hope to build next year. It is unfortunately a complicated architecture due to how adherence reporting works for your provider to see your progress. We know that this delay is not helpful for you at this time, and we apologize for the poor experience at this time. As for your points 2 and 3, these sound like bugs as what you're asking to do in the app is something we support. If you're willing, please reach out to our support team at patient.support@medbridgeed.com or 206-822-6116 so we can try to debug this.
Get MedBridge GO from App Store
What is your opinion about MedBridge GO
Bitcoin
Ethereum
MetaMask (ETH)
Xrp
Polkadot
Binance coin
Stellar
Dogecoin
Tron
Elrond
Donate Bitcoin to this address
Scan the QR code or copy the address below into your wallet to send some Bitcoin
Donate Ethereum to this address
Scan the QR code or copy the address below into your wallet to send some Ethereum
Donate Xrp to this address
Scan the QR code or copy the address below into your wallet to send some Xrp
Donate Polkadot to this address
Scan the QR code or copy the address below into your wallet to send some Polkadot
Donate Binance coin to this address
Scan the QR code or copy the address below into your wallet to send some Binance coin
Donate Stellar to this address
Scan the QR code or copy the address below into your wallet to send some Stellar
Donate Dogecoin to this address
Scan the QR code or copy the address below into your wallet to send some Dogecoin
Donate Tron to this address
Scan the QR code or copy the address below into your wallet to send some Tron
Donate Elrond to this address
Scan the QR code or copy the address below into your wallet to send some Elrond