(App) Simplenote
 iphone apps info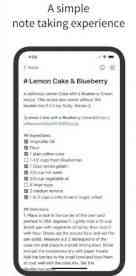 App Description :
Simplenote is an easy way to take notes, create to-do lists, capture ideas, and more. Open it, jot down some thoughts, and you're done. As your collection grows, stay organized with tags and pins, and find what you need with instant search. Since Simplenote will sync across your devices for free, your notes are with you at all times.
App Features :
A simple, note taking experience
Sync everything across all your devices
Collaborate and share
Stay organized with tags
Log in with your email or WordPress.com account
SYNC WITH CONFIDENCE
Automatically sync seamlessly across any computer, phone or tablet.
Back up and sync everything as you take notes, so you never lose your content.
COLLABORATE AND SHARE
Collaborate and work together — share ideas with a colleague, or write a grocery list with your roommate.
Choose whether to publish your content to the web, and share a link with whoever you want.
Publish directly to a WordPress site by connecting your WordPress.com account.
Quickly and easily share with third-party apps.
ORGANIZE AND SEARCH
Stay organized with tags, and use them for quick searching and sorting.
Instantly find what you're looking for with keyword highlighting.
Use markdown to add formatting.
Create to-do lists.
Choose the sorting order of your notes and tags.
Pin the notes that you use the most.
Edit tags directly by renaming and reordering.
Protect your content with a passcode lock.
Privacy Policy: automattic.com/privacy/
Terms of Service: simplenote.com/terms/
California Users Privacy Notice: wp.me/Pe4R-d/#california-consumer-privacy-act-ccpa
Visit simplenote.com to download Simplenote for your other devices.
Additional Information :
Size 17.8 MB
Requires iOS 12.0 or later.
Compatible with iPhone, iPad, and iPod touch.
User Reviews :
Can rest easy.
I was depressed once, and I kept some notes in the notes app that comes on the iPhone. I talked about how I was feeling, what I was thinking, as well specific events that happened. These notes were very valuable to me as they detailed my experience. I wanted to save them and be able to look back later in my life and review/ analyze what I had written during that difficult time. But one day, while trying to access my notes I discovered, to my horror, that the notes had disappeared! I still don't know what happened and have found no way to retrieve them. They are lost. Valuable details and memories I can't get back. I looked around for a new note app that would guarantee the safety of my precious notes. I found that app in Simplenote! My private notes are fingerprint and password protected. They are backed up and can be accessed from any of my devices! I love it! The app has a cool feature that saves not just the current note, but also the original version of the note and all versions following! I feel assured knowing my notes are safe with simplenote!
No shortcuts for ipad Keyboard hurts the app
I use an ipad 6 to use this application and it was going really good until I held down the command key to see what cool shortcuts were available. There were none. Suddenly all the speed and simplicity that the app did a wonderful job of integrating flew out of the window because I was left having to reach from keyboard to screen more often than I wanted to.

There were no obvious shortcuts for making a new note other than actually touching the screen. No obvious way off accessing my tags unless I touched the screen. This is wonderful when I am in full touchscreen ipad mode or iphone mode but when I have the keyboard out and connected to the ipad I want a little bit more fluidity when it comes to movement between windows. After all, Apple specializes in this.

So seeing that there are no obvious keyboard shortcuts really hurt. Every other app shows me a nice list of easy to see shortcuts when I hold the command button. Please add this feature. It will improve the app drastically. Literally made the app unusable for me because it is hard to go back to just touching the screen for every single task when you have a keyboard attached. Touching screen for a few things is nice but it gets to a point where my hands cant even rest on the keyboard anymore.
The best app on my phone
This is literally the best app on my phone. That is saying a lot, but this app just gets me. It is just so common sense with its functionality and lack of stupid extra bs, and it just works the way it's supposed to. It's free, your notes are safely stored including old versions of notes saved, and it syncs between devices. There's a version for every os including desktop os's. It's got some other useful functions I don't use like the ability to share a note with collaborators and writing in markup or something, but I can't comment on them because I haven't used them. I bet they work great though. This is probably the least buggy app I've ever used too. It's lack of stupid extra bs means it just works right. Download it right now. It's a strict upgrade from your dumb default notes app, there are no downsides to replacing it with this. The simple fact that if you ever accidentally delete a note you can just look at the saved history version is all the reason you need, and is the reason I sought this app out in the first place. Just DO IT!!!!!!!!!!!
Get Simplenote from App Store
What is your opinion about Simplenote
Bitcoin
Ethereum
MetaMask (ETH)
Xrp
Polkadot
Binance coin
Stellar
Dogecoin
Tron
Elrond
Donate Bitcoin to this address
Scan the QR code or copy the address below into your wallet to send some Bitcoin
Donate Ethereum to this address
Scan the QR code or copy the address below into your wallet to send some Ethereum
Donate Xrp to this address
Scan the QR code or copy the address below into your wallet to send some Xrp
Donate Polkadot to this address
Scan the QR code or copy the address below into your wallet to send some Polkadot
Donate Binance coin to this address
Scan the QR code or copy the address below into your wallet to send some Binance coin
Donate Stellar to this address
Scan the QR code or copy the address below into your wallet to send some Stellar
Donate Dogecoin to this address
Scan the QR code or copy the address below into your wallet to send some Dogecoin
Donate Tron to this address
Scan the QR code or copy the address below into your wallet to send some Tron
Donate Elrond to this address
Scan the QR code or copy the address below into your wallet to send some Elrond