(Game) Time Locker
 free games for iphone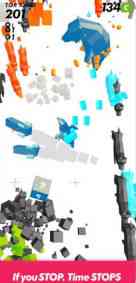 Game Description :
TIME LOCKER!
Game Features :
The speed of time in the game is controlled by the speed of your finger.
Play with lots of different characters all with different abilities, and see how long you can survive in a world with lots of different types of animals that all move differently!
Runner-Up : App Store(JP) Best of 2016
Grand prize : Indie Stream Award 2016
5STAR : Touch Arcade
Additional Information :
Size 74 MB
Requires iOS 9.0 or later.
Compatible with iPhone, iPad, and iPod touch.
User Reviews :
Extremely fun & addicting!!
Soul knight and crossy road has a baby and that baby is jacked on steroids that's the best way (I) can describe it..lol but instead of only having 2 guns like soul knight you can carry and shoot all at once and instead of multiple dungeons it's one very big digital dungeon.

I have been playing it everyday since I got it and it's only getting better as I get more characters. It's not pay to win but you can buy special characters which In my experience aren't as good as some of the free ones especially big line shooter he doesn't look all that menacing but when you add 3 lines of bullets, he is unstoppable from the front. The only ads in the game are optional but you do receive money to buy characters and weapons after watching.

This game is great and if you got through my long uninteresting review you owe your self some fun so hit that get button and blast away on some elephants dinosaurs tanks helicopters snakes birds and anything else you can think of because they will try to do the same to you.
Awesome!
Love this game, I've been playing it since it came out. Don't get me wrong, this game is amazing how it is now. But I do have to say it hasn't been updated in awhile. It would be cool to see some new enemies/ bosses, new weapons, or maybe even game modes. To be fair I haven't gone through all the characters yet and I know they have custom weapons but it would still be cool to see a new collectible one or something. Anyway, other than maybe needing an update this game is perfect, the currency system is great. It really gives you a purpose to keep playing the game and isn't too easy or hard to get. And the prices for the characters seem great to me. Love the game, keep up the good work. 😀
Excellent
Okay I've been playing this game like every day for the past month and things need change I'm tired of seeing the white back ground there needs to be more variety and make challenges or something and I feel like the waves start getting extremely hard harder the 5th wave like they just come pouring at you. Needs more characters and variety make different skins or something to keep it fresh! I absolutely love this game and want to see it become the best game in the App Store! Just needs lots of love and attention! 5/5 stars though keep it up!
Game keeps bringing me back even after running out of unlocks
This defines what a freemium game should be: zero in app currency, pay once and move on. I bought almost all the additional characters but they are completely unnecessary.

About the only issue comes that certain power ups make it hard to see energy fire, the beam weapon combined with the enemy fire being nearly the same color as your own makes some deaths feel cheap. It annoys me but it's the only issue I have and clearly not enough of one to keep me from playing the game.
I love the new update!!!!
I have been playing since day of release. I've purchased every character as well as the double coin. This game is just fun and unique. The developer is also extremely engaged and will talk to you directly on twitter. He has added several of my suggestions and has helped when I had issues. This game has iCloud save support so when I just upgraded I lost nothing. I had no problems with this update unlike the previous person.
Get Time Locker from App Store
What is your opinion about Time Locker
Bitcoin
Ethereum
MetaMask (ETH)
Xrp
Polkadot
Binance coin
Stellar
Dogecoin
Tron
Elrond
Donate Bitcoin to this address
Scan the QR code or copy the address below into your wallet to send some Bitcoin
Donate Ethereum to this address
Scan the QR code or copy the address below into your wallet to send some Ethereum
Donate Xrp to this address
Scan the QR code or copy the address below into your wallet to send some Xrp
Donate Polkadot to this address
Scan the QR code or copy the address below into your wallet to send some Polkadot
Donate Binance coin to this address
Scan the QR code or copy the address below into your wallet to send some Binance coin
Donate Stellar to this address
Scan the QR code or copy the address below into your wallet to send some Stellar
Donate Dogecoin to this address
Scan the QR code or copy the address below into your wallet to send some Dogecoin
Donate Tron to this address
Scan the QR code or copy the address below into your wallet to send some Tron
Donate Elrond to this address
Scan the QR code or copy the address below into your wallet to send some Elrond