[App] Notion – Notes, projects, docs
 iphoneapps info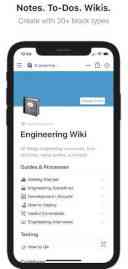 App Description :
Notion is the all-in-one workspace for your notes, tasks, wikis, and databases.
App Features :
Apple App of the Day
WSJ columnist reviews: A rare renaissance app. I used to need five separate apps… now it's all in Notion.
DRAG, DROP, EDIT
Use drag and drop to arrange any content. Great for prioritizing lists and to-do's.
RICH MEDIA
Supports images, check boxes, bookmarks, code snippets, and 20+ block types.
SYNC WITH MAC, WINDOWS, AND BROWSER
Download the browser and desktop apps. Notion syncs across devices.
COLLABORATE IN REAL-TIME
Share your pages and edit together at the same time with comments.
ORGANIZE INFORMATION
Nest pages inside pages. No more messy folders.
Additional Information :
Size 40.6 MB
Requires iOS 13.0 or later.
User Reviews :
The maybe bullet journal app
Daunting and confusing to use at first opening; bit of a steep learning curve. Once I got used to working with "blocks" and figured out the app's system of organizing data works, I was able to start playing with the app successfully. Creating personal templates was the hardest part, but once I got them to work, the app is a suitable and potentially excellent way to keep and maintain a bullet journal. Lots of potential for being a personal database, bujo, recipe book, handy reference tool. I like the desktop app very much and how it syncs quickly with iOS apps.

I wish they had more export page sizes like A5, Executive, and half-size to print pages and place them in smaller binders. Also, better printing capabilities from both iOS and MacOS apps for those of us still in-love with analog journals and notebooks. And, guys, seriously, the premium PDF subpage document export feature is essential. Please rethink making this available to all or as an add-on to a personal account. Seriously. Wow.
AMAZING productivity tool but needs an offline mode desperately
I absolutely LOVE Notion and it has allowed me to streamline my note-taking and record-keeping habits and allowed me to use the same tool for so many things where my workflow used to be fractured across multiple apps- it's truly incredible software. I love the creativity of both the Notion team and the community of users they have fostered. Being able to share templates with one another is wonderful and the functionality of the app is tremendous. However, as much as it pains me to say it, the outages Notion has been experiencing has shaken my confidence in the software since I have really come to depend on it and, when the system is down, I can't access any of the critical information I store there. I am so impressed by what the Notion team have developed but if these outages continue to happen and we don't have the ability to save our data locally, I will have to find another solution because I can't afford to be locked out of the data I store on the platform. I hope the Notion team is working on an offline sync, and if they are it would be so helpful for us users if they would share that information and give us a timeline. Much appreciation to the Notion team for all of they've done. I definitely recommend the app unless you can't afford to be unable to access your data from time to time.
Never been more organized
Absolutely life changing. I have never been more organized. It feels like I'm decluttering my life—every single thing has it's place and when I have to schedule something new, I can pull out my calendar and immediately know what days and times are best for me. I have separate pages for school and personal, and each is broken down further (ex. School is broken down by degree, then course, then week, then assignment & I have an "Assignment Calendar" and a "Readings and Lectures Calendar").

I watched several videos on how to use Notion, and to be honest, I prefer the desktop version (I really only got the app so I could have it on my phone). The videos I watched were specific to the topics I wanted (that is, school & personal) so it was easier for me to get a hold on the things I wanted/needed from Notion. Plenty of people make suuuuper specific templates, so if you don't want to make everything yourself, you can just download a template and edit it. It isn't as hard as it seems!!!
Good app, unreliable performance
I really enjoy the features of this application. However, I have run into a problem multiple times now where the app will refuse to open. I click on it and the loading screen pops up but then nothing happens no matter how long I wait. I've tried clearing my apps, restarting my device, updating the app if there are updates, but none of it helps the issue go away. The only way I have been able to resolve this issue when it occurs is by deleting and redownloading, which is far from convenient. I have noticed that multiple times when this issue occurred I was also playing a podcast from my device at the same time, but I can't be sure if that has anything to do with it. If it does, clearing the podcast app and stoping the podcast does not help fix the issue anyway.

An additional issue that impacts my flow through the app is an inability to copy and paste multiple lines/blocks of text. This is possible from the desktop version but not on iPad.

I'd give 5 stars if it weren't for these pernicious issues.
Start on desktop version first. Mobile app is kind of unwieldy, but fully functional!
I LOVE NOTION! After a few days of using the mobile app, it seems that mostly all the functionalities available on the Mac desktop version have been implemented in the app well. I appreciate that you can still edit pages and formulas exactly as you would on desktop! As a mobile app it can be slightly unwieldy, and not always optimized for your screen or super aesthetic. Notion has a semi-steep learning curve and if it's your first time using it, I'd recommend setting everything up/formatting your pages on desktop first and getting the hang of it that way. After you do that it's a pretty smooth ride! Love this app, it's helped me organize my entire life – some things I didn't even know needed organising until I found Notion! Highly recommend.
Get Notion from App Store
What is your opinion about Notion
Bitcoin
Ethereum
MetaMask (ETH)
Xrp
Polkadot
Binance coin
Stellar
Dogecoin
Tron
Elrond
Donate Bitcoin to this address
Scan the QR code or copy the address below into your wallet to send some Bitcoin
Donate Ethereum to this address
Scan the QR code or copy the address below into your wallet to send some Ethereum
Donate Xrp to this address
Scan the QR code or copy the address below into your wallet to send some Xrp
Donate Polkadot to this address
Scan the QR code or copy the address below into your wallet to send some Polkadot
Donate Binance coin to this address
Scan the QR code or copy the address below into your wallet to send some Binance coin
Donate Stellar to this address
Scan the QR code or copy the address below into your wallet to send some Stellar
Donate Dogecoin to this address
Scan the QR code or copy the address below into your wallet to send some Dogecoin
Donate Tron to this address
Scan the QR code or copy the address below into your wallet to send some Tron
Donate Elrond to this address
Scan the QR code or copy the address below into your wallet to send some Elrond