(App) Cash for Steps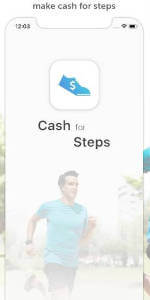 App Description :
Starting today, you can earn real money with our app!
How to get money ?
1. Walk. Every day our system will select 20 random users within yesterday's top 200 and they will get $1 each.
2. Reach achievements. For each achievement you reach with 5 stars you'll get $1. Some achievements you can reach only once, but Survey achievement is unlimited!
3. Withdraw money with PayPal or Amazon gift cards!
App Features :
Cash for Steps app is using Health app to receive your latest fitness activity (Steps and Walking + Running Distance) and display it in the app. By using Health app we can receive and sync fitness activity from your Apple Watch.
To get steps and distance from Health app – navigate to Home page, press device icon on the top left corner and choose 'Health app' option.
Earn points by walking and completing simple tasks like sharing the app.
New leaderboard and new winners every day!
You don't need to keep the app running all the time to track your progress, just open it at least once a day to sync your stats.
You are tired to walk but want more points? This is the right time to open offers tab where you will find out how to increase the score!
Base restrictions:
You are not allowed to use / have / register multiple accounts
You are not allowed to cheat a system or abuse steps
You must be 17+ years old to use the app.
Any questions, comments or concerns, please feel free to contact us at cashforsteps[at]gmail.com. We don't support jailbroken devices. We reserve the right to close anyone's account we view as fraudulent or which violates our rules or restrictions.
Disclaimer – The money and gift cards paid out in this app are in no way affiliated with Apple. The process of sending the gift cards is not affiliated with Apple either.
Additional Information :
Size 127.1 MB
Requires iOS 11.0 or later.
User Reviews :
Not a fake review, this app is pretty cool
This app, unlike other money for doing other stuff apps, gives you plain and simple what you need to do in order to get a reward. The part where you can watch ads to get points is a bit iffy to me, but still a decent feature. Also people complaining about people cheating because when they wake up, someone somehow already has 20,000 points, you do have enough brain cells to realize that there is a whole other side of the earth that operates as you do right? It's daytime there when it's nighttime where you live. I've only had the app for a couple days, so I don't know if you can actually claim rewards or if it's just a massive scam, but for now I will believe that you can. Review will be changed if you cannot.
Pretty decent app
Usually I don't write reviews but this is honestly with certainty one of the only realistic apps for making money by walking. Other apps that give points would take you more than a year (I did the math and found for one of them to get enough to redeem walking 15k steps a day would take you more than a year) and it's absolutely ridiculous. now I'm not saying you'll get rich immediately playing this app as of course I haven't, but if you can manage to get yourself in top 50 every day, which isn't that hard if you're not lazy, you have a 10% chance of winning 1$, of course it's not much but it's sure more than most apps are able to offer.

If I were to change anything it would definitely be to add some sort of reward system to people who constantly are top 50 even if they don't win one of the 5 wins. Maybe even throw in a, "one person a day wins 5$ or something" while including the 5 people also win 1$ idk just something to entice more people to walk
Motivation For Motivation
I love the way this app gives yourself a good challenge everyday as well as so many amazing people that can make you feel like you have a lot more to work with or without having to buy a new device or even a better app to get rid of my self doubt and bring back my motivation and dedication to a heart of healthy happiness and even healthier lifestyle. Plus this app builds confidence you didn't even know you had inside! I have no clue why you don't have it downloaded and why you're still sitting down instead of walking winning and working on your next days challenge to beat!
First Time Trying
I tried out this app in hopes of being motivated to get out and walk. This app truly does that and I can say that it has really helped me stay active. I really enjoy using this app so far, it is pretty easy to use. I think it could be improved by introducing more ways to get cash. Perhaps by completing a certain amount of steps per day, there could be a point system that allows users to build up a certain amount of coins, allowing them to select a prize for doing so. However, the current system increases the chances of people keeping up the habit. It is a very good app, though, definitely worth the time to check out!
Get Cash for Steps from App Store
Leave your feedback regarding Cash for Steps
Bitcoin
Ethereum
MetaMask (ETH)
Xrp
Polkadot
Binance coin
Stellar
Dogecoin
Tron
Elrond
Donate Bitcoin to this address
Scan the QR code or copy the address below into your wallet to send some Bitcoin
Donate Ethereum to this address
Scan the QR code or copy the address below into your wallet to send some Ethereum
Donate Xrp to this address
Scan the QR code or copy the address below into your wallet to send some Xrp
Donate Polkadot to this address
Scan the QR code or copy the address below into your wallet to send some Polkadot
Donate Binance coin to this address
Scan the QR code or copy the address below into your wallet to send some Binance coin
Donate Stellar to this address
Scan the QR code or copy the address below into your wallet to send some Stellar
Donate Dogecoin to this address
Scan the QR code or copy the address below into your wallet to send some Dogecoin
Donate Tron to this address
Scan the QR code or copy the address below into your wallet to send some Tron
Donate Elrond to this address
Scan the QR code or copy the address below into your wallet to send some Elrond