Real Pool 3D game by Sailendu Behera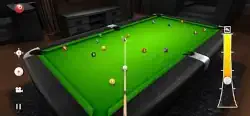 Game Description :
The best 3D pool game is here! The ultimate addictive fun pool game.
Challenge your friends to matches or play against the AI players in the best pool game.
Real Pool 3D is one of the most realistic and enjoyable pool games available on mobile.
It features many pool game modes like 8 Ball, 9 Ball, UK 8 Ball, Snooker, Time Trial, Matrix Mode and Practice Mode. So if you're a billiards fan, there is something for you to play in Real Pool 3D.
Customise your pool table by choosing the color and cloth patterns you like.
In Time Trial you have a time limit of 4 minutes, in which you have to pocket balls as fast as you can to achieve more score. When you pocket more than one ball back to back, your multiplier will increase and which will boost your score and time.
In Matrix Mode, when you pocket a ball your score will be multiplied by the difference of your previous and current ball number if the current is more than the previous; but if the current is less, then your score is divided by the current ball number. So be careful.
Have you ever thought about playing billiards on a real table, Real Pool 3D is the perfect way to try a variety of games. Real life graphics and angles to help improve your skills. Play Practice mode if you just want to relax and play without any rules.
Game Features :
8 Ball, 9 Ball, UK 8 Ball and Snooker.
Play with the Computer Player.
Pass & Play with friends.
1 or 2 player
4 Different Controls.
Spin / English Control.
10 Characters to choose from.
3 AI Difficulty Levels.
10 Table Colors.
10 Table Patterns.
6 Cues to choose from.
Realistic Physics.
Stunning 3D graphics.
Relaxing Musics.
Like Real Pool 3D:
facebook.com/RealPool3D
Get the latest news, deals, and more at:
FACEBOOK: facebook.com/eivaagames
TWITTER: twitter.com/eivaagames
YOUTUBE: youtube.com/eivaagames
Find out more about EivaaGames:
www.eivaagames.com
Additional Information :
Size 103.1 MB
Requires iOS 11.0 or later.
User Reviews :
Overall, an excellent app!
I checked out a number of other pool game apps and this seemed like the best by far. I enjoy the multiple different variations of pool and billiards and just tried the recently added snooker, which I found to be a good addition.

I really like the graphics and gameplay. The response and physics behind it are good. I feel the application of english to the ball is realistic, although there are times where I felt the force of the hit and the english applied would not be possible in real play.

I don't generally use the top view, as I like to have a vantage that is familiar to me from real pool play. I think that when a higher perspective is being viewed, the front edge of the table could be brought closer to the players position. It seems like half the screen is wasted and you don't get a full view of the table. I would also like to be able to change the orientation to take advantage of the full length of the tablet when viewing from the end of the table. It would be nice to be able to choose your view rather than be locked into one orientation.

The ball placement is a little too fast and makes me dizzy, but overall a really good game!
Some great bits and not so great
I downloaded this app because I was looking to get my hands on some more pool but it is hard to access a physical pool table. It is great for just playing around, but not necessarily ideal but getting better at pool. I was a little disappointed that was no online mode to play against actual players. The CPU mode isn't realistic at all because the computer can easily do any shots it wants and then purposely miss before it makes too many in a row. On the 'easy' CPU mode it will almost always make two shots in a row and then purposely miss the third one. A real player would more often make easy shots but less often make hard ones. The CPU makes easy shots and hard shots alike until it decides to give up. The way I prefer to play the game is in the offline 2-player mode where I will play against myself from both sides. That is where I have improved at the game the most.

Some positives about the game include the fact that there are plenty of modes to choose from, including 8-ball, 9-ball, snooker, time trial, practice, and many others. There are many ways to play the game, even if by yourself. The art style is also very good and the atmosphere of the game has a very relaxing and friendly vibe, which is exactly what you want for this type of game. Despite it's flaws, the game can be a fun way to improve at pool as ling as you are challenging yourself. Overall it is easily worth the $2 charge to go ad-free.
Great app!
This is a simple yet dynamic app with plenty to offer the billiards fan and pro! The CPU is a wizard to watch, and gives you a real challenge! It's not always all that smart, so it's a bit lacking. Whenever it gets an impossible shot, and occasionally even a not so difficult shot, it can be surprisingly inept and clumsy, which is not realistic or consistent. Still, most of the time I'm shaking in my spurs to sink every ball I get and keep my streak running to the end or else the game is easily handed over. I should also say that this critique is based on playing exclusively on "Hard," the highest difficulty level. Otherwise, there are several fun games to play within the app to keep things interesting, rules are thorough and insightful, and the look, feel, action and options within the app are all very satisfactory. Actually I have just one other Main critique and that's that the perspective camera view in gameplay can be unwieldy and not easily adjusted once you've moved it too much. Not sure what to do about this, but I mostly use a top-down view to play.
Get Real Pool 3D from App Store
What is your opinion about Real Pool 3D
Bitcoin
Ethereum
MetaMask (ETH)
Xrp
Polkadot
Binance coin
Stellar
Dogecoin
Tron
Elrond
Donate Bitcoin to this address
Scan the QR code or copy the address below into your wallet to send some Bitcoin
Donate Ethereum to this address
Scan the QR code or copy the address below into your wallet to send some Ethereum
Donate Xrp to this address
Scan the QR code or copy the address below into your wallet to send some Xrp
Donate Polkadot to this address
Scan the QR code or copy the address below into your wallet to send some Polkadot
Donate Binance coin to this address
Scan the QR code or copy the address below into your wallet to send some Binance coin
Donate Stellar to this address
Scan the QR code or copy the address below into your wallet to send some Stellar
Donate Dogecoin to this address
Scan the QR code or copy the address below into your wallet to send some Dogecoin
Donate Tron to this address
Scan the QR code or copy the address below into your wallet to send some Tron
Donate Elrond to this address
Scan the QR code or copy the address below into your wallet to send some Elrond