Rise – Energy & Sleep Tracker app by Rise Science Inc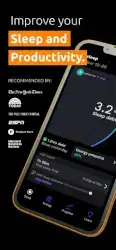 App Description :
Become a better sleeper thanks to 100 years of sleep science.
Teams in the NFL, MLB, NBA, MLS as well as many Fortune 500 companies trust Rise to help members achieve better sleep.
FROM THE RISE COMMUNITY:
Chase M.
"Rise helped me understand how vital sleep truly is. In only a few weeks, I found myself more focused, energetic, and productive at work."
Becky G.
"I could see where sleep debt was causing issues, like temper short, not comprehending things, moving slowly. I had an epiphany… I'm getting 45min more sleep on average than I was before Rise."
Katie B.
"I never thought too much about the impact of sleep on my mood. With Rise I saw a very fast improvement in my sleep which impacted my relationship with my kiddos."
App Features :
RISE Premium Features
FEEL BETTER
Are you wondering how to get the most out of your sleep? It's time to look beyond a new mattress or getting eight hours of shut eye and focus instead on your SLEEP DEBT.
Sleep Debt is one of the most vital findings in the last century of sleep science. When your Sleep Debt is low, your quality of life as well as your life expectancy increases. When your Sleep Debt is high, the opposite happens.
With Rise, learn what Sleep Debt is, how it works and then calculate your own. This will help you better understand why some days you feel great and others not as much. It will help you decipher when you should prioritize sleep and the real toll staying up late has on you.
GUIDANCE TAILORED FOR YOU
Do you find your mind racing just as your head hits the pillow? Unable to stop doom-scrolling on your phone until the early hours?
Based on your data and the latest research, we'll make recommendations on new personalized habits that fit your needs and help you feel better immediately.
How Rise helps you sleep better:
Encourages you to get into bed on time
Provides guidance when you have difficulty sleeping
Reduces the amount of times you wake up in the middle of the night
Optimizes sleep time to reduce feelings of grogginess
OPTIMIZE YOUR DAY
We all have an internal brain clock that signals to your body when to be alert as well as when to go into recovery mode. Each body and mind is unique to another, from when we perform our best to when we should be sleeping and waking up. Given this individualization, we use advanced algorithms to highlight the optimal window for sleep and activity.
AUTOMATICALLY TRACK SLEEP
Through our integration with Apple Health, Fitbit, Oura, Garmin, Sleep Cycle and data from other sleep trackers already on your phone, Rise can determine the hours of sleep you get every night, the number of steps you take each day, as well as data from other various activities that affect your sleep pattern.
WHY WE STARTED RISE
We want to help get ahead of the Insufficient Sleep Epidemic (CDC, 2014) we are currently experiencing and that has been steadily increasing since 1985. This Epidemic has led to elevated mortality rates (Cappuccio, 2010) as well as underperformance in most aspects of life (RAND, 2016).
Today, we look at sleep as a luxury. Rise strives to create a world where healthy sleep is a necessity.
Subscription pricing and terms:
Rise offers an auto-renewing yearly subscriptions at $59.99/yr or $35.99/yr to provide you with unlimited access to the RISE Sleep & Energy improvement membership and all premium features. We offered a limited-time free trials of 7-days to explore the Premium features for free.
Payment will be charged to the credit card connected to your App Store account when you confirm the initial subscription purchase. Subscriptions automatically renew unless auto-renew is turned off at least 24-hours before the end of the current period. Manage your subscription by going to your Profile page, or on the App Store Subscriptions settings page.
With your Rise Premium subscription, you may be eligible for life and AD&D insurance.
Terms of Service available at: bit.ly/rise-sleep-app-tos.
Additional Information :
Size 187.7 MB
Requires iOS 14.0 or later.
User Reviews :
Optimize this for teens please!
I got this app and so far I love it. I realized that my teenage daughter needs this more than I do. Unfortunately the school system has zero compassion for the science that says that pre-teens and teens experience a biology shift that causes them to experience later sleep onset and wake times, plus the need for more hours compared to adults (9-11 hours!). All of this, plus a new and thriving social life outside of family wreaks havoc on their sleep schedule. She missed a class from oversleeping and was so stressed and frustrated over her erratic sleep habits she came to me and asked for help, which in all honesty really surprised me! I had literally just started on this app when she did this and couldn't believe I didn't think of it for her first. She's using it now (still on her trial) and we're willing to see how it does, if it helps, even though it's for adult sleep needs. She likes the interface and the gamification of reducing her sleep debt.

She also suggested the ability to edit her "wind down" activity such as "Pack backpack" and "Set next the next day's school outfit". She also suggested "spending time with pets" which I thought was actually brilliant given the calming benefits of petting our critters.

If this app helps my teenager feel rested and more motivated to get to bed at a decent hour than shut up and take my money!
Developer Response,
Hey – Thanks for the suggestion, that's a great idea. You're totally right kids and teenagers do need more sleep than adults.
Great app, could use some additional features
So far, I really like this app. For the first time, I actually feel real motivation to get more sleep on a regular basis because I want to see my sleep debt go down! The information about energy peaks and dips and melatonin windows is also extremely helpful and very accurate so far. I only wish that there was a way to add naps to lower sleep debt. The pop up windows are constantly suggesting taking naps during energy dips, yet I couldn't find a way to add a nap to my sleep total. I was really hopeful that adding a nap would lower my sleep debt, but maybe science suggests it doesn't work that way, so they didn't include that option? Idk, but I sure wish they did, or at the very least included some information about the science of naps if they have some reason not to add this feature.

Update: now that I know how to add naps, my main concern with the app has been resolved, and I will fully endorse it with 5/5 stars. Its design motivates me to get more sleep, which is exactly what I was needing.
Developer Response,
Thank you for the feedback! Naps are a great way to reduce sleep debt, however, you need to make sure they're timed appropriately to not disturb your night sleep.

You can add naps by:

On the "Sleep" tab, tapping last night → add nap time

On the "Progress" tab, tapping a specific night → add nap time

(we have plans to make this clearer in the near future!)
Get Rise from App Store
What is your opinion about Rise
Bitcoin
Ethereum
MetaMask (ETH)
Xrp
Polkadot
Binance coin
Stellar
Dogecoin
Tron
Elrond
Donate Bitcoin to this address
Scan the QR code or copy the address below into your wallet to send some Bitcoin
Donate Ethereum to this address
Scan the QR code or copy the address below into your wallet to send some Ethereum
Donate Xrp to this address
Scan the QR code or copy the address below into your wallet to send some Xrp
Donate Polkadot to this address
Scan the QR code or copy the address below into your wallet to send some Polkadot
Donate Binance coin to this address
Scan the QR code or copy the address below into your wallet to send some Binance coin
Donate Stellar to this address
Scan the QR code or copy the address below into your wallet to send some Stellar
Donate Dogecoin to this address
Scan the QR code or copy the address below into your wallet to send some Dogecoin
Donate Tron to this address
Scan the QR code or copy the address below into your wallet to send some Tron
Donate Elrond to this address
Scan the QR code or copy the address below into your wallet to send some Elrond