RAPSTAR  – rapper simulator game by zonyagames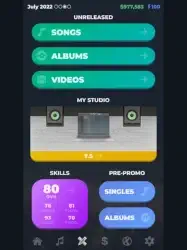 Game Description :
in theory a game about hip-hop but you can also be a pop, rock, r&b or k-pop artist… whoever you want!
Game Features :
a rapper life simulator where you can:
create songs & music videos
get ton of views & sales
collaborate with other music stars
make friends & enemies
dominate the charts
beat world records & win awards
go on tours, concerts and other shows
sign label contracts or be independent
build & customize your own studio
grow your social media
customize your character
get tattoos
buy clothes, jewelry, cars & real estate
sell your merch
gold/platinum/diamond songs & albums
start your music career now!
this musician game is available in 14 languages
arabic, brazilian, chinese, czech, english, french, german, italian, lithuanian, polish, russian, slovak, spanish, swedish
www.zonyagames.co
Additional Information :
Age Rating 4+
Size 71.8 MB
Requires iOS 8.0 or later.
User Reviews :
Time blower
I'm not a big fan of games like these so I usually stick to MMO games like King Of Avalon or something. But this app changed my mind real quick and I think the others that post like I do will agree with what I have to say coming up here. The game is very unique, I like how you can get labels/merch etc etc but as something as simple as this gets popular there's going to be demands from the fans of the game that would be beneficial with updates Within update ideas here's a few 1.) Negotiations within more labels and add contracts for brands or whatever you wish to help make your artist more money while not under a label 2.)Ability to make an Entourage, tons of daily lifestyle choices you can make besides "Robbery" which is dumb 3.) Ability to negotiate with prior labels to buy your songs back to have ownership and get royalties 4.) better more choices of certain donations you choose 5.) be able to respond to requests such as letters or make News outlets make stories about your career and random things like normal life. I can go on and on and I hope you read these cause even with the ratings and downloads this has shows the potential for you and the others that helped you form this game!
Could be improved but very good
This game is very fun I love how it's realistic but not at the same time. What I mean is how, you can have features, Tours, etc. But it's not like a simulator like the sims where you have to wait for actual days for your sim to do something. And I like how it's not pay to win, if you spend maybe a hour or 2 a day you will have a lot of progress. And I also like how there's not really an end, you could in theory make lots of songs and albums which is awesome. But to take this game to another level, I think they should add more artists, like jack Harlow, or like cardi b. I don't really know but I know that their are some letters in the feat section that aren't filled. And maybe lower the time it takes to a our your characters voice and such, that's what really takes a long time. And maybe add a few more extra things like how you did with the billboard feature and such. This game definitely deserves the attention it gets and perhaps should receive more.
Great Game but..
This game is a lot of fun to play if I'm being honest. I hope the developers of this app decide to keep updating it and listen to feedback. A few issues I have with the game is how long it takes to actually get your character to a max level (100) and how it takes over 2 entire weeks to max out a song to its fullest potential despite you being the highest overall. I also think that you should be able to have bonds with the producers to make them cheaper. An AMAZING idea I'd love to see them add is a "God Mode" like in the game *BitLife*. You could buy a pack for $10 let's say and start a career with max stats if u wanted to or you could have extra benefits like forcing a song to do better than it normally would or having a STAR sign next to a song on an album that would boost those particular songs, just small things like that. This game has potential to become a really good life simulator game but they NEED more developers so they can push out new content faster!
I love this game but…
Ever since I found out about this game, and downloaded it I couldn't stopped playing it, but I also would like you to add a lot more realistic things in the game like, where people ask you to shoot a music video on the song you featured on, and maybe adding a lot more companies to buy out or invest in and etc and I would also like to see all the other artists songs on the charts it kinda gets boring only being able to see your own songs. I would also like if y'all add in events like met gala and fashion week and etc where you can meet other artist or something. Also the skills takes way to long to max out. And maybe y'all could add in rap beefs or disses or something. I really love this game and I would love to see this game prosper. I just think it needs a lot more realistic details and maybe fix a couple things.
Get RAPSTAR from App Store
What is your opinion about RAPSTAR
Bitcoin
Ethereum
MetaMask (ETH)
Xrp
Polkadot
Binance coin
Stellar
Dogecoin
Tron
Elrond
Donate Bitcoin to this address
Scan the QR code or copy the address below into your wallet to send some Bitcoin
Donate Ethereum to this address
Scan the QR code or copy the address below into your wallet to send some Ethereum
Donate Xrp to this address
Scan the QR code or copy the address below into your wallet to send some Xrp
Donate Polkadot to this address
Scan the QR code or copy the address below into your wallet to send some Polkadot
Donate Binance coin to this address
Scan the QR code or copy the address below into your wallet to send some Binance coin
Donate Stellar to this address
Scan the QR code or copy the address below into your wallet to send some Stellar
Donate Dogecoin to this address
Scan the QR code or copy the address below into your wallet to send some Dogecoin
Donate Tron to this address
Scan the QR code or copy the address below into your wallet to send some Tron
Donate Elrond to this address
Scan the QR code or copy the address below into your wallet to send some Elrond