(App) Progressive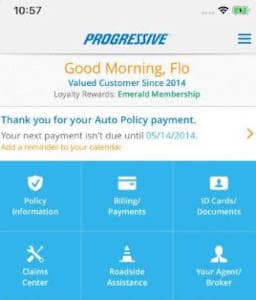 App Description :
Easy access to your insurance, whenever and wherever you need it.
App Features :
Here are some things you can do with the Progressive App*:
View coverages, discounts, ID cards, documents, and policy details.
Report and add photos to a claim.
Pay your bill by credit card, debit card, checking account, or PayPal.
View your billing history and upcoming payment schedule.
See your progress in Snapshot®.
Quote or make a policy change.
Request roadside assistance, exactly when you need it most.
Take and submit photos of documents that we've requested from you.
Get in touch with your agent and claims rep.
Start an auto insurance quote—and then buy online.
*Availability of some features may vary by state and policy type
Additional Information :
Size 221.2 MB
Requires iOS 12.0 or later.
User Reviews :
Changing star Rate
It seems that it takes a few hours for the app to recognize the policies and passwords. After working off and on looking for returned emails I was successful in registering both policies in the app along with it recognizing my password without having to change it. Still only four stars because of the difficulty in setting everything up.

Hopefully I will be able to change this review later. I just purchased two policies with Progressive. One for my RV and the other my auto. I was allowed one policy only and the app will not recognize the password that Apple gave. The app sends me to a web site that indicates an email will be sent but no email sent. I think the problem is multiple policies. If that is the case it needs to be updated immediately to accept multiple policies with Progressive if they want to be a player in this highly competitive insurance industry. Online customer service is important. Maybe you can reply to the app.
Easy/Simple!
I'm not sure what more one could ask for! The app affords me the access I need to look into my policies; the UI is straightforward, with Auto and Marine separates into two separate tabs (and I'd guess other forms would also be handled as such— like Home, etc.). Electronic ID cards (as well as printer-friendly ones) are accessible with merely a thumbprint unlock and one click. Everything is literally right there and easy to navigate.

 the one difficulty I've experienced has been in cases where I needed to change my policy (e.g., sold a vehicle and needed to remove coverage while also considering a slight change in coverage/deductible as well). In that case, as well as the last time I purchased a new vehicle, I was not able to follow through with the necessary processes 100% to completion via the app alone. Ultimately, logging in via web browser and eventually speaking with someone over the phone was a necessity. Granted, there are many loopholes for fraud when dealing with the aforementioned changes in policy, so I'm understanding on that.

Thus far, now four years with Progressive, they've turned out to be rather impressive overall!
Sneaky and not transparent
I don't understand what's happening here, but I don't like it at all. I registered for Progressive with Snapshot a few months ago. At the beginning, my rate was $121, which was great. Then within a month, I got an email informing me that I was removed from the program due to supposed lack of feedback from my phone…. which I was completely unaware of, because I wasn't notified. The following month, my rate went up to a whopping $238. Over a HUNDRED DOLLAR difference. I didn't even notice, because I wasn't informed of the change. The next month, my rate went up AGAIN to $251. I'm supposed to be billed in the next few days, and I'm nervous to see how much they've increased my rate again. I didn't even notice the changes until today when I checked my bank account.

I tried to access the Progressive app to see what's causing these changes, or if they've noted anything on my account, but go figure – the app won't even work. It's stuck on a loading screen. It's not my internet; everything else is working perfectly fine.

I'm angry and I feel taken advantage of by this company. There's no transparency whatsoever. I don't have the kind of funds to afford sudden increases in rates like this. If I can't get this resolved by the end of next week, I'm switching insurance.
Developer Response ,
Thanks for reaching out! We'd like to get in touch to answer all your questions about Snapshot, including when and how to delete the Snapshot app. Please call us at 1-877-329-RATE (1-877-329-7283). Our Snapshot team is here to help Monday through Saturday, from 8:00 am to 12:00 am ET.
85% of my favorite things
The app is amazing. Always works when I want it to. Shows me both of cards when my policy is close to renewing. Anything that I can't do on the app it will link me to the website and keeps me logged in so I can get things done. They have all of my documents stored in one single place online so if I miss a mailing or delete an email I can still check it out. I gave it 5 stars and said its 85% is because I wish you could pull up the dec page and voi on the app and save it like the ID card. I love that I can see the status of my payments online and that I get a reminder a few days before it pulls the payment. Originally I could sign my docs online. I would like to be able to sign all docs online. Like when I make changes in the middle of the policy period. And for the auto they don't let you lower you comp/coll online. It would be great if I could do it myself instead of having to call in. Otherwise it's great.
Get Progressive from App Store
What is your opinion about Progressive
Bitcoin
Ethereum
MetaMask (ETH)
Xrp
Polkadot
Binance coin
Stellar
Dogecoin
Tron
Elrond
Donate Bitcoin to this address
Scan the QR code or copy the address below into your wallet to send some Bitcoin
Donate Ethereum to this address
Scan the QR code or copy the address below into your wallet to send some Ethereum
Donate Xrp to this address
Scan the QR code or copy the address below into your wallet to send some Xrp
Donate Polkadot to this address
Scan the QR code or copy the address below into your wallet to send some Polkadot
Donate Binance coin to this address
Scan the QR code or copy the address below into your wallet to send some Binance coin
Donate Stellar to this address
Scan the QR code or copy the address below into your wallet to send some Stellar
Donate Dogecoin to this address
Scan the QR code or copy the address below into your wallet to send some Dogecoin
Donate Tron to this address
Scan the QR code or copy the address below into your wallet to send some Tron
Donate Elrond to this address
Scan the QR code or copy the address below into your wallet to send some Elrond