(Game) Hello Neighbor Hide & Seek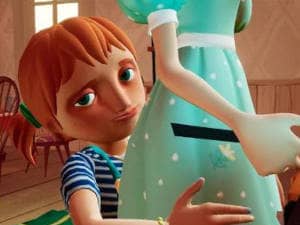 Game Description :
Supported Devices: iPhone 6s, iPad 5 (2017), iPad Air 2, iPad Mini 4 and everything newer. iPod Touches are not supported*
Game Features :
Hello Neighbor: Hide and Seek follows the tragic story of the Neighbor's family in this dramatic prequel to Hello Neighbor. Experience playing a game of hide-and-seek with your brother as you both deal with a loss of a family member. The game explains events that lead up to the original Stealth Horror hit Hello Neighbor.
Additional Information :
Size 992.8 MB
Requires iOS 10.0 or later.
User Reviews :
Good, but confusing
Okay, so, I love the hello nieghbor series, and this is like a flashback to the past where you are playing as the daughter, and your brother will be chasing you around while you grab certain items and drop them into the giant basket. You go into 5 different make believe worlds, and do the former. It's like objective tag. Your brothers it, and he comes dressed different ways for each act. The first act, you are a safari hunter and your brother is dressed like a tiger, chasing you around until you get all 16 stuffed animals and put them in the basket. Then, the second act, you and your brother are playing cops and robbers. You are the robber, trying to get all 32 bags of money in the basket. Your brother is the cop, along with his fellow cardboard cutouts, which are very annoying, and I think you can guess what your brother and his cardboard does. Anyway, I think this is really good, but one problem. It's too hard, and there are so many things you have to collect, it makes it so your game can last for hours. But overall good game and amazing graphics, and storyline! Bye! Also, why are the cardboard cutout police so fat?

Signed, sorry this is personal info I can't tell you my name.
Love this game
Hey tiny build! I just want to say that I love the original hello neighbor and all the mini games with it like this one and secret neighbor, I love the ideas and creativity you come up with and I just want to let you know I support you and your games! This game is absolutely stunning and I disagree with anyone who says otherwise, I haven't seen many great reviews but when I tried it myself it was just amazing and I can't wait to get the chance to buy the full game. I most definitely recommend this to anyone who enjoys the original hello neighbor, if there are any troubles downloading for those of you out there then there must be something wrong with your device because I was able to download it just fine and my device is quite old. The only problem with this game is that there's nothing I dislike, normally I will at least have one problem with the games I download but this one was just perfect for me  Thank you tiny build, and I hope others find this useful somehow Much love and support from Brielle
Very great game, and some fun facts to share too
I love this game. And you wanna know why? Because you get to play as a girl and it's a very fun game I would recommend this due to having fun. I don't really play this as much anymore, but I will not delete it. Because all the acts are so fun even though you get chased I am a big fan of hello neighbor because imagine if we didn't have this, kids would be bored. What matters is the game is fun when you jump into the game you can select "I am stuck" that's a decent thing to add because some people get a glitch and it's very useful for 'glitches' and the "Last Checkpoint" in Hello neighbor is the same to that so thanks for adding this stuff. This stuff is very useful for stuff. Hello neighbor is the best because they know best because they have all this stuff to prevent lags and stuff. Keep up the great work!!!!!!! – sniper (BFOHN = Big fan of Hello Neighbor)
Amazing but one question…
I have seen a lot of people play this game and I have noticed that the mounds with flames give you an advantage to jump higher. But when I see others play, they jump really really high. I recently downloaded the game and this is a new device so everything should be properly working. However, it seems that I can't jump as high as others and I can only jump how I normally do without flame. Please fix this problem I don't want many people experiencing it because if the majority of people do relate with this problem then it will be hard to get the toys. Is it probably happening according to which device you play on? And if you need to know, I play on my phone. Please reply! But more over, I love the game and I play it every day! Thank you for listening!
Get Hello Neighbor from App Store
What is your opinion about Hello Neighbor
Bitcoin
Ethereum
MetaMask (ETH)
Xrp
Polkadot
Binance coin
Stellar
Dogecoin
Tron
Elrond
Donate Bitcoin to this address
Scan the QR code or copy the address below into your wallet to send some Bitcoin
Donate Ethereum to this address
Scan the QR code or copy the address below into your wallet to send some Ethereum
Donate Xrp to this address
Scan the QR code or copy the address below into your wallet to send some Xrp
Donate Polkadot to this address
Scan the QR code or copy the address below into your wallet to send some Polkadot
Donate Binance coin to this address
Scan the QR code or copy the address below into your wallet to send some Binance coin
Donate Stellar to this address
Scan the QR code or copy the address below into your wallet to send some Stellar
Donate Dogecoin to this address
Scan the QR code or copy the address below into your wallet to send some Dogecoin
Donate Tron to this address
Scan the QR code or copy the address below into your wallet to send some Tron
Donate Elrond to this address
Scan the QR code or copy the address below into your wallet to send some Elrond