(App) Pokemon Playhouse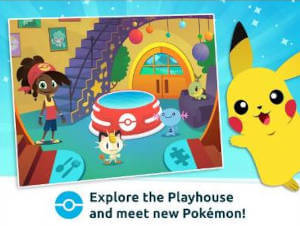 App Description :
Discover the fun activities throughout Pokémon Playhouse, an official Pokémon app for younger Pokémon fans from The Pokémon Company International.
App Features :
In Pokémon Playhouse, your child can interact with all kinds of cute Pokémon as they explore various locations, including a tower, lounge, and outdoor playground. Every location within Pokémon Playhouse features activities created just for younger Pokémon fans, such as taking care of Pokémon in the Pokémon Grooming activity, or identifying Pokémon in the night sky in the Search the Stars activity.
To accompany the unique look of the Pokémon in Pokémon Playhouse, your child can watch them at play in new picture stories. Head to the Playroom to listen to a story and see the adorable Pokémon go on exciting new adventures!
At the beginning of their time in the Pokémon Playhouse, your child will be given a Pokémon Egg to keep track of. As your child explores the Pokémon Playhouse and completes activities, the Pokémon Egg will begin to hatch, and eventually reveal a new Pokémon!
Designed for children ages 3–5, no reading or math skills are necessary to complete activities. A friendly human character will host and narrate all the activities so your child can enjoy every aspect of the Pokémon Playhouse regardless of their learning level.
The Pokémon Playhouse app does not collect any personal information and does not include any in-app purchases.
Download the app for free and let your child start exploring the wonderful Pokémon Playhouse today!
Additional Information :
Size 496 MB
Requires iOS 8.0 or later.
User Reviews :
There are problems
I wish you could add as many Pokémon as you want into the playground so the Pokémon in the playground now aren't lonely, besides that I would love it if you could actually heal the Pokémon, not just put a bandaid on them. Could you do something were you could cook for the Pokémon..?

That would be great. Actually healing, cooking would make the game more fun and would help the kids learn a little more.

Other than all that, I would give you those five stars if you could actually DO things, this game is perfect for young Pokémon fans, they could read and interact with Pokémon books… wait could you make more Pokémon books? My little sister is getting tired of reading the same books over and over again. That's all I have to say about this game.
Great app for toddlers!
What happens when you take education for toddlers, Pokémon, and mini games? This is the result. What is so great about this app is that it takes Pokemon, and target it to preschoolers. You can read stories, make songs using Pokemon sounds, put these creatures in the playground, and much more, and earn more Pokemon for it. However, here are some reccomendations:

1: Add more Pokemon. When your child is done collecting all the Pokémon, eventually they'll get bored and stop playing. More cute Pokemon to the rescue! You can add more Pokemon from the Hoenn, Sinnoh, Unova, and Kalos regions by putting in Pokémon like Tailow, Skitty, the Azurill line, Gible, Tyrunt, Amaura, Fletchling, Dedenne, Emolga, Zorua, and Larvesta. That way there are more adorable Pokemon to take care of and play with!

2: Simplify. This is where it really hurts. Alolan Sandshrew is too complicated for preschoolers. Just call it "Icy Sandshrew". Same wth Vulpix, and for Raichu, "Surfing Raichu" Zygarde Core… Let's just call that Pokemon "Squishy Zygarde" because of Bonnie in the Pokémon XYZ anime. And don't "something" the berries, Just call the berries by their color. For example, Yellow Berry and Green Berry for Sitrus Berry and Lum Berry respectively, and the colors may help educate chidren more! Thanks for reading!
My Toddlers LOVE It!
My daughters are 3 and 5. I downloaded this app for them because they know and love Pikachu and I thought it would be a fun treat for them. My daughters weren't too sure of it when they started, but the next day, they were asking for their "Pokémon Game!" Over the past few days, my daughters have gotten enthusiastic about their 15 minutes of game time, with the favorite activities being puzzles and grooming for my 3 year old and stories for my 2 year old. And as a Pokémon fan myself, it's nice to hear my three year old cry out "mommy, i got a (Pokémon)! Yay, it's so cute!!" Cute and inviting art style with a simple, toddler friendly interface makes it easy for little ones to figure out how and where to get to other games, while hatching eggs keeps it novel to them. Growing complexity keeps the game challenging and activities help enrich learning (learning to look closely, reading, matching, identifying information, patterns) all in all, a FUN game for smaller kids that even parents can feel good about!

Pros: learning, cute, simple

Cons: my kids keep taking my phone
Get Pokemon Playhouse from App Store
What is your opinion about Pokemon Playhouse
Bitcoin
Ethereum
MetaMask (ETH)
Xrp
Polkadot
Binance coin
Stellar
Dogecoin
Tron
Elrond
Donate Bitcoin to this address
Scan the QR code or copy the address below into your wallet to send some Bitcoin
Donate Ethereum to this address
Scan the QR code or copy the address below into your wallet to send some Ethereum
Donate Xrp to this address
Scan the QR code or copy the address below into your wallet to send some Xrp
Donate Polkadot to this address
Scan the QR code or copy the address below into your wallet to send some Polkadot
Donate Binance coin to this address
Scan the QR code or copy the address below into your wallet to send some Binance coin
Donate Stellar to this address
Scan the QR code or copy the address below into your wallet to send some Stellar
Donate Dogecoin to this address
Scan the QR code or copy the address below into your wallet to send some Dogecoin
Donate Tron to this address
Scan the QR code or copy the address below into your wallet to send some Tron
Donate Elrond to this address
Scan the QR code or copy the address below into your wallet to send some Elrond