(Game) Golf Impact – World Tour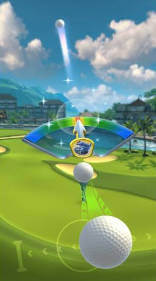 Game Description :
Get a hit of satisfaction when hitting the ball!
Clash against competitors and enjoy fast 1:1 PvP matchmaking.
Dynamic ball trajectory due to in-game weather!
Beautiful and realistic graphics and courses.
Championships where great prizes await!
The most realistic mobile golf game!
Game Features :
The easiest and most realistic way to play golf.
Drag the golf ball back, and let go!
Intricacy vs Power, which one do you choose?
Easy to play with realistic controls!
Putting made easy for everyone.
Enjoy golf anywhere you go.
The most beautiful and exciting way to play golf!
New York, Paris, Maldives, and Dubai!
Beautiful golf courses themed after famous landmarks.
Various weather effects that create varying putting conditions.
With amazing 3D graphics,
Have fun playing real golf on your mobile device!
Various golf game modes.
Improve your skills and go on a World Tour!
Enter Championships and get the best rewards.
Challenge yourself and become the glorious winner!
In the thrilling long distance mode,
Be the best at hitting long shots!
Train and become better.
With a training system,
Train your gear in your own style.
Birdie, Eagle, Albatross, Hole in One!
Check out the best plays of users all over the world.
Anyone can hit a perfect shot!
If you are looking for a new sports game,
Install Golf Impact Now!
Additional Information :
iPhone

Requires iOS 11.0 or later.
iPad

Requires iPadOS 11.0 or later.
iPod touch

Requires iOS 11.0 or later.
User Reviews :
Has definite potential
So far after about 200 games in and only being out for a little while I think it's strong competition for golf clash. With time to develop and polish this could easily surpass golf clash(trash). They give you plenty of free/rewards to upgrade your clubs. My only real complaint would be is their club classes, there's common, rare, epic and legend, my problem with that is once you unlock the legend club for whatever set (driver,wood,long iron, mid and short iron, wedge and sand wedge) there is absolutely no point in even having any other clubs. They are far superior to anything else in class even at level 1. So if you are unlucky like me and not get the legend driver you will have a tough time competing in higher tour levels. And who really wants to play where everybody is going to be playing with the same exact clubs anyway. My opinion would be to get rid of the legend level clubs all together.
Not bad compared to others.. (Golf Crash)
Well I've played Golf Clash aka Golf Crash or Golf Trash whichever you prefer and so far after about 2 hours of playing this game it seems to be A LOT BETTER which is saying a lot since it's a new game… So far gameplay sends a lot more fair and evenly matched, and doesn't seem like such a pay2win game unlike Golf Crash.. I use to LOVE Golf Clash, but ever since the introduction of all the useless junk just so they can make more money, it has COMPLETELY ruined the game for me and turned into a pay2win game which hopefully this one won't because I have a feeling it will win in the end once more people get sick of the uneven matched games in Golf Trash. And for the person who said it's buggy, get a better phone or tablet because it's perfectly fine for me…
Good golf game
Based off the same design as golf clash, have already unlocked many clubs quickly just from the bags won. Can "train" clubs to make the sweet spot larger for more perfect shots. A long drive event to go along with a putting challenge. So far it's not pay to win like Golf Clash became with having to use the best golf balls in regular matches.
Golf impact crash
I've got a brand new iPhone 12 Pro Max. I was enjoying playing your game. I had a problem today as I was putting the app blacked out and went to my Home Screen. I tried to pull up recent apps and it wasn't there. Completely disappeared. I uninstalled the app and reinstalled it. About to see what happens.

Well it reloaded and lasted about 8 holes and did the same thing. I'm rather I'll about it because I spent real cash for more clubs and gems and cash. I will not install another one of your apps. I feel like you put this out there just so after someone has gotten to the level where there are spending real money the app crashes and you've made your money. Now I see why it's referred to as golf crash. It should be called golf trash. How's that for feed back.
Get Golf Impact from App Store
What is your opinion about Golf Impact
Bitcoin
Ethereum
MetaMask (ETH)
Xrp
Polkadot
Binance coin
Stellar
Dogecoin
Tron
Elrond
Donate Bitcoin to this address
Scan the QR code or copy the address below into your wallet to send some Bitcoin
Donate Ethereum to this address
Scan the QR code or copy the address below into your wallet to send some Ethereum
Donate Xrp to this address
Scan the QR code or copy the address below into your wallet to send some Xrp
Donate Polkadot to this address
Scan the QR code or copy the address below into your wallet to send some Polkadot
Donate Binance coin to this address
Scan the QR code or copy the address below into your wallet to send some Binance coin
Donate Stellar to this address
Scan the QR code or copy the address below into your wallet to send some Stellar
Donate Dogecoin to this address
Scan the QR code or copy the address below into your wallet to send some Dogecoin
Donate Tron to this address
Scan the QR code or copy the address below into your wallet to send some Tron
Donate Elrond to this address
Scan the QR code or copy the address below into your wallet to send some Elrond