(App) Picsart Color – Draw & Paint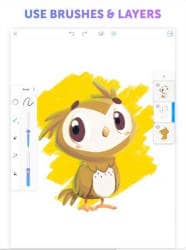 App Description :
PicsartColor is back! We hope you enjoy all the new tool updates and performance fixes the team has been working on.
PicsartColor is a drawing app where you can paint, color, and draw digital illustrations. Drawing and creating digital art has never been easier and more fun!
PicsartColor offers a full drawing suite with tons of functionality whether you're an amateur artist, a professional, or even if you're looking for a drawing app for your kids. You can work with as many layers as you want, a color mixer for any color combination you can think of, fully customizable paint brushes, and an amazing texture brush – those are just some of the creative features available to you in Picsart Color.
Doodle on your photos, paint breathtaking fantasy worlds, do some picture coloring, you can even use it as your mobile digital sketchbook – Picsart Color has it all! The intuitive interface makes sure you spend more time drawing and coloring your awesome illustrations than searching for tools. From a sketch to fully polished illustrations, Picsart Color is the only digital drawing app you'll ever need.
App Features :
Texture brush – draw not only with color but with texture!
Pressure sensitivity – make full use of your apple pencil for maximum effect.
Multiple layers – use different layers to draw and color without the other getting in the way.
Auto-recovery – you never have to worry about losing your progress.
Blending modes – use different blending modes to achieve some truly artistic results.
An entire library of customizable brushes.
Color wheel and mixer to match any colors you want.
Text tool that allows you to draw and erase using text.
Pattern and color fill.
…And much more is available for free and with no pesky ads!
Download Picsart Color today and completely transform the way you draw on your tablet or phone.
Additional Information :
Size 48.1 MB
Requires iOS 12.0 or later.
User Reviews :
Fantastic but eats up so much memory!!
I've been using this app as my go to for drawing bc I don't have a different device to draw on, and the amount of tools and the options it gives you is simply astounding. However the more you work on a project the more space it takes up, meaning some of my larger or more detailed commissions end up being almost 10 GIGS of space!!! Idk if this is a problem on other apps but considering my phone being rather old and only having 32 gigs this isn't exactly a good thing. If there was any way to save space with this app I would certainly use it more, but as it stands I'm actively looking for a way to make art that takes up much less space
Some frustrating issues
I really love using this app for my drawings! it's very easy to use and has a lot of nice options. I do wish there were better brushes for like hair and texture but i can make do with what they do have. However, the app crashes a lot the more you progress in your art which is very frustrating since it doesnt save what you did since the last crash. I find myself having to delete things i don't want to just to get the app to work. It would be nice if it had something to stabilize your brush strokes and making the bucket of paint much easier, like instead of filling partially then when you go to fill it in the rest of the way it changes the color of those next to it make it just fill completely or not change the other colors. Some more blending tools would be great, this is a good app for beginners but as I'm growing as an artist i'd like to continue to use this app but it's getting hard to. A stopwatch in the app to see how long a project takes would be super cool too but isn't a necessity. I do really like drawing with this app and do 90% of my drawings in this one but it gets really frustrating and makes me want to find a different app to use. Just fix the crashing and how bad the saving is and I'd probably give it a 4/5 stars.
AMAZING AWSOME PERFECT I LOVE IT GREAT, befor you read this sorry if there's mist spelled words
Ok so I don't know what these people are talking about because I jest bout the app last night and it's amazing I created one piece of art and everything about it is amazing I love it a lot it's sooooo good that there's no words to describe it. Anyways I have pro creat but it felt like it didn't fill all my art needs then I found this app I immediately downloaded it and it filled all my art needs but anyways I want to be a artist when I'm older and this app is the perfect app. The biggest thumbs up ever to the Developers who created this. And it saves all my work by the way check out my art on PicsArt video and photo editing app my user in Articfox28. Any was I looooooooooooove this app again there's no words to Express how good this app is I would highly recommend the app to people who want to do online art.
Get Picsart Color from App Store
What is your opinion about Picsart Color
Bitcoin
Ethereum
MetaMask (ETH)
Xrp
Polkadot
Binance coin
Stellar
Dogecoin
Tron
Elrond
Donate Bitcoin to this address
Scan the QR code or copy the address below into your wallet to send some Bitcoin
Donate Ethereum to this address
Scan the QR code or copy the address below into your wallet to send some Ethereum
Donate Xrp to this address
Scan the QR code or copy the address below into your wallet to send some Xrp
Donate Polkadot to this address
Scan the QR code or copy the address below into your wallet to send some Polkadot
Donate Binance coin to this address
Scan the QR code or copy the address below into your wallet to send some Binance coin
Donate Stellar to this address
Scan the QR code or copy the address below into your wallet to send some Stellar
Donate Dogecoin to this address
Scan the QR code or copy the address below into your wallet to send some Dogecoin
Donate Tron to this address
Scan the QR code or copy the address below into your wallet to send some Tron
Donate Elrond to this address
Scan the QR code or copy the address below into your wallet to send some Elrond