(Game) Attack on Time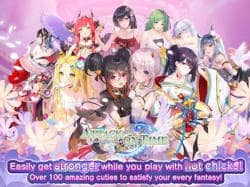 Game Description :
Attack on Time is an idle RPG full of beautiful girls, developed by an original Japanese company. The game's specialty is cute young girls dressed in different outfits, from office ladies, students in uniform, big sisters undressing, cool beach girls… Your imagination will definitely be thoroughly penetrated!
Game Features :
 True Love Makes You Stronger!
Not only will the beautiful girls follow you into battle, but you can also touch them, give them gifts, date them, and even interact with them on a "deep" and meaningful level. Experience the ambiguous sweetness that is more than friends but not quite lovers. Immerse in the passion of each other's undying vows! (But do be careful to avoid them fighting over you~)
 Starring Japan's A-List CV Lineup!
Featuring Inori Minase, Yuki Aoi, Akari Kitou, and many other top Japanese voice actors. Using their voices to bring an extravaganza of girls to life! Creating an auditory feast full of pure and sexy Japanese-style beautiful girls!
 Idle Game – Play and Chill!
In addition to all that dating, you can also experience easy and interesting battles, making you the strongest "time management master"! 30 minutes online every day gets you rich resources and rare items. Smash through those stages like a boss!
 Sweet, or Spicy? Have It All!
Pure first love, domineering big sister, cute beast girl, curvy and passionate… Over 100 beautiful girls with diverse personalities to keep you company! They are your partners and your sword, they can banish your lonely nights, and help you win glory on the battlefield!
 For Gentlemen with Similar Interests
Gentlemen assemble in Attack on Time! Thanks to the powerful chat functions in-game, share your likes and interests, and release the other side of you under the daily mask! Heh heh
Additional Information :
Size 1.1 GB
Requires iOS 10.0 or later.
User Reviews :
Pretty darn good
I've been playing this game basically since it came out. I'm part of server 2, and I have to say the game is actually pretty good imo. I've always tried to get into "idle" games and never really had much luck I always usually drop them within 2 days of downloading but I've been having a blast with this one. I think the best part of this game is the clan system and how your calm basically tries to take over the map in "grand ambitions". It's definitely competitive and I like how with the clans if you do good you can get daily rewards from it so it's really awesome. The combat is definitely really simple as in no animations or anything (which personally is ok with me) but I feel like they could have improved that some what. Obviously a lot of people will be playing this game for the anime characters and they hit spot on with the animations of the characters lol they did a good job on that. Now this game definitely can be P2W they have a ton of IAPs and a VIP system like any other gacha idle game. But again anything can be played f2p but you may not be as competitive as if you put money into it. I've put a decent chunk in but I'm thoroughly enjoying the game. Definitely a worthy side game to pick up for like an hour a day!
Great if you like the genre
Amazing art, good gacha system (if you save correctly, it's not difficult to get the characters you want.) If you don't like slow progression, don't download though. The nature of the idle game genre is that sometimes you have to either wait or pay to become stronger; Attack on Time is the kind of game you log into every day and play on many servers so there's always something to do on another account if you get stuck on your current one. If you want to become the top player on your server, you'll have to whale, but to have fun and be decently strong it's absolutely doable to not spend a cent. As for the combat, fun animations or chibis like other idle games have would be nice instead of just a text box, but the focus is not on the combat, it's on collecting new girls, seeing your power go up, and strategizing. Personally I love it and recommend to any anime/idle game fan!
Amazing game, must play
It's very well made, and due to the battle system not having highly animated avatars to focus on, every animation is so detailed and satisfying. The treasure system is unique and though the system of getting Hero's is a gatcha, it's easy to get ssr hero's. Another thing I love is the rookie pools, a way for getting skins for the fharecters they first give you which are quite sexual and I love it. It has lost of sexual content, to the point on the server select screen you get a really sexy duo to give you a taste of what's to come, nice game, please continue working on this
Get Attack on Time from App Store
What is your opinion about Attack on Time
Bitcoin
Ethereum
MetaMask (ETH)
Xrp
Polkadot
Binance coin
Stellar
Dogecoin
Tron
Elrond
Donate Bitcoin to this address
Scan the QR code or copy the address below into your wallet to send some Bitcoin
Donate Ethereum to this address
Scan the QR code or copy the address below into your wallet to send some Ethereum
Donate Xrp to this address
Scan the QR code or copy the address below into your wallet to send some Xrp
Donate Polkadot to this address
Scan the QR code or copy the address below into your wallet to send some Polkadot
Donate Binance coin to this address
Scan the QR code or copy the address below into your wallet to send some Binance coin
Donate Stellar to this address
Scan the QR code or copy the address below into your wallet to send some Stellar
Donate Dogecoin to this address
Scan the QR code or copy the address below into your wallet to send some Dogecoin
Donate Tron to this address
Scan the QR code or copy the address below into your wallet to send some Tron
Donate Elrond to this address
Scan the QR code or copy the address below into your wallet to send some Elrond