(Game) Block Puzzle – Sudoku Style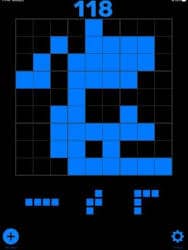 Game Description :
This Block Puzzle app is strangely addicting. Come back everyday to challenge your brain and try to beat your high score. Clear sections back to back to earn combos and streaks for lots of points.
Game Features :
How to play:
Place blocks into the 9×9 sudoku grid
Blocks will be removed when:
A vertical line is completed
A horizontal line is completed
A 3×3 box is completed
Play as long as you can to rack up points until you are not able to place any more pieces
Additional Information :
Size 50.2 MB
Requires iOS 10.0 or later.
User Reviews :
Nice game, but …
This is a nice game and I like it a lot. Couple of bugs though: 1st which is just an annoyance is that when you go to select a piece it jumps away from where your finger is. I've mostly gotten used to that though. The bigger bug is that while I am dragging a piece into position, it will often place itself into an unwanted spot. I have to be super careful while selecting and dragging or the piece ends up in the wrong place, thus minus one star. (I'm not bothered by the adds, as I just turn off my Wi-Fi and it plays add free!)

Just noticed, a month or several months later, that neither the piece selection jumping or the unwanted placement is happening anymore, so one of their updates probably addressed those issues which prompted me to increase my rating to 5 stars.
Really calming
This game is honestly one of the things that keep me from a constant breakdown. Whole there may be a few bugs such as pieces occasionally jumping to the spot right next to where I want them, the game is overall amazing. The simplicity is extremely refreshing from all other kinds of games and it is something that you can just easily play whenever. One highlight being that it functions offline. I truly enjoy it and as stated earlier it is currently an anchor for me whilst I am studying for my exams. Thank you for developing this treasure!
Well-implemented with one annoyance
This game is a good (perhaps too good) way to blow some time. Simple, few ads, no obvious bugs. There is one annoyance however that is not enough for me to stop playing but is still irritating nonetheless. Actually, it is enough for me to stop playing. Many times I've accidentally swiped over the quit/restart button on the bottom left….usually when I'm pursuing a high score. There really needs to be a confirmation dialog, or at least a setting to have a confirmation dialog.
Blocks is Addictive
Biggest issue is the location of the "new game" button. It's too easy to bump it accidentally and wipe out a game that's going very well . Locate this button on top side out of the way. Also I would like to see the next piece because I feel it is calculating how to defeat me when the next three are unknown to me. It should be random not impossible to win big Nasamike
23K BUG…. Please fix!
I love this game and I am totally addicted to it. Today I was so proud when I reached the 23,000 mark only to find that the game refused to accept any of my choices for placement. I have walked away from it thinking that it might "need to rest" but, that didn't help.

Since I am competing against myself, I am a formidable opponent. I do hope someone looks into this. Thank you!
Developer Response ,
Hi there! Glad you are enjoying the game and found a formidable opponent 🙂 Can you send an email to support[at]staplegames.com so that we can gather some information about the issue?
The sound from ad's, is ridiculous!
I love the game. BUT, I can not stand the fact that the advertisement after each game has the sound loud! Even though the sounds in settings are turned off. How can that be? I have reported it many times and nothing has ever been done. I have a brain injury and sound effects me tremendously. These apps especially this one are not friendly to those people that have disabilities. I'm hoping the creator of this app reads this and does something about it.
Nice simple game
Pretty simple and easy game. I really like the vibrate option. Ads don't happen too often either but there's a little quirk with apps sometimes that's probably not that noticeable. I usually like listening to music while playing but the ads, even with the sound option off, pause the music.
Get Block Puzzle from App Store
What is your opinion about Block Puzzle
Bitcoin
Ethereum
MetaMask (ETH)
Xrp
Polkadot
Binance coin
Stellar
Dogecoin
Tron
Elrond
Donate Bitcoin to this address
Scan the QR code or copy the address below into your wallet to send some Bitcoin
Donate Ethereum to this address
Scan the QR code or copy the address below into your wallet to send some Ethereum
Donate Xrp to this address
Scan the QR code or copy the address below into your wallet to send some Xrp
Donate Polkadot to this address
Scan the QR code or copy the address below into your wallet to send some Polkadot
Donate Binance coin to this address
Scan the QR code or copy the address below into your wallet to send some Binance coin
Donate Stellar to this address
Scan the QR code or copy the address below into your wallet to send some Stellar
Donate Dogecoin to this address
Scan the QR code or copy the address below into your wallet to send some Dogecoin
Donate Tron to this address
Scan the QR code or copy the address below into your wallet to send some Tron
Donate Elrond to this address
Scan the QR code or copy the address below into your wallet to send some Elrond