(Game) Peek-a-Zoo by Duck Duck Moose
 star wars force arena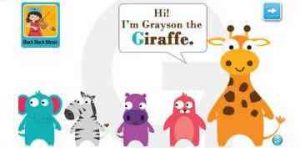 Game Description :
An award-winning interactive experience that asks children to identify different animals who dance, eat, wag their tails, wear sunglasses, sleep and more. Children will learn about animals, emotions, actions and sounds. AGES 2-5.
Game Features :
CATEGORY: Nursery Rhymes
ACTIVITIES
Identify animals and social emotional cues
ANIMAL NAMES: alligator, cat, chicken and more
EMOTIONS: smiling, surprised, crying and more
ACTIONS: winking, waving, yawning and more
POSITIONS: backwards, upside down
SOUNDS: hear funny animal sounds
AWARDS
Parents' Choice Recommended Award Winner – Parents' Choice Foundation
Stroller Traffic Cribsie Award Winner
Selected by Apple as New & Noteworthy
5 of 5 stars from Common Sense Media
ABOUT DUCK DUCK MOOSE
(A wholly-owned subsidiary of Khan Academy)
Duck Duck Moose, an award-winning creator of educational mobile apps for families, is a passionate team of engineers, artists, designers, and educators. Founded in 2008, the company has created 21 top-selling titles and has received 21 Parents' Choice Awards, 18 Children's Technology Review Awards, 12 Tech with Kids' Best Pick App Awards, and a KAPi award for "Best Children's App" at the International Consumer Electronics Show.
Khan Academy is a nonprofit with a mission to provide a world-class education for anyone, anywhere. Duck Duck Moose is now part of the Khan Academy family. We rely on our community of volunteers and donors. Get involved today at www.duckduckmoose.com/about.
Check out the Khan Academy app to learn and practice all kinds of topics for elementary school through college and beyond.
We'd love to hear from you! Visit us at www.duckduckmoose.com or drop us a line at support[at]duckduckmoose.com.
Additional Information :
Size 21.8 MB
Requires iOS 9.0 or later.
Compatible with iPhone, iPad, and iPod touch.
User Reviews :
Very Cute
My 2&1/2 yo loves this app. He can play it by himself, and I feel like he is learning new things. We've had it for over a week now, and he still giggles when he pokes the characters to make them talk.
Good for small children…
The app is cute. Our 2 & 3 year old sons are enjoying it so far. But I was expecting more variety and some less obvious repetition. (Though interest level will vary from child to child…) In our case, our little guy will find it fun and engaging for a while, I'm sure. But because of the app's predictable nature, our older son has it nearly licked already with less than an hour of exposure.
Terrific app
I got this for my 2 year old when I lost my job and he was no longer in daycare. I downloaded about 20 different apps for him to play and learn as fun things to do with me til I found a new job. His attention span only lets him play any of the games for 2 minutes at a time but this is always his go to favorite app so far. He loves it. Worth it!!
Limited and too simple
Very good idea. Adorable animals and overall well made application. Rating two stars as it is very limited and way too simple. My 3y.o. Played exactly 15 minutes, answering correctly all questions and once application started repeating all questions and scenarios, my lid just got bored and turned it off. No regrets for purchasing, just wish it had more levels and perhaps more difficult challenges as the user progresses.
Wonderful app for my autistic son
For parents with kids on the spectrum, this is a wonderful app because it provides a fun, easy way to help your children discuss social cues while playing with animals. It's a wonderful way to help you child learn better social pragmatics.
Good app
My 3 year old son loves this app and all the other duck duck moose apps. My only complaint is that he touches the other app button in the upper left hand corner and wants me to buy all the other apps. That is my only complaint.
Another awesome app!
Yet another amazing app for kids. My three year old twins love this one. The animal characters are lots of fun. Very entertaining and educational. Highly recommend!
Great for small toddlers!
My 11 month old loves it! And i think its sooo cute! I think its PERFECT for 2 yrs and under! .. Great when we are in a position for something to "keep her occupied" for a couple of minutes..
Great app
I'm amazed at how my 19 month old is able to discern subtleties in the different expressions. This one really makes her think.
Get Peek-a-Zoo from App Store
What is your opinion about Peek-a-Zoo
Bitcoin
Ethereum
MetaMask (ETH)
Xrp
Polkadot
Binance coin
Stellar
Dogecoin
Tron
Elrond
Donate Bitcoin to this address
Scan the QR code or copy the address below into your wallet to send some Bitcoin
Donate Ethereum to this address
Scan the QR code or copy the address below into your wallet to send some Ethereum
Donate Xrp to this address
Scan the QR code or copy the address below into your wallet to send some Xrp
Donate Polkadot to this address
Scan the QR code or copy the address below into your wallet to send some Polkadot
Donate Binance coin to this address
Scan the QR code or copy the address below into your wallet to send some Binance coin
Donate Stellar to this address
Scan the QR code or copy the address below into your wallet to send some Stellar
Donate Dogecoin to this address
Scan the QR code or copy the address below into your wallet to send some Dogecoin
Donate Tron to this address
Scan the QR code or copy the address below into your wallet to send some Tron
Donate Elrond to this address
Scan the QR code or copy the address below into your wallet to send some Elrond