(Game) Number Match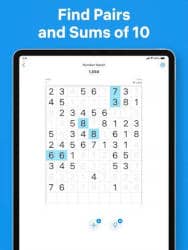 Game Description :
Number Match is an addictive puzzle game with simple rules: match pairs and clear the board to succeed. Playing Number Match is a useful pastime for your brain. Train your logic and concentration skills, and try to beat your high score!
Try a mobile version of the pen and paper game from your childhood. Now you can take your number game with you wherever you go. Solving free Number Match puzzles on mobile is much easier than using a pencil and paper.
How to play:
The goal is to clear the board.
Find pairs of equal numbers (1 and 1, 7 and 7) or pairs that add up to 10 (6 and 4, 8 and 2) on the number grid.
Tap on the numbers one by one to cross out them and get points.
You can connect pairs in adjacent horizontal, vertical and diagonal cells, as well as at the end of one line and the beginning of the next.
When you run out of moves, you can add extra lines with the remaining numbers to the bottom.
Speed up your progress with Hints if you are stuck.
You win after all numbers are removed from the number puzzle grid.
There are a lot of ways to solve the puzzle. But it's not as easy as it seems. Tease your brain and get the engaging experience!
Game Features :
What you get:
Easy to learn logic puzzle
Hours of gameplay for you to enjoy
Hints to help you reach the goal faster
No time limit, so no rush, just relax
New numbers game from a top developer!
Challenge your brain with Number Match puzzle and have fun! Play number game anywhere, anytime!
Additional Information :
Size 138.2 MB
Requires iOS 11.0 or later.
USer Reviews :
PLEASE READ
ok ive never written a review on an app before bc i wasnt born in 50BC but im writing this now bc this app has soooo much potential. its very fun and addictive and geting me thinking and i love it, there are just a few things that im beggging to be changed:

1. undo button, sometimes i match some numbers and realize right after that there was a way better move i could've made and its sooo frustrating. i know its not like part of the game or whatever but i really think it would make it more enjoyable to play and it could be like the hint button where you just watch another ad which means more money and more people playing the app. winwin.

2. consider not having a plus button and instead it just automatically does it when there are no more possible matches. i feel like for me this would make way more sense and would just make it less annoying.

3. dark modeeeee! this would just make it more fun to play.

ok anyway thankyouuuu! love the app!
Developer Response ,
Hi! Thanks for taking the time to share your feedback. Please know that we value your review, opinion and suggestions. We are running our user's wishlist and doing our best to improve our app and make it an enjoyable one. We'll discuss your ideas, thanks for sharing them. Stay tuned!
Very addicting and a great game but…..
Ok I downloaded this game a couple days ago and I've been playing everyday, it's a great game and makes me think I love it lol. Two things I don't love however is the ads, good lord it's so many ads in this game. Every time I finish a game it's an ad even if I click the "+" button I get an ad…..every….time. I get that the app is free and that's the way of supporting the app but too many ads can make the game unbearable to play. It's so many ads to the point where I just close out the game completely for the day. The next problem is sometimes the only way to progress is to press the hint button to clear a pair you tried and know should work. It will also randomly end even when you try to select valid pairs so please fix the adjacent detection. This even goes back to the ad problem because even though i know a pair should work and then it doesn't I have to click the hint button resulting in watching multiple ads just to get a hint on a pair that I've already tried. If these problems are fixed this could possibly be a 5/5 game.
Developer Response ,
Hello! We extend our apologies if our actions ruined your gaming experience — it was never our intention to make you feel this way. We appreciate your feedback, as it will allow us to evaluate and improve our ads policy. Meanwhile, we remind you that our ads are always skippable. If you are unable to skip them you are most welcome to contact us.

We would also kindly ask you to contact us via the "Help" in the settings of the app, we will do our best in order to solve the problem.
Get Number Match from App Store
What is your opinion about Number Match
Bitcoin
Ethereum
MetaMask (ETH)
Xrp
Polkadot
Binance coin
Stellar
Dogecoin
Tron
Elrond
Donate Bitcoin to this address
Scan the QR code or copy the address below into your wallet to send some Bitcoin
Donate Ethereum to this address
Scan the QR code or copy the address below into your wallet to send some Ethereum
Donate Xrp to this address
Scan the QR code or copy the address below into your wallet to send some Xrp
Donate Polkadot to this address
Scan the QR code or copy the address below into your wallet to send some Polkadot
Donate Binance coin to this address
Scan the QR code or copy the address below into your wallet to send some Binance coin
Donate Stellar to this address
Scan the QR code or copy the address below into your wallet to send some Stellar
Donate Dogecoin to this address
Scan the QR code or copy the address below into your wallet to send some Dogecoin
Donate Tron to this address
Scan the QR code or copy the address below into your wallet to send some Tron
Donate Elrond to this address
Scan the QR code or copy the address below into your wallet to send some Elrond