(App) NFT GO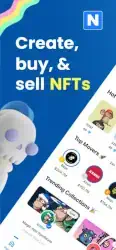 App Description :
Welcome to NFT GO!
NFT GO is the largest NFT marketplace on mobile, enabling users to create, buy, and sell NFTs – all from their mobile phones.
NFT GO allows you to publish NFTs directly on all the major blockchains, including the Ethereum Mainnet and Polygon Networks, right from your phone, with more blockchains coming soon. All NFTs minted on NFT GO are instantly accessible through OpenSea.
You can transfer your NFT GO NFTs to OpenSea and other marketplaces, or sell them directly on the NFT GO mobile marketplace.
PLUS you can buy NFTs from the most popular NFT artists and creators in the world, through exclusive NFT GO drops!
NFTs (Non-Fungible Tokens) are one of the newest asset classes in the crypto Space. NFTs allow individuals to own rare digital assets, via the Ethereum blockchain.
BROWSE, MINT, SELL, and SAVE NFTs to your digital wallet.
App Features :
With the NFT GO App, you can manage digital assets like:
CryptoPunks
Bored Ape Yacht Club
Azuki
Doodles
and much more!
All minted NFTs are secured by the Ethereum and Polygon blockchains, and cannot be duplicated, destroyed, or forged. Your wallet address is unique, and accessible only by you.
Additional Information :
Size 57.7 MB
Requires iOS 13.0 or later.
User reviews :
So far so good!!
First time using app was yesterday, created 3 NFTs and sold out within hour or 2, however 2nd and third sale my gems were delayed in hitting my acct so I contacted support via email link and they corrected overnight(24-48hrs response time) so if you experience problems with gems not accurately reflecting sales I would give it a little time and if you can not wait just shoot them an email follow the suggested directions and hopefully you'll have a positive experience as I did. Remember this is technology in a human experience both have their glitches. I am a little concerned about the gem aspect, I would like to hear back on how to redeem gems into actual currency. Please tell me this is possible. Good luck creating and selling!!
Poor experience, overcharged on several occasions and missing my NFTs
Terrible experience! First: they're charging USD through iTunes for payment and then reporting it as ETH buys and sells which is illegal. Second: on multiple and separate times they're app has duplicated charges even one time in March to the sum of 429 dollars USD and refuse to refund me or provide me the gems for which they charged me for. Third: They have a fake token with no actual value that they are paying out to the artists for sales. This token simply is something NFTGO came up with on they're own and does not exist on any exchange meaning they're making millions in USD and paying artists for they're work in a worthless token that cannot be withdrawn or used in any other space and they charge as if it is ETH. Crypto taxes are different than USD. So your being charged USD tax and at the end of the year you'll be receiving a tax document for all the exact same charges as if you bought into ETH and cashed out from ETH to USD which is a much higher tax bracket. This is fraud on a federal degree.
Awesome app and amazing customer service
I love this app! I have been able to send all of the NFTs I have purchased here to my MetaMask wallet except one. I tried to send that one multiple times but I was getting a message saying ownership could not be verified. I then emailed support for NFT GO and they resolved it by reimbursing my gems. That works for me, I can buy a different NFT with the funds since that NFT seemed to not actually belong to me. I highly recommend this app and, if you have any trouble or if you don't understand something contact customer service, they respond quickly and are super helpful!
Vanessa is awesome!
As a new user as well as advocate for NFT and NFT Go, I had a problem occur where I sold my first NFT (such an awesome feeling) but didn't receive the Gems. With the help of Vanessa I was able to get my gems redeemed as well as once again have hope. Without her help and good email communication, I would have deleted the app and had a negative relationship to your field of company and work. I am thankful for great customer services and a am glad that NFT is loyal.

Thanks Vanessa!
Read this if your got questions
Obviously I seen all the issues and problems people were having. If you buy an nft on nft go, you have to do a few steps to get it in your meta mask wallet. I had to change my wallet network from etherum main network to a different polygon network I used matic network and it let me import my nft. But I had to click import on meta mask then put in the id and my wallet id. Every time it said I had the wrong address in there until I changed it to polygon then it worked
Get NFT GO from App Store
What is your opinion about NFT GO
Bitcoin
Ethereum
MetaMask (ETH)
Xrp
Polkadot
Binance coin
Stellar
Dogecoin
Tron
Elrond
Donate Bitcoin to this address
Scan the QR code or copy the address below into your wallet to send some Bitcoin
Donate Ethereum to this address
Scan the QR code or copy the address below into your wallet to send some Ethereum
Donate Xrp to this address
Scan the QR code or copy the address below into your wallet to send some Xrp
Donate Polkadot to this address
Scan the QR code or copy the address below into your wallet to send some Polkadot
Donate Binance coin to this address
Scan the QR code or copy the address below into your wallet to send some Binance coin
Donate Stellar to this address
Scan the QR code or copy the address below into your wallet to send some Stellar
Donate Dogecoin to this address
Scan the QR code or copy the address below into your wallet to send some Dogecoin
Donate Tron to this address
Scan the QR code or copy the address below into your wallet to send some Tron
Donate Elrond to this address
Scan the QR code or copy the address below into your wallet to send some Elrond