[Game] Color Switch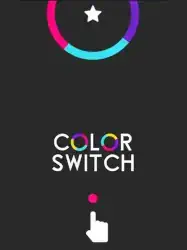 Game Description :
Its time to play Color Switch!
Color Switch
With over 300 million downloads and counting, Color Switch was the fastest game in the App Store history to reach 50 million downloads and was the #1 game in over 150 countries. With this new version of Color Switch we're bringing you even more mini games, music, and very exciting new features not seen before
Game Features :
Tap to get the ball past each obstacle.
Follow the color pattern to cross each obstacle.
Timing and Patience are the keys to victory.
Earn stars to unlock new balls.
Beat Every Challenge and get a High Score in Endless
New Modes and Levels added with each update
Please send all feedback to support[at]colorswitch.co. We'd love to hear from you!
Additional information :
Size 327.7 MB
Requires iOS 10.0 or later.
User reviews :
My ideas with review
I just started play this version and its the best the are so many and I had a idea what if there was a mode when you have to answer questions about the game it would really twist the game up it would definitely help people learn more about the game. Hi it's me again I just had another idea what if you could like make your own levels and let people play them anything you could add friends to the game and add the championship mode read and play with other people and do different modes and have rooms for pacific people like your contacts. And by the way thanks for responding to me I didn't think you were actually responding but thanks. Other idea you could add a fnf version fnf is one of my favorite games and seeing it on my mother favorite games will make me play this a lot more the way it could is if you would make the lv hard (depending on the song) and also the way the gameplay could work is if you just make us tap the arrows but for songs like ejected when it would make you do a fast 3 way staircase is that you could make us be able to slide so it's much less hard I would love to hear your feed back AND. DONT DO YOUr BOT REpONCE PLZ it really would want your opinion.
Developer Response,
Thanks for your feedback! We're glad you enjoy it and thanks for the 5 stars! There's 34 modes, over 2600 levels and 27 endless modes. Color Switch Trivia sounds fun! Email us at support@colorswitch.co anytime. Keep up to date with all things Color Switch on Facebook, Instagram and Twitter. We hope you enjoy the surprises we've been working on!
Amazing Game!! Must Try!!
This game is absolutely amazing, it keeps my busy during long car rides and long plane rides for quite a while. And the amount of adds that's there is a really good amount because it never really gets annoying to the point where you turn on airplane mode. But I do have some suggestions, I have collected a lot of incredible skins and all of them are great but the sad part is that once you collect the skin you can't get your old one back which is really disappointing so I recommend doing like some sort of closet that you can use to select which skin you want to use. Next, I had this game when I was little and I remember that there was like a race mode where you could race against the computer or another player, I couldn't find it after searching for what felt like hours and once I realized it wasn't there it made me pretty sad since it was my favorite mode, so if it's to much to ask I would really like to see that mode again. But overall this is a must try game! Thank you so much for taking the time to read my feedback I hope you have an incredible day!
Amazing game, but one complaint
I have played this game since forever ago, and it's still amazing. The new modes are cool, one of my favorite modes (brick) got a sequel (brick 2), and the music is a bop!

However, i noticed a lack of something. Where did the mode "Swoop" go? At least I think it was called "Swoop." If you don't remember what it was, let me explain:

So, basically you had your circle, and it was bouncing on a line. If you tapped the screen, the ball would go downwards quickly, no matter if it was going up or not. There were obstacles like ninja star thing, there were no floating platforms besides the line, and no color changes, I don't think. But the main focus would be the holes in the ground, because when you got your circle into one, the gravity would shift and your circle would be bouncing on the underside of the platform, going down and then up instead of up and then down, and tapping the screen would make the circle go up quickly instead of down, and going into another hole in the ground would shift the gravity back to normal. The mode also had an endless mode.

I don't understand why you removed this mode, but if you could add it back in, that would be amazing!
Developer Response,
Thanks for the review. We didn't remove Swoop from Color Switch. A situation beyond our control required that we rebuild Color Switch in this new version. The old is gone but we will continue to work on this new version and hopefully get you some new favorites.
Get Color Switch from App Store
What is your opinion about Color Switch
Bitcoin
Ethereum
MetaMask (ETH)
Xrp
Polkadot
Binance coin
Stellar
Dogecoin
Tron
Elrond
Donate Bitcoin to this address
Scan the QR code or copy the address below into your wallet to send some Bitcoin
Donate Ethereum to this address
Scan the QR code or copy the address below into your wallet to send some Ethereum
Donate Xrp to this address
Scan the QR code or copy the address below into your wallet to send some Xrp
Donate Polkadot to this address
Scan the QR code or copy the address below into your wallet to send some Polkadot
Donate Binance coin to this address
Scan the QR code or copy the address below into your wallet to send some Binance coin
Donate Stellar to this address
Scan the QR code or copy the address below into your wallet to send some Stellar
Donate Dogecoin to this address
Scan the QR code or copy the address below into your wallet to send some Dogecoin
Donate Tron to this address
Scan the QR code or copy the address below into your wallet to send some Tron
Donate Elrond to this address
Scan the QR code or copy the address below into your wallet to send some Elrond