(App) MyInstants SoundBoard Buttons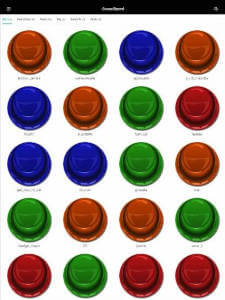 App Description :
Fun Soundboard – The Best Sound Board of Digi Sounds and VSounds for Vine Free
App Features :
Funny sounds you can use in your day by day.
The best MLG sounds! All of your favourite Illuminati MLG sounds in one place!
The best and most complete Vine soundboard on the App Store!
 Features popular awesome sounds!
Our terms of service/use are available at meimeigroup.github.io/TermsofUse.html and our privacy policy is available at meimeigroup.github.io/PrivacyPolicy.html
Additional Information :
Size 163.6 MB
Requires iOS 10.0 or later.
User Reviews :
I really like the funny sounds in this app, especially the gun shot and the screaming goat! Haha! It is fun to use the screaming goat when people are talking too much. I played that goat sound when one of my friends wouldn't stop talking, and she looked totally confused! That was funny. I decided to rate this app all of the five stars, because everyone enjoys the funny sounds. I think they really like the screaming goat! Also, it can come in handy when you need to teach people what things sound like. Thanks you all for reading my review. Enjoy the rest of your day!
It's alright.
It's like any other SoundBoard, exept there's a whole lot more meme sounds than any usual soundboard. People usually complain about ads, but you could just turn on airplane mode. Once in a while it ask's you too rate the app, but it's not that irritating in my opinion. But there's one thing: you have coins. You get a whole lot sound effects, and then you can either watch an add, or get unlimited coins to play more sounds. But, if your on airplane mode, just go turn it off, and then enter the app and watch the add.
Easy to Fix the ads
All you guys have to do to get rid of the ads is out airplane mode on your phone, to do this swipe up from the bottom and you'll see a button that shows an airplane click on that, it will disconnect you from WiFi so you won't get texts or calls, but also you can't call so when you have that mode on you won't get anymore ads and you can enjoy the ad free game, you can also do this with almost every game you have.
Waste of time
The hints are rediculous get rid of them or deal with a lawsuit of false advertisement I got this to have fun with it but you put hints in this saying give us five stars to keep listening that is propaganda and illegal inducing so I will be reporting this to the bbb and apple tech something better change this is absolute BS. Apple said they would crack down on apps using propaganda to get 5 stars but looks like nothing's changed.
Pretty Good.
I actually enjoy the app. It is actually a lot of fun to just press a button and listen to sounds sometimes, yes I know, I am a very weird person. The only thing I do not like is that I hate to rate the app to continue listening. Other than that it was fine because the app works perfectly and even though ads pop up it never bugs me. Alright good bye I'm done writing this now
Really thought this would be better
When I saw how many sounds there was to choose from I was excited. Then I got an ad not the worst thing but was confused why you would put a video ad on a soundboard of all things. So I just kept looking through sounds to grab some I wanted. Then I learned about the credits system. AND THATS WHEN I LOST IT. You want to limit how many sounds I can use even if I save them and then. MAKE ME PAY MONEY IR WATCH SEVERAL ADDS JUST TO USE THIS SOUNDBOARD!!! If this had not been implemented would have been a good thing to have but once I realize uninstalled within 10 minuets of having it. Don't wast your time with this app.
Ridiculous!
I had to delete this app because I was getting so mad with the constant adds popping up every 10 seconds. I couldn't even enjoy this soundboard because of it and thats. I'd rather enjoy my time having fun with an app cracking up a couple of buddies of mine than waste my time on battling these constant adds that just will not stop popping up. It angers me that I not only couldn't have fun with the app but had to delete it also. No app should have so many adds to where you have to delete the app.

The adds need to stop. I loved the soundboard and had a great time with it but the adds just grrrrrrr!!!
Really
I used this for about 5 minutes and it was fun, but then I had to watch a 30 second video to get to play more buttons, okay that's fine. But then every time I clicked on a button a pop up came up and said "rate 5 stars for more clicks" so here I am, but my question is; are they really so scared that no one will give them 5 stars ?
Halarious
I think it's so funny all the sounds you can find but I think they should separate the time of ads and buttons because if you press a button 3 times you already get an ad. Overall I think this app is amazing
Get MyInstants SoundBoard Buttons from App Store
What is your opinion about MyInstants SoundBoard Buttons
Bitcoin
Ethereum
MetaMask (ETH)
Xrp
Polkadot
Binance coin
Stellar
Dogecoin
Tron
Elrond
Donate Bitcoin to this address
Scan the QR code or copy the address below into your wallet to send some Bitcoin
Donate Ethereum to this address
Scan the QR code or copy the address below into your wallet to send some Ethereum
Donate Xrp to this address
Scan the QR code or copy the address below into your wallet to send some Xrp
Donate Polkadot to this address
Scan the QR code or copy the address below into your wallet to send some Polkadot
Donate Binance coin to this address
Scan the QR code or copy the address below into your wallet to send some Binance coin
Donate Stellar to this address
Scan the QR code or copy the address below into your wallet to send some Stellar
Donate Dogecoin to this address
Scan the QR code or copy the address below into your wallet to send some Dogecoin
Donate Tron to this address
Scan the QR code or copy the address below into your wallet to send some Tron
Donate Elrond to this address
Scan the QR code or copy the address below into your wallet to send some Elrond