Z defense game by HOMA GAMES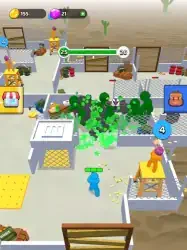 Game Description :
Go escape and save yourself from the zombie tsunami! They are coming to get you and they are billions of them!
This place is like a zombie farm, are they breeding here? If you try to escape, you will probably regret it. You need to become a zombie catcher and you need big guns to shoot and stop this zombie tsunami!
Game Features :
Discover new zones in this zombie game, unlock new weapons and upgrades to make you as powerful as ever and be able to defeat and stop the zombies run!
Shoot them while they are running towards you! They are coming for you, they are billions and hungry coming on the zombie highway, go escape or fight them all!
Mow zombies with your machine gun and beat them to secure your territory. Zombie catchers are powerful and they don't need zombie tutorials to teach them how to hunt down a zombie tsunami. Be the one that will stop the zombies run in this zombie game!
Upgrade your weapon, unlock a guard to help you with dealing with the zombies. They are billions and they are coming like a zombie tsunami, so we trust you on this one, stop the zombies run and get rid of them like a real zombie catcher!
Standard Apple Terms of use: www.apple.com/legal/internet-services/itunes/dev/stdeula/
Additional Information :
Size 221.2 MB
Requires iOS 11.0 or later.
User Reviews :
Not so many ads
The game is awesome the one thing I don't like about it is the ads there's like so many if the ads weren't there so much probably like the game better and they should add more worlds like they have an added worlds that much but I I really like the game also there should be like the skins cost too much 500 diamonds that is so much but anyways everything else I love I will show it to mostly all my friends hopefully they download it and that's it
More effort than it's worth
I'm on the third map and I'm already tired of navigating my way through my base. each map has about 10 levels that you go through, defending your base. After each level you run around your base and rebuild each gate/door that's been damaged, as well as collect resources that have dropped. As you progress through the levels your base gets bigger. I.e. There is more real estate to navigate, Locating each damaged door and collecting resources while avoiding hidden ads on your base. The ads look like a legitimate part of your base until you run over them and you're instantly teleported to another screen that you have to close out to return to regular gameplay.

Then there are all the other ads that you get to watch as well throughout gameplay. There are the intermittent ads that pause gameplay, The ads to watch for bonuses at the end of each level, the ads for chests for extra material, the ads to watch to acquire an extra level of damage and so on and so forth. Most of the ads are voluntary, some however or not and do interrupt gameplay. There are also banner ads that never go away.

If you're looking for a fun game that the developers have complicated to ensure you spend the max amount of time running around doing stuff; like running over Hidden ads, watching mandatory ads that pause gameplay, and increasing bandwidth through mandatory ads and banner ads then this is the game for you.
Add more please
Fun game with a little bit too many required ads (people would happily watch the gold and gem rewarded ads more if there weren't ads every 3 rounds) but add more content. There isn't any point in playing past like level 90 as there's no new worlds to progress to. When you do add worlds please add more to them (tables created by manipulating 5 cubes in a 3D software, dartboards, go wild and make a laboratory map or something!) because it will not be fun spending a crazy amount of gold on more empty rooms that don't introduce more content like earlier levels were doing. If you make the levels generic, I'm sure people will still play them and produce advertising revenue, but speaking from my experience, for the enjoyment of the player, you need to introduce new content and in turn you will make more money as more players stay engaged until the end.
Pretty fun game!
Let me preface this by saying that although the game is early in development, the game has tons of potential. Has a pretty moderate level of difficulty up until a certain point. I did purchase the $5 pack to get rid of the ads fairly early into the game, so I didn't experience much of the default ads. With the new update that released today, I do enjoy the new arena and zombies that were added. Great job devs! Edit: With this new update, traps don't appear to work in the 200s,although I do see the option to enable them,clicking doesn't do anything
Get Z defense from App Store
What is your opinion about Z defense
Bitcoin
Ethereum
MetaMask (ETH)
Xrp
Polkadot
Binance coin
Stellar
Dogecoin
Tron
Elrond
Donate Bitcoin to this address
Scan the QR code or copy the address below into your wallet to send some Bitcoin
Donate Ethereum to this address
Scan the QR code or copy the address below into your wallet to send some Ethereum
Donate Xrp to this address
Scan the QR code or copy the address below into your wallet to send some Xrp
Donate Polkadot to this address
Scan the QR code or copy the address below into your wallet to send some Polkadot
Donate Binance coin to this address
Scan the QR code or copy the address below into your wallet to send some Binance coin
Donate Stellar to this address
Scan the QR code or copy the address below into your wallet to send some Stellar
Donate Dogecoin to this address
Scan the QR code or copy the address below into your wallet to send some Dogecoin
Donate Tron to this address
Scan the QR code or copy the address below into your wallet to send some Tron
Donate Elrond to this address
Scan the QR code or copy the address below into your wallet to send some Elrond