Music Star – Life Simulator game by Chimpanzee, LLC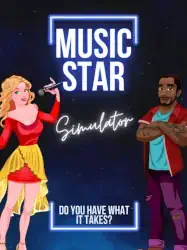 Game Description :
(AD FREE) "Easily the greatest music simulator app around." Create billboard hits, land record deals, win awards, start a label & more! Will you be the next MUSIC STAR?
Less than 1% of musicians make it on the path to super stardom! Start at the bottom of the music world and climb the ladder of fame as you create chart topping hits, negotiate record deals, sign artists to your own label and create a musical legacy!
Game Features :
CREATE CHART TOPPING HITS
Create songs in 50+ international genres, level up your musical talent, release viral albums and feature the most popular artists! Create artists, sign them, feature on their songs and see if you can land on the Billboard!
GO VIRAL + BE SOCIAL
Grow your monthly listeners, create concept music videos or release official lyric videos. Gain followers, listeners, subscribers and earn royalties on streams, music video views and become the most popular artist in the world!
WIN AWARDS
Will your songs be nominated and win awards? Become the biggest award winning artist in the world!
LAUNCH YOUR OWN LABEL
Start your own record label, sign new talent, hire the right team, review song lists and drop artists that aren't performing!
MANAGE YOUR MERCHANDISE
Build out your online presence, choose products, determine track lists, limited edition runs, pricing and manage inventory!
BECOME AN INVESTOR
Pivot your career to venture capital and invest in some of the hottest startups for massive returns or buy some of the world's most expensive properties!
BUILD A DYNASTY
Get matched, start dating, choose a ring and get married, raise your kids and take over their lives to continue your legacy!
COMPETE GLOBALLY
With a variety of leaderboards, you'll never stop competing! Can you make it into the Top 100 Artists?
Additional Information :
Age Rating4+
Size 46.3 MB
Requires iOS 13.0 or later.
User Reviews :
Love the game but…
It does get boring from time to time and u know that jus regular but I wish you could add 2 genres to a song and I wish you could delete a music video and make it again if it was a bad one like you can do wit the songs and the album's if I accidentally add a song to a album I don't like that I have to delete it and make it again to make it a single or add it to the correct album plz let us change song even if there on album's and single should be first wen ur makin a song not the album's and the Twitter is fine but I wish i could make friends so I can hav free features from other artists and I feel like wit all the maxed out skills that I hav to delete a lot of music jus to get it to 100 and I don't like that only features can make a song go past 101 why can't I do that on my own all of my skills are maxed at 110 except for the ones that can't go there and I feel like 110 is to low like 150 sounds good it probably would help make the videos and music go past 101 and why do I hav to wait so long to get a girl pregnant and hav a kid why can't we jus hook up oh and why do I need a label for tours why can't I pay for my own tours wit no label but it's a great game jus sum tweak here and there
Perfect
Perfect musical game on the appstore. Everybody that enjoys music simulators should play this game. I love every single feature of this game. I will list what I deeply enjoy about. Firstly, I enjoy how far it goes to make not only a music career, but families and relationships. Having the energy boost is amazing for starters and later career adventures, too! Once you have a child, you can switch to their life and play as them and have their musical talents. You can keep generations going till the end of time! Secondly, I enjoy the energy system, too. I like how the devolepers make it to where once the year is over, you lose a singular max energy. This pushes you to continue on to your child instead of staying on your own singer for eternity. This energy also plays into the Skills functions such as songwriting and vocals. This makes it really feel like you are a up and coming singer. To save you time, I will not continue to add to my list of enjoyments. I want to thank the Devs for their hard work they put into this game. Thank you for reading.
Get Music Star from App Store
What is your opinion about Music Star
Bitcoin
Ethereum
MetaMask (ETH)
Xrp
Polkadot
Binance coin
Stellar
Dogecoin
Tron
Elrond
Donate Bitcoin to this address
Scan the QR code or copy the address below into your wallet to send some Bitcoin
Donate Ethereum to this address
Scan the QR code or copy the address below into your wallet to send some Ethereum
Donate Xrp to this address
Scan the QR code or copy the address below into your wallet to send some Xrp
Donate Polkadot to this address
Scan the QR code or copy the address below into your wallet to send some Polkadot
Donate Binance coin to this address
Scan the QR code or copy the address below into your wallet to send some Binance coin
Donate Stellar to this address
Scan the QR code or copy the address below into your wallet to send some Stellar
Donate Dogecoin to this address
Scan the QR code or copy the address below into your wallet to send some Dogecoin
Donate Tron to this address
Scan the QR code or copy the address below into your wallet to send some Tron
Donate Elrond to this address
Scan the QR code or copy the address below into your wallet to send some Elrond