Tile – Find lost keys & phone app by Tile, Inc.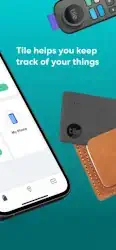 App Description :
Tile helps you keep track of your things.
Find misplaced things nearby and far away. Add a Premium plan for the most robust finding experience for all your Tiles.
App Features :
FIND KEYS, WALLETS, BAGS & MORE – Our Bluetooth trackers are small and easily attach to your things.
IND NEARBY– Use the Tile app to ring your Tile when it's within Bluetooth range.
FIND FAR AWAY — When outside of Bluetooth range, use the Tile app to view your Tile's most recent location on a map.
FIND YOUR PHONE – Double press the button on your Tile to make your phone ring, even when it's on silent.
NOTIFY WHEN FOUND — Use the Tile Network to help find your things. If your Tile is lost, add your contact information so you can be reached when someone scans the QR code on your lost Tile. QR Codes are available on 2022 Pro, Mate and Slim Tiles.
SMART HOME COMPATIBLE – Tile works with Amazon Alexa and Google Assistant, so finding is easier than ever. Sync your Tile account in the Alexa App or Google Home app to activate this feature.
Get the most from Tile with a Premium Plan
Subscribe to a Plan for the most robust finding experience for all of your Tiles. You'll receive a Smart Alert notification when you leave something behind. For U.S. subscribers, if you do actually lose something, and Tile can't find it, we reimburse you up to your item reimbursement limit.
All new users are eligible for a 30 day free trial of a Premium or Premium Protect Plan. Afterwards, Premium is available for a monthly or annual subscription and Premium Protect is available for an annual subscription.
Item Reimbursement is provided under Premium and Premium Protect subscription with no additional fees through XCover.com and is currently available to U.S, subscribers only.
For exclusions, conditions and limitations for Item Reimbursement, including current Item Reimbursement limits, go to https://tileteam.zendesk.com/hc/en-us/articles/360050114674
After your one-month free trial (new customers only), payment will be charged to your iTunes account. Your free trial will end, and your iTunes account will be charged, 30 days after you sign up for Tile Premium or Premium Protect.
Premium and Premium Protect require installation of the Tile application, ownership of a Tile-enabled device, Tile account registration, acceptance of Tile's Terms of Service and acknowledgment of Tile's Privacy Policy.
For Japan: No refunds or exchanges for convenience are permitted.
For Korea and Quebec: Residents of Korea and Quebec' first subscription fee will be charged in 30 days instead of a free trial.
Additional conditions, terms and limitations included in the Tile Terms of Service and Privacy Policy.
Terms of service: www.thetileapp.com/en-us/terms-of-service
Privacy policy: www.thetileapp.com/en-us/privacy-policy
Apple Notes:
The app utilizes Bluetooth Low Energy (BLE) to communicate with your Tiles.
The app utilizes Location Services to record the most recent location of your Tiles, based on your phone's geolocation data.
Continued use of GPS or Bluetooth running in the background can dramatically decrease battery life.
Requires purchase of Tile-enabled device, Tile account registration, acceptance of Tile's Terms of Service and acknowledgment of Tile's Privacy Policy.
By installing this app, you consent to its installation and the installation of updates or upgrades released through the platform. You can turn off automatic updates through your device settings, but if you do not update your app, you may experience reduced functionality. Some updates may change the way we record data or change data stored on your device. Any changes will be consistent with Tile's Privacy Policy. You can withdraw your consent at any time by removing or disabling your app.
Additional Information :
Age Rating 4+
Size 144.1 MB
Requires iOS 14.0 or later.
User Reviews :
Excellcent support and features
I subscribed to the Premium account, less than $30 a year, because I wanted to see the complete history of the movements of my things with the tiles attached to them. But it turned out that it was the excellent tech support (comes with Premium subscription) that really saved the day for me. You can contact them by text (SMS) as well as email, and they respond almost instantly (night time and weekend included), analyze your case, really think about your report, and are extremely helpful. In my case, it turned out to be my is fault: I did not read the device compatibility list very carefully an d tried to use the tiles with outdated devices. They sort of worked anyway, and the first support engineer thought I had a defective tile. She sent me a replacement. Even before the replacement arrived, I ran more testing, and reported again, and based on my new findings, the next engineer told me to update the iOS system on my device. That solved the problem. I don't know how they can be so responsive with so many tiles sold, but this is a true story. I am not associated with the company or indebted to it in any way. As for the features of the device, they are the best on the market. You can read about them and even find the complete manual online, and it is all accurate. All those features really work. I bought and am using the Pro model because for me the greater range and reliability are more important than the size of the tile. I highly recommend it.
Tiles are a must have for a parent
Love my tiles!! My wife and I have one on each of our sets of keys and time and time again they've been a life saver. When my son was a young toddler he put my spare keys in our wine glass storage case and that's where they remained until we decided to move and began packing. At that time tiles weren't available. Not too long ago I spent 3 hours looking for my one and only set of keys to my current truck only to find out they were in my sons backpack at school! I immediately went and purchased a 4 pack of tiles after that morning which left me extremely late for work. I now have a 2 year old daughter who is obsessed with hiding things such as keys and I've never had to look for my keys for more than one minute! I will be purchasing some of the stick on tiles next for the things I'm left searching for the most and I couldn't be more pleased with the price and dependability of the tile products. The key chain tiles have no down side. The only down side to the stick on is the fact that batteries can't be replaced so you get about 2-3 years from them. There would be no way to change the sticker tiles in order to have a battery option unless it became bulky which would cause them to be less desirable and unable to use in many applications. Considering the great price of all of the tile products I'd say 2-3 years is well worth it. This product is a must have!
Get Tile from App Store
What is your opinion about Tile
Bitcoin
Ethereum
MetaMask (ETH)
Xrp
Polkadot
Binance coin
Stellar
Dogecoin
Tron
Elrond
Donate Bitcoin to this address
Scan the QR code or copy the address below into your wallet to send some Bitcoin
Donate Ethereum to this address
Scan the QR code or copy the address below into your wallet to send some Ethereum
Donate Xrp to this address
Scan the QR code or copy the address below into your wallet to send some Xrp
Donate Polkadot to this address
Scan the QR code or copy the address below into your wallet to send some Polkadot
Donate Binance coin to this address
Scan the QR code or copy the address below into your wallet to send some Binance coin
Donate Stellar to this address
Scan the QR code or copy the address below into your wallet to send some Stellar
Donate Dogecoin to this address
Scan the QR code or copy the address below into your wallet to send some Dogecoin
Donate Tron to this address
Scan the QR code or copy the address below into your wallet to send some Tron
Donate Elrond to this address
Scan the QR code or copy the address below into your wallet to send some Elrond