Music Dash – Full Mod Fight game by Jingmao Tec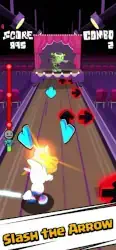 Game Description :
Music Dash is a rhythm running game.
How to play:
1 Choose your song
2 Control with one finger
3 Hit the notes with various weapons
Play with game, anime, EDM music.
Game Features :
1 Massive hot songs
2 Exciting and challenging tracks
Free New Songs! Check the game!
Music Dash is a music game from Jingmao Tec. Contact us by App Store or email below. We're looking forward to your game feedback to improve our game!
Feedback
beatrun11e[at]gmail.com
Related agreements and policy
www.jingmaotec.com/beatrun/agreement
www.jingmaotec.com/privacy
Additional Information :
Age Rating 12+
Size 336.7 MB
Requires iOS 11.0 or later.
User Reviews :
Love this
Okay so let me just start with the difficulty. It's hard at, but once you get it down you can actually start doing the levels. I see people complaining about it being to hard and make the player have more health but I don't think that's needed. You have to take time everyday, or every now and then to actually get good at the game. That's what practice is people. Let me get started with the models. I really like the models especially pibby because of how small she is so I can have a easier time maneuvering around red notes. I sometimes use other characters just because why not. Also the sensitivity, graphics, and etc are really nice too. I like how you can change your sensitivity if you have trouble on 50 (default), but I personally just use 56 sense which is really high. Oh and the ads. I don't really mind the ads since I've done all levels and don't have to watch any ads. Maybe after I die or complete a level but I don't mind. People keep complaining about the ads but I wish they'd play the game a bit longer to actually play the game how it was intended to be played and not having to watch any more ads. Anyways this game is really great and I hope to see more future updates with more harder insanes. No pressure though
I gave this a 5 start but..
I gave this a 5 stars because I really like it first when I saw this ad I thought it was fake like those free roboux ads but gave it a try and I LOVE IT but the ads why so many ads but except the ads I ove the game but I wish there were all the weeks and mobs in the game like fnf and some songs like anoying orange sliced but everyone sings it I wish when you a dirffent character singing I wish you turn into the character but I like it and I love this more then beat battle cause when you only miss one note you just die and some songs say it is easy but for me IT IS NOT so I like this more then beat battle
I love this game but…..
First of all I really enjoy playing this game but one of the songs I tried playing was almost impossible to complete. The song is friends to your end when it gets to orange it has the arrows that block you from being able to get past the target so every time that part comes I have to revive to get past it. Also in purples turn there is to many arrows on the screen it makes me dizzy and my eyes go fuzzy. I don't want this to happen anymore so I stopped playing that song. When I saw that there was a poppy playtime version of friends to your end I wanted to try it out to see if it were any different. But of course you kept to arrows the same but changed the sound effects. So I then decided to completely stop playing any of those songs. Another very annoying thing is the ads!! I know that's how you get your money and all but the ads I get you can't skip at all and most of them are like somewhere around thirty seconds long JUST FOR AN AD! But overall your game is awesome and I love the songs and characters. Please take this to consideration to fix these mistakes. Thank you.
How much I love this game
Honestly I can't explain how much I love this game it helps with my finger skills because I suffer from a condition where my fingers are always numb and this helps so much my doctor said how are you moving your fingers this much and I honestly love this game I could never love something more than this game always I will always love this game and never ever have a complaint I love it so much thank you for letting me play this game it is amazing and I just love to talk about it thank you so much I really love this thank you thank you thank you thank you thank you.
Get Music Dash from App Store
What is your opinion about Music Dash
Bitcoin
Ethereum
MetaMask (ETH)
Xrp
Polkadot
Binance coin
Stellar
Dogecoin
Tron
Elrond
Donate Bitcoin to this address
Scan the QR code or copy the address below into your wallet to send some Bitcoin
Donate Ethereum to this address
Scan the QR code or copy the address below into your wallet to send some Ethereum
Donate Xrp to this address
Scan the QR code or copy the address below into your wallet to send some Xrp
Donate Polkadot to this address
Scan the QR code or copy the address below into your wallet to send some Polkadot
Donate Binance coin to this address
Scan the QR code or copy the address below into your wallet to send some Binance coin
Donate Stellar to this address
Scan the QR code or copy the address below into your wallet to send some Stellar
Donate Dogecoin to this address
Scan the QR code or copy the address below into your wallet to send some Dogecoin
Donate Tron to this address
Scan the QR code or copy the address below into your wallet to send some Tron
Donate Elrond to this address
Scan the QR code or copy the address below into your wallet to send some Elrond