WiZ Connected app by Signify Netherlands B.V.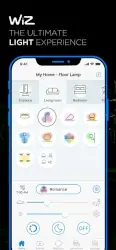 App Description :
Smart lighting made simple.
App Features :
Organize and control your lights by groups within rooms over Wi-Fi or remotely through the cloud. Improve the way you work, feel and simply enjoy the environment you're in with our wide variety of different light modes that cover the range from fun to functional. All your settings are securely stored on the cloud and can be shared with your family, friends and even your guests if you like.
Additional Information :
Age Rating 4+
Size 76.2 MB
Requires iOS 13.0 or later.
User Reviews :
very impressive
I don't usually write reviews unless something is really amiss. In this case, I'm writing because of how thoroughly impressed I am! I love all of the options for customization. I've used several 'smart' lights over the years, each with their own app, and the quality of those apps is usually pretty bad, which is why this one stands out. It's intuitive! It doesn't crash every five seconds! And it's not a struggle to reconnect to the lights when you want to change their settings. My favorite aspect is that you can choose different light settings depending on how many times you flip a switch. We've gone back to the store twice just to get more bulbs to put around the house. The *only* possible improvement I can think of would be having more customizable dynamic lighting options (i.e. if you could pick a few colors for it to cycle through), but that's a really small thing compared to everything you *can* do.
Update to the New App
Using this app only to integrate with Alexa and the required Skill. I've used one Wiz bulb for over a year now (others are Hue bulbs) and had no problems until a few weeks ago when it stopped responding to Alexa commands. I received a notification through the Alexa app stating basically that the account verification period had expired and needed to be renewed. The device would show "Server Unresponsive" as a result. I opened the Wiz app and instantly got a notification that there was a new app that Wiz switched to and that I must download and migrate my account over. Migration occurred automatically upon opening the new app. Followed the steps and got logged into the new app. Deleted the old app. Had to Re-integrate back to my account in the settings menu of the Wiz app and then re-installed the Wiz skill back into the Alexa app. Finally, the Wiz Skill kept prompting me to enter a six digit pin that was supposedly generated in the Wiz App settings under Integration, however no pin is presented as I'm assuming the new app no longer uses this method of verification. The light ends up working even without a PIN number so I'm now running smoothly again. I think the Wiz skill could be updated.
Request more flexibility
For the most part, I am enjoying the Wiz app and it's control over my lighting. I have been using the Wiz app and bulbs in my house for over a year, mostly confined to one room, but I recently expanded to several more rooms. I set up different color scenes for different occasions, moods or times of day, in different rooms. It's extremely useful having scenes connected through Alexa.

I do wish to see more functionality added to the app though. Mostly through the control of color selection. I would like to be able to establish my own color combinations, e.g. ocean cycles through preset blues, I would like to cycle through colors that I choose. I would also like to see better organization within the scenes tab. I have multiple scenes established for multiple rooms. Scrolling through the list gets cumbersome when using the app searching for a specific room and scene. Maybe be able to collapse a room within the list? I would also like to group multiple rooms into a scene. For example, I would like to be able set a scene across multiple rooms at once.
Functionality Request
Edit:

Would also request option in app for dark mode.

Enjoy the app. Thought I would throw this out there. It would be nice to have this option when you place single bulbs in the app into a group. This is a great option which I enjoy. It would be nice if you could add this feature. When you long hold on a group of bulbs you created, it then brings that group to the forefront. Here would be nice to add an option to allow the manipulation of a single bulb in the group. So you could change color, brightness, etc. Instead, currently you would need to drag the bulb out of the group, wait for app and bulbs to refresh, then change color on that single bulb. When done, you then have to drag that bulb back into the group if you wish to control a group of bulbs at the same time (not an entire room). This would be a great feature to add and I hope it comes under consideration. I have enjoyed the app since downloading almost 2 months ago and have lots of theses wiz & philips bulbs.
Developer Response,
Thank you so much for your kind review. We higly value our user feedback. Your suggestions will surely be passed on to our product development team. Also, you will be happy to know that we are adding Dark Mode to the WiZ app soon.
Get WiZ Connected from App Store
What is your opinion about WiZ Connected
Bitcoin
Ethereum
MetaMask (ETH)
Xrp
Polkadot
Binance coin
Stellar
Dogecoin
Tron
Elrond
Donate Bitcoin to this address
Scan the QR code or copy the address below into your wallet to send some Bitcoin
Donate Ethereum to this address
Scan the QR code or copy the address below into your wallet to send some Ethereum
Donate Xrp to this address
Scan the QR code or copy the address below into your wallet to send some Xrp
Donate Polkadot to this address
Scan the QR code or copy the address below into your wallet to send some Polkadot
Donate Binance coin to this address
Scan the QR code or copy the address below into your wallet to send some Binance coin
Donate Stellar to this address
Scan the QR code or copy the address below into your wallet to send some Stellar
Donate Dogecoin to this address
Scan the QR code or copy the address below into your wallet to send some Dogecoin
Donate Tron to this address
Scan the QR code or copy the address below into your wallet to send some Tron
Donate Elrond to this address
Scan the QR code or copy the address below into your wallet to send some Elrond