(App) MetaMask – Blockchain Wallet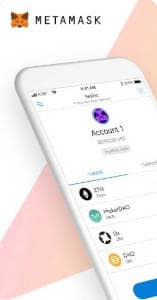 App Description :
Whether you are an experienced user or brand new to blockchain, MetaMask helps you connect to the decentralized web: a new internet.
We're trusted by millions of people across the world, and our mission is to make this new decentralized web accessible to all.
The MetaMask app is both a wallet & a browser. Buy, send, spend & exchange your digital assets. Make payments to anyone, anywhere. Log into websites securely to trade assets, lend, borrow, play games, publish content, buy rare digital art, and so much more.
App Features :
With MetaMask, your keys and assets always stay in your control;
Use MetaMask's key vault, secure login and digital wallet to manage your digital assets.
Generate passwords and keys on your phone and keep your accounts secure.
Browse and connect to the decentralized web sites.
Control what information you share with the sites you use, and what to keep private.
If you're already a MetaMask desktop user, the app will sync your existing wallet in seconds. If you're a new user, we'll help you get setup!
Download MetaMask Mobile and carry the decentralized web with you, wherever you go.
Additional Information :
Size 56.8 MB
Requires iOS 11.0 or later.
User Reviews :
Issues with getting quotes
I downloaded this app because it was the easiest way for me to get the new Saitama Inu coin. Thankfully, transferring Etherium from another wallet to this one so I could swap it for Saitama went off without any issues. Since then though, I am unable to swap back to Etherium. It comes up with a "quotes not available" message and when I attempt to send my Saitama to another wallet, it doesn't recognize the Saitama as an option. At the moment, my plan is to hold my coins so it's not a great need to have this feature at the moment but the fact that I can't swap my coins or send them to another wallet is frustrating. Please fix this MetaMask and I'll gladly give 5 stars. Outside of this issue the app has been great and very easy to navigate
Great custom wallet
Been learning about crypto for 9 months now and feel like an expert lol I really like MetaMask wallet. Once you do your own research about how a wallet like MetaMask works, you will find it easy. Some of the posts on her sounds like people are under the wrong network and that's why they can't view there coins. You have to be really careful abs make sure everything is correct. Info can easily be found online. Other than that, MetaMask is a great wallet and also you can only be hacked if you gave your seed phrase or possibly left open a decentralized application like (pancake swap) without disconnecting..

FYI: MetaMask should come out with a hard wallet to connect to its software!
Developer Response ,
Thank you for sharing your experience. Just as an addition to your comment, leaving your MetaMask wallet connected to a dapp doesn't make it less secure, but you need to be completely sure you are interacting with a real/trusted dapp, and not a copy or phishing site. Also, it is recommended to check what Spend Limit/allowance you have approved for dapps, and if possible revoke the approved allowance from time to time.
Transaction Completed Issue
Great app and wallet, very easy to use and effective, but recently I have encountered issues with the Transaction Completed notification that pops up at the bottom of the app once you submit an order on sites like Uniswap or Pancake Swap. Instead of the notification disappearing, when I re-open the app the notification is stuck at the bottom when I go to the browser so I am unable to use the browser properly as I can not click the screen at the bottom of the app since the notification just stays there. Only way to fix this is uninstalling the app and re-installing which is quite frustrating. And it has happened once again. Five stars if this bug is fixed.
Pretty nice..needs darkmode..
This is a pretty nice wallet and works as expected. Latest update for NFTs is nice as well. Only thing really missing is darkmode. Pls for the love of baby Jesus and my eyes, add darkmode.

Also, don't let the negative reviews of people claiming to lost their coins/money scare you. It's not the apps fault that they don't know what they're doing. Please make sure you fully understand everything about transferring your coins/funds and what network you're on before trying anything.

If you send your coins/funds to the wrong address and/or wrong network, there is absolutely nothing Metamask or anyone else can do to fix it or help you. Take responsibility for your actions.
Get MetaMask from App Store
What is your opinion about MetaMask
Bitcoin
Ethereum
MetaMask (ETH)
Xrp
Polkadot
Binance coin
Stellar
Dogecoin
Tron
Elrond
Donate Bitcoin to this address
Scan the QR code or copy the address below into your wallet to send some Bitcoin
Donate Ethereum to this address
Scan the QR code or copy the address below into your wallet to send some Ethereum
Donate Xrp to this address
Scan the QR code or copy the address below into your wallet to send some Xrp
Donate Polkadot to this address
Scan the QR code or copy the address below into your wallet to send some Polkadot
Donate Binance coin to this address
Scan the QR code or copy the address below into your wallet to send some Binance coin
Donate Stellar to this address
Scan the QR code or copy the address below into your wallet to send some Stellar
Donate Dogecoin to this address
Scan the QR code or copy the address below into your wallet to send some Dogecoin
Donate Tron to this address
Scan the QR code or copy the address below into your wallet to send some Tron
Donate Elrond to this address
Scan the QR code or copy the address below into your wallet to send some Elrond