(Game) Scary Teacher 3D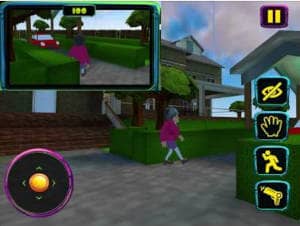 Game Description :
The story is about a genius girl and her worst high school teacher. The Scary Teacher has been threatening kids, giving physical punishment and at times torturing kids. Now, this scary teacher has relocated as your neighbor and you have decided to teach her a lesson by scaring her.
What's the ideal revenge? It's time to scare the "Creepy Teacher" by performing various activities and releasing pets under her custody. You must complete missions / tasks without getting caught and within allocated time.
Scary Teacher, commonly known as Miss T , house consists of 15 rooms and each room has some unsolved mystery. You will recover victim kids photo's, threated pets, Chocolate cake and Chocolates. Remember there is "BASEMENT" as well that has something surprising.
The game takes inspirations from famous movie "Matilda"
Game Features :
1. Open world style interactive house
2. 15 Different Rooms and Mysteries to solve
3. Horror themes but suitable for kids of all age
4. Easy Controls
Let's see how long can you beat this "Scary Teacher" : Enjoy the most anticipated and hottest game of 2017 !
Subscriptions
Now Unlock Chapters, Coins, Stars, Energy and Remove ads through these Subscriptions
Weekly Subscription : Avail Chapters, Coins, Stars, Energy and Remove ads for a week
Monthly Subscription : Avail Chapters, Coins, Stars, Energy and Remove ads for a Month
Quarterly Subscription : Avail Chapters, Coins, Stars, Energy and Remove ads for 3 Months
If you decide to avail these subscriptions payment will be charged to your iTunes account, and your account will be charged for renewal within 24-hours prior to the end of the current period. Auto renewal can be turned off at any time through settings in the iTunes store after purchase. The Subscriptions starts from $4.99 USD/Week, $6.99 USD/Month and $9.99 USD/3-Month. Prices are in U.S Dollars but can vary in countries other than the U.S. Prices can be changed without notice. Any unused portion of a free trial period, if offered, will be forfeited when the user purchases a subscription to that publication, where applicable.
Support URL
znkgames.com/tos.html
Privacy Policy
znkgames.com/privacy.html
Terms of use
www.apple.com/legal/internet-services/itunes/dev/stdeula/
Additional Information :
Size 1.3 GB
Requires iOS 11.0 or later.
User Reviews :
Great Game! Could Use Some Work Though!
I love this game! It has a lot of work out in to it and it's so fun to play! You get to have some revenge on your mean teacher! Who doesn't love that? But there are some things that could be worked on! First of all, I know people say this a lot but the energy bar goes down waaay too fast. If you're doing a prank that takes time, your energy bar goes down super fast and you have to wait a for so long for it to go back up! If you could extend the time for it that would be great! Second of all, on certain levels the game doesn't even let you win. For example, I'm on the level where you have to free the cat from the choke. But (no matter what I do) whenever I open any choke, the teacher suddenly knows where I am and starts chasing me. She could be on the other side of the house and then… POOF! She's chasing me everywhere! Also, I'll pick up a key to one of the chokes and then it will tell me "find the choke then pick up the cat" So I'll find a choke, open it and there's no cat. One more thing, the teacher runs waaay to fast. Please make her a bit slower!! Other than that, this game is so fun and I definitely recommend it to anyone!
Awesome game
It is my favorite game but please make the chapter 2 and the soon coming one free because I don't want to spend money on this, just keep the special stuff like the valentines one for a dollar. Because I really want to keep playing this game but not pay money at the same time. And also there is a glitch you need to fix, if you go up the ladder in the front yard Over by the porch then grab it then put it up where you are then climb to the very top of the house. You'll probably start walking around then you see a hole. Then you walk in it then you are in the roof. But you can get out by just walking through the wall. I mean you don't need to fix it, it's just a harmless glitch, it's not like those glitches that ruin the whole game. Other than those things this is an amazing app that I would recommend to anybody, it isn't that scary so if you get scared and don't like these games this is the "horror" game for you. Even if it's scary she doesn't run faster than you so even if you throw the phone across the room you might still have time.
It needs some changes
It is a really good game but why so many ads and the energy bars I hate in on the secret chapter on the first level for stupid chapter I couldn't get the glue in her face mask so I had to skip that one what was really disappointing but I have to pay for season three it won't let me watch an ad to unlock it so that's disappointing to. Can you also have different maps in the future because it's born having the same map and can you have it where her boyfriend is walking around two to make it even harder or like have modes on easy to hard mode and have different maps so will be more fun to do just a suggestion.Sometimes Miss T will glitch out she'll be walking in place maybe it's just my Wi-Fi I don't know which well yeah it's a really good game it's fun it's just sometimes it's hard to find the stuff and I don't know why you need so many stars to unlock the hints can I just be one star because it's annoying to watch a bunch of ads  and why do we have to have so many energy drinks can you take away the energy drinks plz 🙏🏻 because it's really hard to have energy drinks because I'll be prank in miss tea and I'll stop are we really slow and I'll get caught  that's all I have to say
Get Scary Teacher 3D from App Store
What is your opinion about Scary Teacher 3D
Bitcoin
Ethereum
MetaMask (ETH)
Xrp
Polkadot
Binance coin
Stellar
Dogecoin
Tron
Elrond
Donate Bitcoin to this address
Scan the QR code or copy the address below into your wallet to send some Bitcoin
Donate Ethereum to this address
Scan the QR code or copy the address below into your wallet to send some Ethereum
Donate Xrp to this address
Scan the QR code or copy the address below into your wallet to send some Xrp
Donate Polkadot to this address
Scan the QR code or copy the address below into your wallet to send some Polkadot
Donate Binance coin to this address
Scan the QR code or copy the address below into your wallet to send some Binance coin
Donate Stellar to this address
Scan the QR code or copy the address below into your wallet to send some Stellar
Donate Dogecoin to this address
Scan the QR code or copy the address below into your wallet to send some Dogecoin
Donate Tron to this address
Scan the QR code or copy the address below into your wallet to send some Tron
Donate Elrond to this address
Scan the QR code or copy the address below into your wallet to send some Elrond