(Game) Hello Neighbor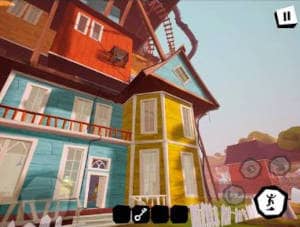 Game Description :
Supported Devices: iPhone 6s, iPad 5 (2017), iPad Air 2, iPad Mini 4 and everything newer. iPod Touches are not supported
Game Features :
Hello Neighbor is a stealth horror game about sneaking into your neighbor's house to figure out what horrible secrets he's hiding in the basement. You play against an advanced AI that learns from your every move. Really enjoying climbing through that backyard window? Expect a bear trap there. Sneaking through the front door? There'll be cameras there soon. Trying to escape? The Neighbor will find a shortcut and catch you.
Additional Information :
Size 1.7 GB
Requires iOS 13.0 or later.
User Reviews :
It's good but not the best.
It is fun to play every once in a while but the overall gameplay is not the best. For starters the mobile controls aren't the best so getting the game on pc or console would be better but the mobile controls aren't the worst either. Also the game doesn't make it too obvious on what you are supposed to do next so it is hard to figure out what you are supposed to do next. Also the basement sections of the game will almost have you pulling your hair out as the lighting is dim and it is kind of a maze in there so it is just annoying to have to navigate through it. Also the size of his house in act 3 is kind of ridiculous as half of the rooms in there don't have anything to do with getting to the basement. It would be one thing if there were some rooms like that in act one and even act 2 but not act three as it will delay progression a lot more. The rooms are kind of interesting but I could still do without so many of them. Finally, you never understand the story that well even at the end of the game and the game is not a scary as it used to be. They also have more games in the Hello neighbor series such as Hello neighbor hide and seek which is a prequel to hello neighbor which has the same negative qualities as this game and secret neighbor which is an interesting online multiplayer social horror Hello neighbor game which is the only actually hello neighbor game in my opinion. I am giving this game 3 stars for it being OK but not the best.
Wished it was better
I was so exited when this game which I loved watching you tubers play was available on mobile and also for free. However upon learning the the full game had to be purchased separately and was very expensive I was disappointed. However I was still willing to give act one a try but was again disappointed with all the other issues with the game.

Similar to what I have all ready read the controls could definitely use a lot of improvement as it is difficult the activate certain controls most commonly walking as you just get stuck sometimes and the joy stick would not react.

The upon learning that the steal series controller work for the game I got really exited as it was much easier to control. However I was again disappointed when I found out that a lot of things were not fleshed out for example not being able to pick up items, open doors or as a matter a fact activate anything with the controller instead having to use the controls on the screen.

While I noticed some other problems like some of the tap controls being very unresponsive the previous mentioned issues with the basic and necessary controls made me not want to continue playing.

The controls and responsiveness of those controls need a big overhaul, as well as if there is support for the controller, make it full support.
New update is broken
I was just playing act 1 yesterday and when i was done playing i went to the app stone and saw that there was a new update that just came out so i downloaded it and well it broke the game. Before i got the update the game worked great no bugs controls were pretty good for a pc to Mobile game port and it ran smoothly no lag spikes or fps drops it was really good but unfortunately the new update needs some fixing. First of all when you look down you can see your body but the camera is slightly too low cuz when you look down your inside of your body so this is a pain if your trying to pick something up from the floor also this makes your arms and hands look really awkward. The point of view of the camera looks like your head is on your characters chest aside from that everything else is still ok and I'm not going to take away any stars since the game is perfect and i can 100% understand why the new update is broken cuz i did play it the day it came out i just wanted to get this out there so the developers know. Over all good game especially for a Mobile port normally pc games ported to mobile have terrible controls but this ported really well. Sometimes the jumping can be a little weird but it was like that in the pc verson too so yea I would recommend.
Get Hello Neighbor from App Store
What is your opinion about Hello Neighbor
Bitcoin
Ethereum
MetaMask (ETH)
Xrp
Polkadot
Binance coin
Stellar
Dogecoin
Tron
Elrond
Donate Bitcoin to this address
Scan the QR code or copy the address below into your wallet to send some Bitcoin
Donate Ethereum to this address
Scan the QR code or copy the address below into your wallet to send some Ethereum
Donate Xrp to this address
Scan the QR code or copy the address below into your wallet to send some Xrp
Donate Polkadot to this address
Scan the QR code or copy the address below into your wallet to send some Polkadot
Donate Binance coin to this address
Scan the QR code or copy the address below into your wallet to send some Binance coin
Donate Stellar to this address
Scan the QR code or copy the address below into your wallet to send some Stellar
Donate Dogecoin to this address
Scan the QR code or copy the address below into your wallet to send some Dogecoin
Donate Tron to this address
Scan the QR code or copy the address below into your wallet to send some Tron
Donate Elrond to this address
Scan the QR code or copy the address below into your wallet to send some Elrond