Matchington Mansions game by Magic Tavern, Inc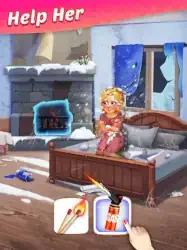 Game Description :
Do you have a knack for home decor & matching puzzles? Match pillows for a house makeover in this fun match-3 adventure!
Game Features :
Download Matchington Mansions for Fun, Exciting Gameplay:
Match pillows & decorate your grand mansion – incredible boosters & power-up combos!
Piece together hidden objects, interact with in-game characters & reveal the hidden story
Unlock hidden areas – dozens of rooms & thousands of DIY decorations!
Hone your interior design skills and protect your new house from a mischievous cousin. Follow the adventure story, unlock new rooms and discover hidden secrets – all with a cast of quirky characters in tow. You can even spy on your neighbors and see how their design choices stack up. Are you ready to navigate this challenging match-3 puzzle?
Decorate your mansion and deck out your garden in style.
Unlock hidden areas & makeover each room with interesting decor.
Puzzle out the adventure story, aided by your friend Tiffany, quirky characters and a house cat or pet dog along for the ride!
Matchington Mansion is FREE TO PLAY, with optional in-game items for purchase. You can turn off the payment feature by disabling in-app purchases in your device's settings.
The MM team sincerely hope that you like our new match-3 puzzle game! We are working very hard to perfecting it, so If you run into any issues while playing or you have any suggestions, please don't hesitate to reach out to us at matchingtonmansion[at]magictavern.com.
More ways to learn about the Matchington Mansion jigsaw puzzle game:
Facebook: www.facebook.com/matchingtonmansion/
or search @Matchington Mansion to follow us.
Privacy Policy: www.magictavern.com/privacy.html
Terms of Service: www.magictavern.com/terms.html
Additional Information :
Size 349 MB
Requires iOS 11.0 or later.
User Reviews :
Fun cute and entertaining…. however NOT perfect
I have been playing this game for 2.5 years…. started as a fun task to earn gems on a game for my son while he was away at camp. My son and I love playing the scenes together. The characters are cute and well scripted for their personalities. The events are fun but TOO SHORT… We have been DISAPPOINTED TWICE now because a special event room has closed before we could finish it … one time it LITERALLY closed as I was working the game and had ONE piece of furniture left to finish… game designers said they would have an event to reopen unfinished specials… have seen NOTHING as such so far… during the event have spent ALOT of money trying to finish because it's so FAST and seems those purple HARD LEVELS come more and more as you truly progress in the game… maybe make true to their word? Have a special to reopen those extras? Love the game… enjoy it with my son … but how about making it fair and extending the specials time a bit? Other games I play have special events and they last WAY WAY longer… ONLY FIVE DAYS seems short when the levels take so much time to pass and you only get five turns without having to PAY… please consider making an event to reopen … I am giving four stars because it IS fun just too hard to make the grade sometimes…
Developer Response,
Hi, thanks for your kind feedback. We'll surely forward it to our developers as a reference for future optimizations! Feel free to let us know if you have more ideas. Contact us via mm[at]firecraftstudios.com or in-game Help & Support.
Yes, yes splendid
Mk, so a lot of people might be saying this is a money user. But.. I've never spent a single penny and I'd say im doing pretty amazing. The levels may be hard and challenging but would you really like it if it was just easy? I feel like there wouldn't be a purpose to it, and it would get boring. It's pretty engaging even though I have no clue if there's an ending. I would like if you could make and customize your own character. There have literally been almost no ads. And it's never crashed for me in my life. This is an amazing game and people should be thankful for it. Like, oh no, it's so hard well good you can't expect everything in life too be easy! And they don't FORCE you to spend money, you can easily just try the level again and perhaps pass it. It's very soothing and I admit it can be frustrating when I lose, but it was designed to get harder. Like ANY GAME. And if there were any bugs before then they are all gone now. I've been playing this game since 8 and it'll always be my first choice. So pls accept this game don't be mad if something happens and it's really a boredom buster. And if it gets way too hard, then your just gonna have to try again. It's an amazing reminder of life getting harder and that yes, your not going to always get it on the first time and might have to try again.
Get Matchington Mansions from App Store
What is your opinion about Matchington Mansions
Bitcoin
Ethereum
MetaMask (ETH)
Xrp
Polkadot
Binance coin
Stellar
Dogecoin
Tron
Elrond
Donate Bitcoin to this address
Scan the QR code or copy the address below into your wallet to send some Bitcoin
Donate Ethereum to this address
Scan the QR code or copy the address below into your wallet to send some Ethereum
Donate Xrp to this address
Scan the QR code or copy the address below into your wallet to send some Xrp
Donate Polkadot to this address
Scan the QR code or copy the address below into your wallet to send some Polkadot
Donate Binance coin to this address
Scan the QR code or copy the address below into your wallet to send some Binance coin
Donate Stellar to this address
Scan the QR code or copy the address below into your wallet to send some Stellar
Donate Dogecoin to this address
Scan the QR code or copy the address below into your wallet to send some Dogecoin
Donate Tron to this address
Scan the QR code or copy the address below into your wallet to send some Tron
Donate Elrond to this address
Scan the QR code or copy the address below into your wallet to send some Elrond