(App) Magic Poser – Art Pose Tool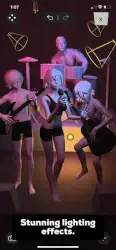 App Description :
Ever tried googling for a pose or asking your friend to pose for your artwork? Then you should download and try Magic Poser! Magic Poser is the leading app for posing 3D characters, creating 3D scenes and setting up stunning lighting effects. 12+ million artists use our app to draw better and faster. Start creating poses within minutes on your mobile devices today!
Magic Poser is extremely user-friendly and powerful. A must-have app for figure drawing, illustration, comics, storyboarding, concept art, sculpting, fitness instructions, and more!
App Features :
Super easy drag-and-pose
Most intuitive posing experience on the market – Anyone can pick it up in minutes
Advanced physics engine – Allows you to manipulate the 3D model like a real doll and automatically adjusts it to the dynamic poses you want
Full control up to every finger and toe – Our skeleton offers control of every part in a real human
Fastest hand posing – 50+ presets and curl sliders to make posing the hand easy and fun!
Best anatomy ever
Best realistic models crafted by our award winning sculptors – Nail male and female anatomy in your figure drawing
Super natural muscle deformations – Much more accurate than a rigid wooden doll
Muscular, fat and skinny body types
Morph your male or female character to different body types – Bring a variety of characters into your artwork
Adjust the amount of change and combine morphs with sliders – You can truly create a unique character just for your art piece
Stunning lighting effects
Add three types of lights – We feature directional light, spotlight and point lights
Add up to 8 lights per scene – Create cinematic shots using multiple light sources
Change brightness, color, radius and a range of parameters
Change time of day – Create any mood such as dawn, noon, dusk and midnight
Extensive library of characters, preset poses, props, hairstyles and clothing!
25 characters of different styles – Realistic, anime, comic characters for every genre of artists
3000+ preset poses for full-body, hands and feet – Truly speed up your posing or get more inspiration
500+ props – Covers commonly used props such as geometric shapes, weapons, furniture, vehicles, everyday items, etc.
100+ hairstyles and clothing – Customize your characters to another level
Export in 2D and 3D formats
Export in PNG – Export your scene as high resolution images to use in other graphics software
Export in OBJ – Bring our beautiful models seamlessly into other 3D programs
Create expansive scenes
Add unlimited characters and props to your scene – Your imagination is the limit
Group anything together with layers menu – Manage complicated scenes like a breeze
Versatile Views menu
Perspective slider – Bring more impact into your scene with strong perspectives
Save camera angles – Easily save your favorite angles of a 3D scene
Grid guides in three planes – No more headaches with any challenging perspective in your drawing
Back up your scenes locally and in the Cloud
Import/Export your scenes in Magic Poser file (.mp) format – You can easily back them up to your computer or other devices
Upload your scenes to your private Cloud – Keep your works safe and access them across multiple devices
Comprehensive tutorials
Step-by-step video tutorial to help you get started fast
Comprehensive user manual – Master every part of our powerful app
EULA: www.apple.com/legal/internet-services/itunes/dev/stdeula/
Additional Information :
Size 233.9 MB
Requires iOS 11.2 or later.
User reviews :
Eh, it's still alright
I got a chance to try out the pro-version for a month. I thought I was gonna be upset and join the hate-bandwagon after reading a lot of bad reviews for this, but seeing as the pro-version is a one time fee for my basic needs, I think it's worth it. I'm not too sure about the master version yet, Especially because ( in this economy) I can't afford anymore subscription services.

The biggest realizations I had while using this app: Work with the limitations provided. I think some people expect too much and rely too heavily on this app for ALL their needs. This shouldn't be the only source for everything. This is only a study tool to help visualize poses at different angles. At least that's how I used it. I used this app alongside photo references if a picture I was sketching from had a pose that was too confusing.

I know a lot of people are upset about the update changes, it's extremely infuriating. A lot of things that used to be freely available are now behind a paywall (Example: the option to have more than one model per scene). I agree with others that the female model should be a part of the free version though. Maybe have an option to choose between the two models before opening a new scene.
Developer Response,
Thank you for your feedback and support! We are really glad that you enjoy the new Pro version. Regarding your suggestion about the female model, we understand your feelings about a few changes in our pricing. Please let us share with you briefly why we decided on our pricing change:

We decided on our pricing and the exact features that come with each version after numerous user interviews, testing and research for over 2 years. Our users really want to have a top quality app with many more features, and to develop such an app is only possible if we start charging for certain features. We believe that the current pricing model is best for you and best for us long-term. It will make our small team financially sound so that we can continue developing amazing features and improvements for you! It is a hard decision to make but we truly believe that we have made the right decision this time. We honestly spent so much time and effort to make sure that we made the best decision for both our users and our company. We promise that you won't be disappointed with our future updates.

If you have any more questions or feedback, please email us at support@magicposer.com or chat us in real-time on our Discord: https://discord.gg/rnsERCqyzv We are more than happy to hear from you!
Get Magic Poser from App Store
What is your opinion about Magic Poser
Bitcoin
Ethereum
MetaMask (ETH)
Xrp
Polkadot
Binance coin
Stellar
Dogecoin
Tron
Elrond
Donate Bitcoin to this address
Scan the QR code or copy the address below into your wallet to send some Bitcoin
Donate Ethereum to this address
Scan the QR code or copy the address below into your wallet to send some Ethereum
Donate Xrp to this address
Scan the QR code or copy the address below into your wallet to send some Xrp
Donate Polkadot to this address
Scan the QR code or copy the address below into your wallet to send some Polkadot
Donate Binance coin to this address
Scan the QR code or copy the address below into your wallet to send some Binance coin
Donate Stellar to this address
Scan the QR code or copy the address below into your wallet to send some Stellar
Donate Dogecoin to this address
Scan the QR code or copy the address below into your wallet to send some Dogecoin
Donate Tron to this address
Scan the QR code or copy the address below into your wallet to send some Tron
Donate Elrond to this address
Scan the QR code or copy the address below into your wallet to send some Elrond