(Game) Exposed – Who's Most Likely To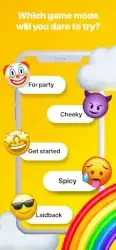 Game description :
Find out what your friends think about you and who they think is most likely to do absurd things.
Add each player's name and let's all be EXPOSED ! You just have to follow all the dares and challenges written, and this will spice up your parties, and even more!!!
To achieve this, all participants must download Exposed from the App Store. One player creates the game and invites friends into the party with the game PIN. Whether you are physically together or connected remotely with friends.
Game Features :
a new way of looking at party games
+5000 truths, dares and challenges
4 game modes to fits with every situations
an efficient clash generator and icebreaker
www.vysgames.com/terms-of-use
Additional description :
Size 59.9 MB
Requires iOS 11.0 or later.
User reviews :
Almost perfect
I think the idea is great itself but sometimes people don't have others to play with. So I think that they should do random server's. Yes I understand that question but how will I know them well enough. Well I think it's should either answer some starter questions just random ones. Or that they should have a voice chat option that way they can talk their ways through the thing or they write a paragraph about themselves on their profile remember this is just a suggestion. Though I would be happy to find that it happened. Thank you for your time.
Amazing. Funny. And fun
So the game is very very good, it's very fun to play because the question are quite are funny however I thought if you could do something like friend someone? Because that way we could just press invite person from friend-list and a ID for each person because that way we will get to friend the person by searching for the ID that person has
Not age appropriate
This game is advertised as a kids game and 12+ but there are many questions that are VERY inappropriate and I would not let my 13 year old play this game. I do not mind this game for older teenagers or adults but this is advertised to younger audiences. Not only that but they do not show any inappropriate questions in the advertisements so nobody knows about the inappropriate questions until they download the app so that's makes this harmful to young teenagers. If you are a parent PLEASE do your research on games before you let your kids use it. Please make the age rating higher or take out the inappropriate questions. I will make sure everyone I know who wants to download this game will know exactly what this game includes. Safe to say I was VERY disappointed.
It's a good game but…
It's a really good game but there are a few things I don't really like about the game like, for instance, 1. you get a three day trial and then you have to pay for the game and I just don't have money for it 2. Around the 15/20 questions it either kicked me out of the game or gives me a pink screen and glitches 3. The game host can't start the game until you have at least 3 people and only one of my friends have the game (which sucked) 4. It says 12+ but it's REALLY inappropriate. Not for 12-15 year old teens. So let's say it's a decent game but at the same time not so good. Hope you read this
Game is Great (With an exception)
Overall the game is super fun, but I would love if there was a type of currency system where you can buy other categories, instead of paying real cash. And I understand that's how the app is supposed to generate money, but if ads were introduced and you could watch ads to get some of the currency. Or just have ads in general. Now I'm sure there's a lot more to that because I am NOT a mobile app developer, but it was just a suggestion I think would bring a lot more people to the app.
i thought this was 12+??
me and my friends saw this ad on tik tok (keep in mind we are 11-12) and thought it looked cool so we decided to play and the questions were EXTREMELY inappropriate. 2 questions had to do with sexual interaction, this isn't a 12+?! this is a game meant only for 17+ people, if your no where near that age, pls don't play it! yes, i am aware there was a "spicy" option but none of us had the membership so we played get started and we all were jsut shocked with the questions we saw. if anyone under 15 is planning to play this, i don't recommend it.
Get Exposed from App Store
What is your opinion about Exposed
Bitcoin
Ethereum
MetaMask (ETH)
Xrp
Polkadot
Binance coin
Stellar
Dogecoin
Tron
Elrond
Donate Bitcoin to this address
Scan the QR code or copy the address below into your wallet to send some Bitcoin
Donate Ethereum to this address
Scan the QR code or copy the address below into your wallet to send some Ethereum
Donate Xrp to this address
Scan the QR code or copy the address below into your wallet to send some Xrp
Donate Polkadot to this address
Scan the QR code or copy the address below into your wallet to send some Polkadot
Donate Binance coin to this address
Scan the QR code or copy the address below into your wallet to send some Binance coin
Donate Stellar to this address
Scan the QR code or copy the address below into your wallet to send some Stellar
Donate Dogecoin to this address
Scan the QR code or copy the address below into your wallet to send some Dogecoin
Donate Tron to this address
Scan the QR code or copy the address below into your wallet to send some Tron
Donate Elrond to this address
Scan the QR code or copy the address below into your wallet to send some Elrond