(Game) My Little Universe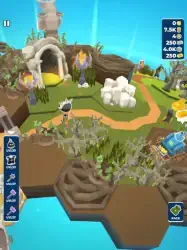 Game Description :
Get lost in your own little universe
Creating a world isn't easy, but it's certainly a whole load of fun, as you'll find out in this exciting casual worldbuilding adventure game. It takes mining, crafting, logging, digging, smelting, construction and a little gardening to make the perfect planet, and you'll have to do all that while fighting off primeval monsters intent on bringing an end to your divine plan. Armed with just a pickaxe and the almighty strength of your arms, get down to doing a god's work and build a world of wonder in this addictive, original action game that will keep you creating for way more than seven days.
Game Features :
YOU'VE GOT THE WHOLE WORLD IN YOUR HANDS!
In the beginning there was a little orange man in a rocket ship, and in the end there'll be a whole glorious planet built with just those tiny orange hands. Get mining, amass 15 different types of resources and spend them with infinite wisdom to create a beautiful planetary paradise that can bask in your divine benevolence.
Thor has his hammer, Neptune has his trident, and in this game you have a mighty pickaxe that's just as adept at fighting off monsters as it is at breaking rocks, digging for minerals and mining for gold. Upgrade it through eight different levels to improve your divine productivity, and harvest even more resources to keep on building.
As civilization develops under your watchful eye, you'll have the chance to set up industrial facilities to smelt metal, process minerals and make a further eight types of weapon that will help you in your divine crafts, including an ax with eight different levels of improvement and the unique Excalibur sword to strike the fear of god into your monstrous opponents.
Expand and diversify with 10 different types of in-game environment to build, explore and exploit as you move in mysterious ways to create your true planetary paradise. But watch out for monsters – 8 kinds of enemy including abominable snowmen, unfriendly ents, and alien fungal foes are all out to stop your godly intentions.
Simple but attractive graphics and a rich soundscape add to the appeal of this simple but absorbing genre-crossing mining game where you write your own creation myth.
IN ACTION HOW LIKE AN ANGEL, IN APPREHENSION HOW LIKE A GOD!
Have you of late lost all your mirth? Well, you'll find mirth aplenty, along with hours of action and adventure, in My Little Universe. Take a sterile promontory and turn it into a beautiful, blooming planet that would make any god proud to be its master. Dig, chop, craft, smash, mine and fight your way to divine grace and a little universe all of your own.
Download My Little Universe now and get down to a god's work!
Privacy Policy:  say.games/privacy-policy
Terms of Use:  say.games/terms-of-use
Additional Information :
Size 471 MB
Requires iOS 11.0 or later.
User reviews :
AMAZING GAME, but there is a slight issue
I was just scrolling through the App Store when I found this game. I thought it was going to be a cheap game, but when I opened up the app I was AMAZED with the results of my experience. Personally, I find it kind of satisfying to have to break things and craft new items all by yourself and then advance from world to world and from biome to biome. I find it especially relaxing with the sound effects. For example, when you break stone or other types of ROCK and, when you have to create a new set of land, the sound of the items being used to create that part of land just gives me the TINGLES! There's only ONE problem. I don't know if this happens to anybody else, but while I'm playing, at random points in the game, it SLOWS DOWN, FREEZES, and GLITCHES to the point in which I have to close out the ENTIRE app and shut down my phone COMPLETELY just to END those effects. However, I'm still giving this game FIVE STARS because I feel like it is a good game for STRESS issues and just plain old FUN! It is a great game for all ages and, unlike other games I have played, has PG-13 ads. All I ASK is of the DEVELOPERS is to fix these bugs and glitches so that everyone else may ENJOY the game as much as possible. Overall, I view this game as a FREE and BETTER version of Minecraft that EVERY single person in the world DESERVES to play!
Great game but crashes the mood
I am really enjoying this game. It is really fun to play and it is good for when waiting for something, bored, or just wanting to chill. I bought the ads pack, which has proven to be totally worth it. A tip for anyone reading this, buy a pack that includes in-game bucks, materials, weapon upgrades, that also includes the no ads. If I had known the no ads were included in other packs, I would have gone that route.

Now for the -1 star bit. This game has been crashing way too often. I will be deep in a cave gleefully swinging my axe when all the sudden, boom. Crash. When I open the game back up, it will either put me at the beginning of the cave – or whichever entrance/exit I last passed through (if I'm "lucky"), or it will dump me at the beginning of the world I was in (very unlucky). I am currently in a cave in the Odysseum world where I have to pay 1000 gold coins for a ferry. I got to the Cerberus and got the crown. I'm making my way back behind that, and the game crashes. This is when it gets really annoying. Now I have to start back at the beginning, buy another ferry for another 1000 gold coins, try to find where I was, and start going again.

Also, what's up with rafts, ships, etc. just disappearing? If we bought them, they should stay when we come out of a cave or join that world again. Sometimes they do stay put, but many times they do not and must be purchased again.
Get My Little Universe from App Store
What is your opinion about My Little Universe
Bitcoin
Ethereum
MetaMask (ETH)
Xrp
Polkadot
Binance coin
Stellar
Dogecoin
Tron
Elrond
Donate Bitcoin to this address
Scan the QR code or copy the address below into your wallet to send some Bitcoin
Donate Ethereum to this address
Scan the QR code or copy the address below into your wallet to send some Ethereum
Donate Xrp to this address
Scan the QR code or copy the address below into your wallet to send some Xrp
Donate Polkadot to this address
Scan the QR code or copy the address below into your wallet to send some Polkadot
Donate Binance coin to this address
Scan the QR code or copy the address below into your wallet to send some Binance coin
Donate Stellar to this address
Scan the QR code or copy the address below into your wallet to send some Stellar
Donate Dogecoin to this address
Scan the QR code or copy the address below into your wallet to send some Dogecoin
Donate Tron to this address
Scan the QR code or copy the address below into your wallet to send some Tron
Donate Elrond to this address
Scan the QR code or copy the address below into your wallet to send some Elrond