Magic Piano Tiles 4 – Pop Songs game by KILA GAME LIMITED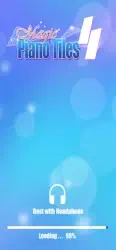 Game Description :
Tap the black tiles
Game Features :
1.Appealing, modern and diverse music genre that caters to every taste of music! We have more than 100 songs waiting for you to conquer.
2. The most popular pop music, the most popular list songs
3. Traditional button gameplay, perfect interpretation of songs
4. Completely free
Additional Information :
Age Rating 4+
Size 200.8 MB
Requires iOS 9.0 or later.
User Reviews :
Needs work but overall good game
This game is amazingly addicting and fun!! I can just sit here for hours!! I do not mind having to watch an add to be able to continue the game and to unlock a new song and all! But it's just the random adds that pop up when you are playing!! It is super annoying! There is one more problem that bugs me the most! The songs!! Overall in all the songs there is like 1 that I know!! I want to be able to turn on today's hits on the Alexa and hear some of the songs on the game!! The songs are great and all it's just that I don't know any of them! One more thing, I would love to be able to search up songs like Billie eillish songs or like Katy parry songs or whatever! Anyways, this is a great game!!
Okay game, but needs work.
There is tons of problems with this game especially the ads. There is just too many, if you finish or lose a song, you have to watch an ad, if you want to play your fav song, you have to watch an ad before having it, if you want to keep going, you have to watch an ad. And I'm the type of people who hate ads. I would be fine with the pop up ads but video ads are just a waste of time. Buying the ads to be gone is just not worth it either. I know that these piano apps need the ads to earn money on their free game, but come on! Just make them pop up ads, and don't have us watch ads to get to our favorite songs! Besides that the music is just a ripoff anyway. Barely any of them are the actual songs. Some have notes changed, and some have their pitch changed. It just doesn't work. This game is worthy of being a successful game, but only if it had these big problems fixed. It also could use more songs, there's just not a big enough selection. I'm also glad that it's not a leveling up type of piano game.
Overall, It is great
I think this is an amazing, creative game. I do wish it fully fit my screen. It is a little bit small. The ads are a very big problem. Honestly, pop up ads don't bother me that much, but when they are so recent like in this game they are kind of annoying. I have played Magic Tiles 3 and to be honest, it is better. Overall, I recommend this game, but just know there are some bugs.

I hope you consider my suggestions. Thank you for your understanding.
Less Ads
It is an awesome game! There is just one problem. You put too many ads in the game! After every time you play a level, an advertisement pops up. It gets really annoying and then you have to wait 30 seconds for the ad to stop, then another 10 seconds for the x to show up. Like I said before; great game, but too many ads
This game need many more fixes
First of all I'm gonna start with the positive, I like that the game has many different songs to choose from and also I like the songs. But, songs like old town road the song skipped up so much and your stars go up so fast it's like u play for 50 seconds and than your already at 3 stars. Another thing I think needs to get fixed is that the piano part needs to be on beat with the actual song. Otherwise I think this is a pretty cool game but you kinda copied piano tiles 3.
Haley how this game is
It's so hard I only can get to 37 but it's very fine and I keep on trying this is almost the best magic tiles I ever played like come on you gotta say it is the best almost and I really like it so fun you got to say please review back if you can like this is my second time reviewing something like this thank you for this game bye
Get Magic Piano Tiles 4 from App Store
What is your opinion about Magic Piano Tiles 4
Bitcoin
Ethereum
MetaMask (ETH)
Xrp
Polkadot
Binance coin
Stellar
Dogecoin
Tron
Elrond
Donate Bitcoin to this address
Scan the QR code or copy the address below into your wallet to send some Bitcoin
Donate Ethereum to this address
Scan the QR code or copy the address below into your wallet to send some Ethereum
Donate Xrp to this address
Scan the QR code or copy the address below into your wallet to send some Xrp
Donate Polkadot to this address
Scan the QR code or copy the address below into your wallet to send some Polkadot
Donate Binance coin to this address
Scan the QR code or copy the address below into your wallet to send some Binance coin
Donate Stellar to this address
Scan the QR code or copy the address below into your wallet to send some Stellar
Donate Dogecoin to this address
Scan the QR code or copy the address below into your wallet to send some Dogecoin
Donate Tron to this address
Scan the QR code or copy the address below into your wallet to send some Tron
Donate Elrond to this address
Scan the QR code or copy the address below into your wallet to send some Elrond