ZINIO – Magazine Newsstand app by Zinio LLC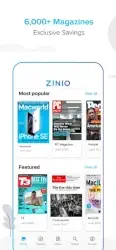 App Description :
Download ZINIO's award-winning iOS app, trusted by millions of readers, and get the latest news on your iPhone, iPad, Mac or PC.
Take your favorite magazines with you anywhere and enjoy them online or offline, at home, on holiday, during your commute, on your lunch break, or even during working hours (we won't tell :).
Featuring the best in Tech & Science, News & Business, Food & Home, Art & Photography, Lifestyle & Hobbies, Fashion & Gossip, ZINIO connects you with the stories that shape our world from the magazines that matter to you.
Get annual subscriptions or buy the most recent issue (or past issues) of your favorite magazines, including Hello!, Time, National Geographic, PC Magazine, Playboy, The Economist, The New Yorker, Maxim, Sports Illustrated, Outdoor Photographer, People, Popular Mechanics, and more.
App Features :
OPTIMIZED FOR YOUR DEVICE: Easily toggle between the traditional magazine layout and the innovative text mode for a seamless reading experience, built for your iOS device.
DISCOVER, SHOP, AND ENJOY: The largest collection of digital magazines from around the world.
EXPLORE FREE ARTICLES: Read our curated collection of articles for free, from top magazines including Forbes, Wired, Bloomberg Businessweek, Fortune, Rolling Stone, and many more.
OFFLINE READING: Download your magazines to your device to read them whenever and wherever you want, even without an internet connection.
EXCLUSIVE SAVINGS: Access deals exclusive only to ZINIO and save on your favorite magazines.
BOOKMARK AND SHARE: Bookmark articles to read later, or share them with your friends.
NEW ISSUE ALERT: Be the first to read the latest issues of your favorite magazines with new issue reminders.
GLOBAL NEWSSTAND: Our magazines come from all of the best publishers worldwide, including USA, Canada, UK, Australia, Africa, Asia and Europe.
INDUSTRY RECOGNITION:
148 Apps BestAppEver Awards "Best iOS Magazine App"
iTunes "App Store Best of: Top Grossing"
Lead411 "Hottest San Francisco Companies"
IMA "Best Global Apps Award"
WHAT OTHERS ARE SAYING:
Zinio has the deepest offerings of any digital newsstand — Forbes.com
To see magazines done correctly look at Zinio — Huffington Post
The iPad newsstand that works — Fortune.com
Zinio is to magazines what Kindle is to books — Engadget.com
If you're a magazine devourer, this is your app. — PCMag.com
Zinio editions on the iPad are terrific — Salon.com
TOP ZINIO MAGAZINES:
TECH & SCIENCE: Macworld, Wired, New Scientist, Mac Life, Popular Science, National Geographic, Smithsonian
FOOD & HOME: Better Homes and Gardens, Real Simple, Dwell, Good Housekeeping, Food Network Magazine, Bon Appetit, Saveur, Food & Wine
NEWS & BUSINESS: The Economist, Reader's Digest, The New Yorker, Harvard Business Review, Money, Forbes
ART & PHOTOGRAPHY: Shutterbug, Amateur Photographer, Architectural Digest, Bead&Button, Photography Week
LIFESTYLE & HOBBIES: Consumer Reports, Car and Driver, Oprah Magazine, Top Gear, Cosmopolitan, GQ
FASHION & ENTERTAINMENT: Us Weekly, InStyle, OK!, Star, In Touch Weekly, Vogue, Elle, Vanity Fair
SPORTS & FITNESS: Men's Health, Weight Watchers, Sports Illustrated, Shape, Procycling
LET'S CONNECT
Like us on Facebook (www.facebook.com/zinio) & follow us on Twitter (@zinio).
Additional Information :
Age Rating 17+
Size 92.1 MB
Requires iOS 13.0 or later.
User Reviews :
Still the best magazine reading experience on the Internet
I have always liked the Zinio functionality for reading magazines: there was one standardized method for traversing and reading the issues regardless of publisher. Now with the tablet age upon us — ushered in by the ingenious and innovative Apple iPads — Zinio now offers two different repertoires for reading and traversing magazines: the original (in which pages can be stretch-enlarged), and a newer one for magazines that want to offer videos and more sophisticated interactions (but where pages cannot be stretch-enlarged). And having all of one's purchased editions available in the Zinio cloud means that one can read issues on different devices depending on one's location. At home I enjoy reading my Zinio magazines on the big iMac desktop, but when traveling on an airplane, the iPad or the laptop are the way to go. Sometimes I've even read articles in Zinio's Text mode on my iPhone when in doctors' or dentists' waiting rooms. The back-lit photography in magazines on these devices is always stunning. Bravissimo!
Love Zinio!
What more is there to say about an app which allows you to carry your magazines around with you. I currently subscribe to 5 electronic magazines and they are all right there when I want them. No more lost magazines or looking all over the place for them. I always check to see if there is an electronic version when renewing a magazine. Is it perfect? No because all my magazine don't come in electronic form. Hopefully they will eventually.

There are a few enhancements I'd like to see. I'd like to be able to bookmark my position with a label and possible underline things. When you read a great article in an computer magazine it would be nice to find it some months later without reread several magazines and then having to reread the entire article for two lines. Until that happens, I still keep the paper copies that subscription provides me.

I currently use Zinio on my iPhone and iPad. It gets the most use on my iPad, but I have several smaller magazines which are perfect on my iPhone when it needed.
Good reader with technical challenges
I have used Zinio on Windows for years and prefer digital content (it saves trees and is not bulky to carry around). This app brings that desktop experience to the iPad. It works well. Navigating media content is simple. However, it would be nice if I could queue up multiple items for download. So far my experience is that only one download can take place at a time with no way to specify multiple (to queue up). When I start downloading one item and then select another, the first one stops and the more recent selection is downloaded.

I have noticed the app has had numerous user interface changes. It is a little too early to comment on the recent updates. But, I am frustrated by the not-so user friendly interface. It is not intuitive. Plus, I seem to have lost the local copy of a number of items and have had to spend the time to redownload them. This occurred again when I moved to iOS 5. It is quite annoying.

I dropped my rating a point today as I have been having problems downloading some publications. Zinio has not been overly speedy to respond to my concerns. I have paid for the content and it is not available through this channel.

Many improvements in the app have made it much more friendly. I have raised my rating to a 5 as it runs pretty smooth and has good navigation. Now, if you could allow for background downloads, it would round out the app fully.
Get ZINIO from App Store
What is your opinion about ZINIO
Bitcoin
Ethereum
MetaMask (ETH)
Xrp
Polkadot
Binance coin
Stellar
Dogecoin
Tron
Elrond
Donate Bitcoin to this address
Scan the QR code or copy the address below into your wallet to send some Bitcoin
Donate Ethereum to this address
Scan the QR code or copy the address below into your wallet to send some Ethereum
Donate Xrp to this address
Scan the QR code or copy the address below into your wallet to send some Xrp
Donate Polkadot to this address
Scan the QR code or copy the address below into your wallet to send some Polkadot
Donate Binance coin to this address
Scan the QR code or copy the address below into your wallet to send some Binance coin
Donate Stellar to this address
Scan the QR code or copy the address below into your wallet to send some Stellar
Donate Dogecoin to this address
Scan the QR code or copy the address below into your wallet to send some Dogecoin
Donate Tron to this address
Scan the QR code or copy the address below into your wallet to send some Tron
Donate Elrond to this address
Scan the QR code or copy the address below into your wallet to send some Elrond