Ludo STAR game Gameberry Labs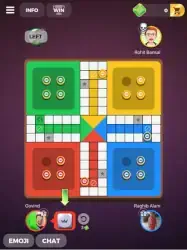 Game Description :
Play your favourite board game online with players from around the world. Enjoy the latest modern design.
Ludo STAR is the best ludo game on IOS.
Game Features :
Login with Facebook and invite friends to play with you
Play with random player in 2 or 4 player matches
Play different variations: Classic, Master or Quick
Play with your favorite rules like : Doubling of pieces, kill 1 before entering home etc.
Play in offline mode (NEW)
Download for Free
Chat, talk and send emoticons to other players while you play
Feels like 3d ludo with 3d dice
Add new people as Game Buddy, make more friends
Download this amazing Ludo, start rolling the dice and enjoy this fantastic online multiplayer game.
Relive your ludo days.
Additional Information :
Size 138.4 MB
Requires iPadOS 10.0 or later.
User Reviews :
80-90% chances to get beaten if you play with top order players- no random dice
Observed it multiple times that high chances whenever you play with top players you will not get good dice but on the another hand opposite player will get almost every time what is needed in critical situations.. I feel it is the way to have top players keep on playing who plays a lot giving easy chances to win against low ranking players ..which is completely against the law of this game of randomness .. game Favors when you join this game as new player too.. this is simply rubbish ..have serious questions about dice numbers and if they are really random or programmed to maintain the win loose ratio and equation between players skill level vs playing pattern etc.. like other games unfortunately this also wanted gamer to stick having such tactics.. also not sure why players can chat whatever they want as both are anonymous ..often at time people started abuse in chat and all you can do is stop chat or report back .. I don't think open chat should be a option and in no case fb profile should be visible to anyone if they used that .. getting user permission to access profile should be respected by game developers for their privacy and by first choice only should be restricted photo and names to be used for gaming purpose before anything become a issue ..
Just hate this fame
Let me start my platitude that I have played this game in excess of multiple times with various techniques and strategies yet the game is so one-sided, I can't envision. For instance, you possibly escape the house when other player's token reaches or is close to your home. After that as soon as u get out, the player directly behind you, cuts you off and you return back home. Another model, when you are going to arrive at home (end) and you just need 1, however it takes forever to get that 1. However the other player who has 2 tokens out in center arrives at home and dominates the match. Presently this game idiotic and one-sided. The game designers needs to change entire calculation from start and make dice progressively irregular. I would energetically suggest looking at ludo all star. Any ludo game is superior to this game. Just to tell you the game isn't succeeding in light of the fact that you made it incredible, it's simply the individuals like ludo (genuine table game) and they need to interface with family who live far, get an opportunity to play game and have great time. This game is suppose to satisfy individuals not distraught. On the off chance that I were you I would attempt to alter the game in at any rate conceivable to make it better. However, inn any case after the quarantine is finished, nobody is going to give a damm about this game.
It's an Alright game
Even though there are many replicas of Ludo, this one is so far alright. The reason why I say it's not the best is because of how it lacks in creativity to keep the game interesting. The Ludo I play in Facebook is a great example as they provide players with certain advantages depending on the space they land on. (Bonus: They really listen to their audience when there's something that they would want to update or add onto their game.)

There are certain restrictions in the game which limit how you can play with random people. In order words, you have to use your Facebook or other media account to play. In this case, it doesn't bother me at all.

However, most players here don't speak English and conversation can be short or quiet. Also, a majority of players tend to leave instantly (which ends up as a 1v1 instead of 4 players), hack the game, and become very uncomfortable (what I mean by "uncomfortable" is sometimes they simping, grooming or catfishing).

I do wish they could do something to play with people who are from the same region as me or understand my language.
Get Ludo STAR from App Store
What is your opinion about Ludo STAR
Bitcoin
Ethereum
MetaMask (ETH)
Xrp
Polkadot
Binance coin
Stellar
Dogecoin
Tron
Elrond
Donate Bitcoin to this address
Scan the QR code or copy the address below into your wallet to send some Bitcoin
Donate Ethereum to this address
Scan the QR code or copy the address below into your wallet to send some Ethereum
Donate Xrp to this address
Scan the QR code or copy the address below into your wallet to send some Xrp
Donate Polkadot to this address
Scan the QR code or copy the address below into your wallet to send some Polkadot
Donate Binance coin to this address
Scan the QR code or copy the address below into your wallet to send some Binance coin
Donate Stellar to this address
Scan the QR code or copy the address below into your wallet to send some Stellar
Donate Dogecoin to this address
Scan the QR code or copy the address below into your wallet to send some Dogecoin
Donate Tron to this address
Scan the QR code or copy the address below into your wallet to send some Tron
Donate Elrond to this address
Scan the QR code or copy the address below into your wallet to send some Elrond