SharkClean app by SharkNinja Operating LLC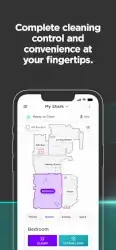 App Description :
Your ultimate cleaning partner is here. Meet the redesigned SharkClean® app. Cleaning convenience, confidence, and control are at your fingertips. Finally, cleaning has never been easier.
Now, your unique home is at the center of the SharkClean® app. With precision home mapping, you can customize where, when, and how your robot cleans, right from the home screen.*
You can set cleaning schedules, send your robot to clean certain rooms or spots on-demand in UltraClean Mode™, mark areas for your robot to avoid altogether, and more.
Plus, easily access troubleshooting tips and FAQs, control notifications, and view custom cleaning reports (varies by series).
App Features :
1. PRECISION MAPPING (1000 & 2000 series)
Once your robot generates a map of your home, you can create rooms and high-traffic zones using our improved editing functionality.
Take advantage of our brand-new interactive map interface where you can customize cleaning by immediately sending your robot to clean specific rooms and zones.
Tackle messes or pesky debris with the new Spot Clean feature (2000 series).
2. SCHEDULE WHOLE-HOME CLEANINGS (All series)
Schedule your Shark to run when it's convenient for you.
Easily adjust the days and times your robot cleans your home.
3. VOICE CONTROLS WITH AMAZON ALEXA & GOOGLE HOME (All series)
Use voice commands to control your Shark. It's as easy as "Alexa, tell Shark to start cleaning."
Compatible with Google Assistant** and Alexa*** enabled devices.
4. ENABLE CLEANING SETTINGS (1000 & 2000 series)
Activate Recharge & Resume: your robot returns to the base, recharges, and can pick up where it left off. This is especially helpful for larger homes.
Turn on Extended Clean to get even cleaner floors. Your robot will continue cleaning with any remaining battery power after a full home clean until it's time to recharge.
5. SWITCH TO VACMOP™ MODE (RV2000WD series)
Vacuum and mop your floors at the same time with VACMOP ™ mode.
Add carpet zones on your home map. Your robot will intelligently avoid carpets while mopping.
Requirements:
Shark® Wi-Fi-Connected Robotic Vacuum (Models supported: 700, 800, 900, 1000, and 2000).
Wi-Fi with 2.4GHz band support.
Supported OS:
iOS 13, 14, and 15
For U.S. support, visit sharkclean.com for additional information.
For E.U. support, visit sharkclean.eu for additional information.
Applies to 2000 series
Google is a trademark of Google LLC.
Alexa is a trademark of Amazon LLC.
Additional Information :
Size 66.6 MB
Requires iOS 13.0 or later.
User Reviews :
Efficient
It cleans the floor and carpets extremely well! I can walk barefoot and it's evident there is no dirt or dust and the carpets look bright and refreshed. I ran it three times to observe and learn different things. The first time, I did not think the map was accurate and I neglected to pick up the larger debris (tissues under beds and rubber bands or pieces of packing materials in the corners of the office). The second time I had it do a new map, and it worked. Since I did that at night, all the lights had to be on so it could "see". The last test run was during the day with the lights off to see if it was ok, even in areas where it was a bit dim. It performed perfectly. Even though it might take time to prepare (pull chairs away from walls and dining table, get any cords away from floors, put away weights and shoes, put wastepaper baskets and hampers somewhere off the floor, and pick up any large debris) it's really no different from the things you do while vacuuming yourself with a machine. It saves you time, effort, and physical fatigue. While it goes about its chore I do other things. Lastly it picks up an enormous amount of debris in a single run and empties itself as needed. Worth every penny!
Great so far
I've had the robot for about 4 days now and so far it's been great. I had a hiccup the first day because the bin got clogged and had to be manually removed. However I gave it the benefit of doubt simply because my floors at the time were atrocious. The vacuum mapped the house on the second go which I found to be great and now with scheduling I'll be able to keep the floors clean enough so it doesn't get clogged again. I rate for 4 stars because there are some features on the app that I'd really like to see. First I'd like see the scheduling be more flexible as far as being able to choose which rooms are to be cleaned. I know this issue has been brought up so hopefully the developers are listening in this one. The second thing I'd like to see is permanent choices such as vacuum strength always being on max. I shouldn't have to always go into the app to change the vacuum settings it should be something that's done automatically based on user preference otherwise that defeats the purpose of setting a schedule and being done with it. I just feel the robot does a much better job picking up the finer material on the ground when on max and battery life shouldn't be an excuse on a robot that can charge and resume. I really hope the developers take these request seriously because so far I'm loving it and I know it can be so much better!
Get SharkClean from App Store
What is your opinion about SharkClean
Bitcoin
Ethereum
MetaMask (ETH)
Xrp
Polkadot
Binance coin
Stellar
Dogecoin
Tron
Elrond
Donate Bitcoin to this address
Scan the QR code or copy the address below into your wallet to send some Bitcoin
Donate Ethereum to this address
Scan the QR code or copy the address below into your wallet to send some Ethereum
Donate Xrp to this address
Scan the QR code or copy the address below into your wallet to send some Xrp
Donate Polkadot to this address
Scan the QR code or copy the address below into your wallet to send some Polkadot
Donate Binance coin to this address
Scan the QR code or copy the address below into your wallet to send some Binance coin
Donate Stellar to this address
Scan the QR code or copy the address below into your wallet to send some Stellar
Donate Dogecoin to this address
Scan the QR code or copy the address below into your wallet to send some Dogecoin
Donate Tron to this address
Scan the QR code or copy the address below into your wallet to send some Tron
Donate Elrond to this address
Scan the QR code or copy the address below into your wallet to send some Elrond