Ludo King game by Gametion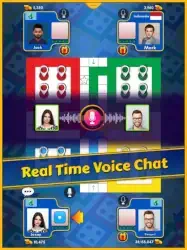 Game Description :
Recall your childhood!
Ludo King™ is board game played between friends, family & kids.
A New Quick Ludo Mode available
A New Mode MASK MODE available
Voice Chat available
5/6 Players online mode available
New live themes available! Now play with new ludo board.
Ludo King is the modern version of the royal game of Parchisi, a game played between Indian kings and queens in ancient times. Roll the dice to play and move your tokens to reach the center of the board. Beat the other players to become the Ludo King. Play this dice game Ludo King. Best casual game in board games.
Ludo King follows the traditional rules and the old school look of the Ludo game. The game has evolved throughout the centuries to come to your mobile phone. Just like the kings and queens of India's golden age, your fate depends on the roll of the dice and your strategy of effectively moving the tokens.
Ludo has different names in different regions and countries like Fia, Fia-spel (Fia the game), Le Jeu de Dada (The Game of Dada), Non t'arrabbiare, Fia med knuff (Fia with push), Cờ cá ngựa, Uckers, Griniaris, Petits Chevaux (Little Horses), Ki nevet a végén, برسي (Barjis/Barjees). People also misspell Ludo as Loodo, Lido, Lado, Ledo, Leedo, Laado, or Lodo.
Ludo's versions are Trouble, Sorry, Aeroplane chess, Chopat, Chaupur, Pachisi or Parcheesi.
New Game Themes available:
Christmas Theme
Nature Theme
Egypt Theme
Disco / Night mode Theme
Pinball Theme
Candy Theme
Christmas Theme
Penguin Theme
Battle Theme
Diwali Theme
Pirate Theme
Taj Mahal Theme
Game Features :
No internet connection required! Play against the computer.
Play with your family and friends through Local and Online Multiplayer.
Play with 2 to 6 Players in Local Multiplayer Mode.
Play Online Multiplayer Mode in 9 competing game rooms.
Invite and challenge your Facebook Friends in a Private Game Room and beat them to become Ludo King.
Play with world players and make them your buddies.
Private Chat with your Facebook friends & Buddies.
Express yourself by sending emojis to your opponents.
Play Snake and Ladders on 7 different gameboards.
Simple rules which can be followed by players of all ages.
Play the game of Kings with your family and friends. While the gameplay might seem simple at first, the game is immensely enjoyable and challenging. It's fun for the whole family; You'll be playing this one for hours. Try to beat your opponents and compete for the highest scores on the leaderboards.
How to play Ludo King:
The objective of the game is pretty straightforward; each player gets 4 tokens, these tokens must make a full turn of the board and then make it to the finish line. Whoever gets all four tokens to the end first is the winner. However, each move can only be made based on the number decided by casting a six-sided die, and each token can only move out of their home by casting a six. Additionally, the competition factor of the games is upped by the fact that while moving if another player's token lands on the same square as your token, then your token will automatically be sent back home and you'll need to roll a six again.
Another nostalgic game similar in structure is Snakes and Ladders. Ludo King now incorporates this classic game as a whole new level. The objective of the game is simple: you start on 1 and you have to be the first one to make it to 100. However, you can only move the same number of tiles as the number you roll on a die. As the name suggests, the board is also littered with snakes and ladders. If you land on the same tile as the beginning of a ladder, then you can take the ladder as a shortcut and move on up. But if you land on the mouth of a snake, then down you go to its tail. A game of ups and down, Snakes and Ladders has been a favorite for generations; and now you can play it too, with Ludo King.
Ready to roll the dice?! Make your move and become Ludo King.
Additional Information :
Size 170.5 MB
Requires iOS 11.0 or later.
User Reviews :
Fun game
It's fun to play this game with friends and family during these uncertain times. This game really keeps us in touch and with all the fun we usually have when we are together.

The only change that this game requires is one rule. No peg should be able to enter the target unless, atleast one of the opponents peg is removed at some point of the game.

Hey, what's the point and fun in winning the game if you don't remove atleast one peg of the opponent. The peg should stop moving at the entrance of the target, if the player has failed to kill atleast one of the opponents peg. Once, the player does that, then the peg should move inside the target.

It would be great to add this feature to the game. And that's how we used to play as kids on our Ludo board.
Developer Response,
Hi Sujju,

We'll recommend your suggestion to our related team. Thank you so much for taking the time to review & sharing your feedback with us 🙂 Have a nice day!
Great game!
Played this game for the first time yesterday with family & it was fun! It works smoothly and background music, emojis, comment during the game are also great! However, I have 2 suggestions for this app to be improved! First is not just to use the word Ludo King! Girls also play this game so maybe think about adding Ludo Queen title as well! Second I don't like the idea of someone losing this game even though they just came in last! So instead of saying you lost it can say you came in last and better luck next time! That way ppl would be encourage to play again instead of getting upset about losing and try again!Thank you!
Some Chance, Some Strategy, unfortunately some Bribery
1. Missions can be fun but not when it's required to play in the "Popular" format. You should be allowed to play in either format.

2. The "Popular" format allows players to buy their dice choice using diamonds. It's uncanny how "lucky" some of the players are at the right moment. It's fine that option is there, but don't make it required for missions to play mostly in Popular. Some of us enjoy the mix of chance and strategy – rather than buying our wins.

3. When playing in classic, I find the algorithm is fine. There is chance and strategy. Losing or winning is fine because you feel it's truly a game. There is an unnerving feeling when playing popular though that someone perhaps is using their money to make their chances better. That just seems unfair to make money the winner.
Get Ludo King from App Store
What is your opinion about Ludo King
Bitcoin
Ethereum
MetaMask (ETH)
Xrp
Polkadot
Binance coin
Stellar
Dogecoin
Tron
Elrond
Donate Bitcoin to this address
Scan the QR code or copy the address below into your wallet to send some Bitcoin
Donate Ethereum to this address
Scan the QR code or copy the address below into your wallet to send some Ethereum
Donate Xrp to this address
Scan the QR code or copy the address below into your wallet to send some Xrp
Donate Polkadot to this address
Scan the QR code or copy the address below into your wallet to send some Polkadot
Donate Binance coin to this address
Scan the QR code or copy the address below into your wallet to send some Binance coin
Donate Stellar to this address
Scan the QR code or copy the address below into your wallet to send some Stellar
Donate Dogecoin to this address
Scan the QR code or copy the address below into your wallet to send some Dogecoin
Donate Tron to this address
Scan the QR code or copy the address below into your wallet to send some Tron
Donate Elrond to this address
Scan the QR code or copy the address below into your wallet to send some Elrond